Budget Analysis: Education outlay up 4.69%, smallest hike in 5 years
Budget Analysis: Education outlay up 4.69%, smallest hike in 5 years
By Abhay Anand and R. Radhika
NEW DELHI: The Union Budget for the Ministry of Human Resource Development for the next financial year has increased by just 4.69 percent – the smallest increase since 2015.
The two departments of MHRD – Higher Education and School Education and Literacy – received a combined allocation of Rs 99,300 crore for the 2020-21 financial year. This is an increase of only Rs 4,446.36 crore.
In her speech, Nirmala Sitharaman, the finance minister, said that "steps would be taken to enable sourcing external commercial borrowings and FDI [or, foreign direct investments] so as to [be] able to deliver higher quality education". The government is also looking at private-public-partnerships to upgrade medical education. Higher education scheme, Rashtriya Uchchatar Shiksha Abhiyan's budget was slashed by over 85 percent. Research programmes and outlays for medical education expansion are facing drastic cuts too. Budgets remain the same for most school education schemes.
Delhi University Teachers Association (DUTA) issued a statement saying this will further commercialize the higher education. DUTA says: "It [Union Government] unwisely continues on the beaten path of privatisation by reducing grants, promoting more loan funding through greater allocations to HEFA, inviting FDI and encouraging more commercialisation through the provision of full online degree programmes in universities. The highlights of the Expenditure Budget 2020 reveal a telling lack of introspection on the part of the Government, and its failure to engage with the growing unrest among students, teachers and karamcharis across the nation's campuses."
The following chart shows the percentage increase in allocations to the MHRD each year starting from the 2016-17 financial year. In 2015-16, the allocations had reduced instead of increasing due to devolution. The MHRD is not the only ministry to run education programmes and schemes but it is the main one.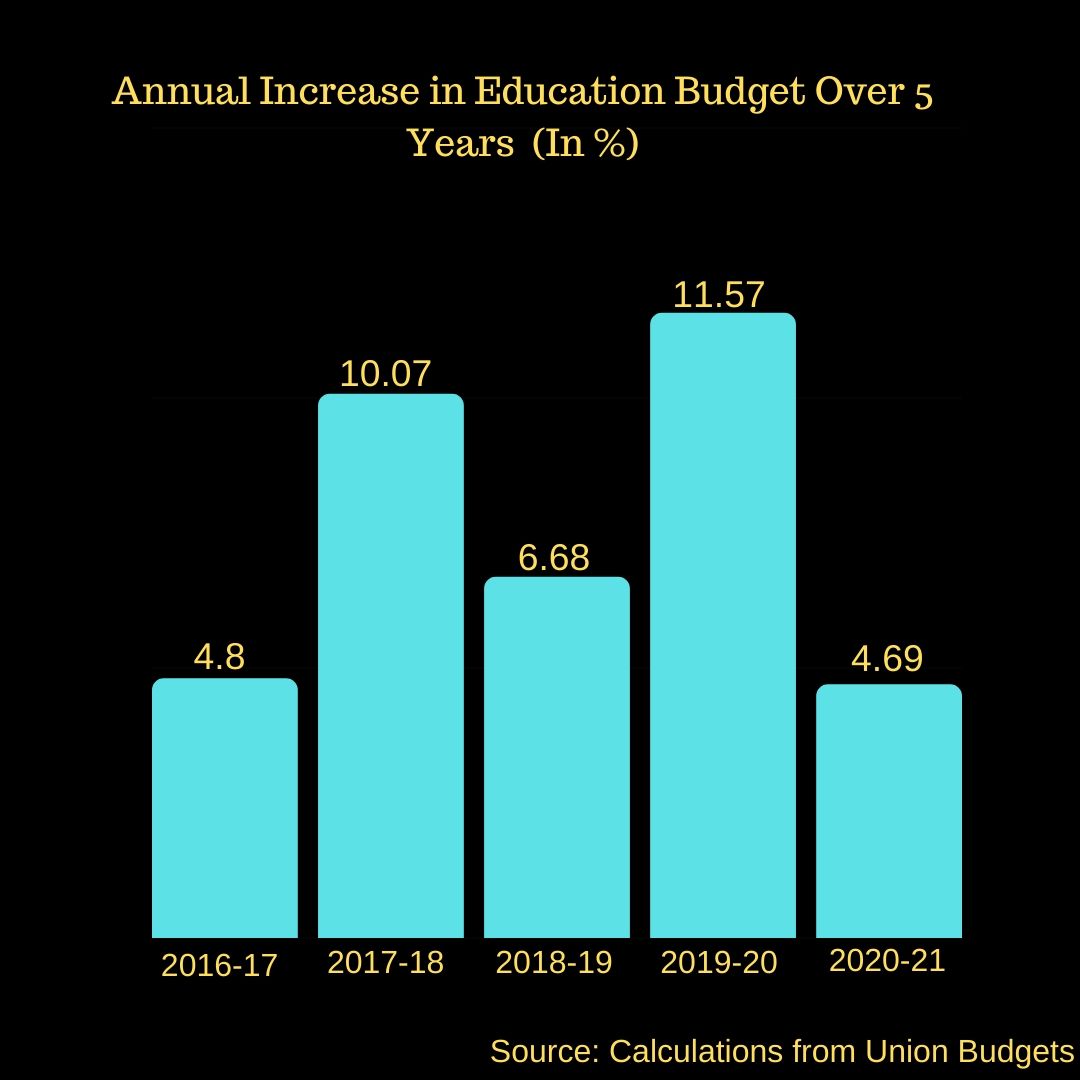 Here is what the Union Budget has for various levels and branches of education and research in 2020-21.
Higher Education
The government has allocated Rs 39,466.52 crores to higher education. Of this, Rs 17,468.80 crore is under the general education category – a nominal increase over this year's Rs 17,018.57 crore. For technical education, Rs 14,778.65 crore has been earmarked for the next financial year. Rs 14,141.67 crore had been allocated to it in 2019-20.
The Rashtriya Uchchatar Shiksha Abhiyan, a scheme for higher education, has seen a massive cut with the allocation to it dropping from Rs 2,100 crore in 2019-20 to Rs 300 in the next year. The funds for the Higher Education Financing Agency (HEFA), a non-banking finance company set up by the MHRD to extend infrastructure loans to public institutions, has been increased by Rs 100 crore to Rs 2,200.
Then, government's research and innovation programmes face steep cuts. The budget for these has been nearly halved, from Rs 608 crore in 2019-20 to just Rs 307 in the next year. The one for social science scholars – Impactful Policy Research in Social Science, or Impress – is getting no funds at all.
Though the overall allocation for funding to central universities has gone up compared to previous year's allocation, but it has gone down by Rs 600 crore compared to the revised estimate.
Budget for various scholarship schemes has been reduced to Rs 141 crore from last year's Rs 356 crore which had been revised to Rs 381 crore. However, the government has earmarked Rs 225 crore toward scholarships for students from Union Territory of Jammu and Kashmir.
Most of the departments digital learning initiatives are facing cuts too.
Here are the budget estimates for some of the major schemes and institutions over three years:
| | | | |
| --- | --- | --- | --- |
| Higher Education Schemes/ Institutions | 2018-19 (In Rs. Cr) | 2019-2020 (In Rs. Cr) | 2020-2021 (In Rs. Cr) |
| Rashtriya Uchchatar Shiksha Abhiyan (RUSA) | 1,400 | 2,100 | 300 |
| University Grants Commission (UGC) | 4,722.75 | 4,600 | 4,693.2 |
| All India Council for Technical Education (AICTE) | 485 | 458 | 416 |
| Grants to Central Universities | 6,445.23 | 6,843.4 | 7,643.26 |
| Higher Education Finance Agency (HEFA) | 2,750 | 2,100 | 2,200 |
| Indian Institutes of Technology | 6,326 | 6,409.95 | 7,182 |
| Scholarships for College and University Students | 340 | 356 | 141 |
| Research and Innovation | 350.23 | 608.87 | 307.4 |
Medicine, Engineering
The government has proposed attaching district hospitals to the medical colleges . The hospitals will be built in the public-private partnership (PPP) model. This shift in approach to financing medical education is reflected in the allocations as well – budgets for medical education in district hospitals, adding seats in state-run colleges have dropped to nil.
| | | |
| --- | --- | --- |
| Budget Head | 2019-20 (In Rs Cr) | 2020-21 (In Rs Cr) |
| Strengthening Government Medical Colleges (UG Seats) and Central Government Health Institutions | 1,361 | Nil |
| District Hospital - Upgradation of State Government Medical Colleges (PG Seats) | 800 | Nil |
| Establishing New Medical Colleges (upgrading District Hospitals) | 2,000 | Nil |
| All India Institute of Medical Sciences (AIIMS) | 3,599.65 | 3,489.96 |
| Postgraduate Institute of Medical Education and Research (PGIMER, Chandigarh) | 1,500 | 1,426.53 |
| Jawaharlal Institute of Postgraduate Medical Education and Research (JIPMER, Puducherry) | 1,100 | 1,000 |
The government aims to encourage large hospitals to offer postgraduate Diplomate of National Board (DNB) and Fellow of National Board (FNB) programmes to practising and resident doctors.
In a new internship programme for engineers, urban local bodies will provide internship to young engineers for one year.
School Education
The allocation to school education has increased from Rs 56,536.63 crore in 2019-20 to Rs 59,844 crore – a nominal increase of around 5.85 percent.
The main schemes for school education – the Samagra Shiksha Abhiyan and the mid-day meal scheme – were not mentioned in the budget speech. The allocation to SSA, the only scheme supporting the Right to Education Act 2009 for elementary education, saw a small increase of Rs 2,428.5 crore. Funds for teacher training has been reduced by Rs 15 crores. The mid-day meal scheme – the world's largest school meal programme – saw no increase in allocation at all.
The Right to Education Forum's national convenor, Ambarish Rai described the budget as "disappointing" and inadequate for either the full implementation of the RTE Act or of the draft National Education Policy, should it be adopted.
Here are the budget estimates for some of the major schemes and institutions over three years:
| | | | |
| --- | --- | --- | --- |
| School Schemes / Institutions | 2018-19 (In Rs. Cr) | 2019-20 (In Rs. Cr) | 2020-21 (In Rs. Cr) |
| Samagra Shiksha Abhiyan | 30,341.81 | 36,322 | 38,750.5 |
| Mid-Day Meal Scheme | 10,500 | 11,000 | 11,000 |
| Teachers Training, Adult Education | 870.7 | 125.4 | 110 |
| Kendriya Vidyalaya Sangathan | 4,425 | 5,012 | 5,516.5 |
| Navodaya Vidyalaya Samiti | 2,793 | 3,068 | 3,300 |
The allocation to the National Scheme for Incentive to Girl Child for Secondary Education has gone up by Rs 10 crore, to Rs 110 crore. Sitharaman, in her budget speech, announced that the "Beti Bachao, Beti Padhao has yielded tremendous results". The budget for the centrally-run Kendriya Vidyalayas, or Central Schools, has increased by over Rs 500 crores to Rs 5,516.5 crores and the residential Navodaya Vidyalayas have been allocated Rs 232 crore more.
Employability
The Centre has allocated Rs 3,000 crore for skill development and by 2021, as many as 150 institutions will offer diploma courses in which apprenticeships will be embedded. Then, for nurses, teachers and paramedical staff looking to work abroad, the government has proposed a "bridge course" to bring their skills up to international standards. Full-fledged degrees will be taught online with only the best ranked institutions allowed to offer them.
Write to us at news@careers360.com
More From Team Careers360