CAREERS360 IMPACT: Abuse of Autonomy- IIMs Misuse Fee Refund Policy
CAREERS360 IMPACT: Abuse of Autonomy- IIMs Misuse Fee Refund Policy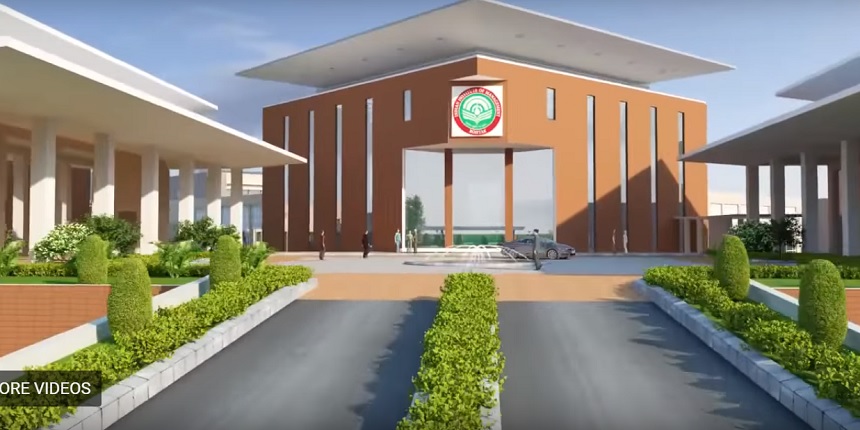 Does autonomy give an IIM the right not to refund fees? Read on to find out how Careers360 helped a hapless student get back her fees…
The Indian Institutes of Management, India's premier management schools, enjoy complete autonomy. According to the IIM Bill 2017, the government has no say in the fees charged by these institutes. But, can the IIMs come up with unfair practices, which defy even the UGC and AICTE norms? Can they act in an arbitrary manner over fee refund? The case in point is Shubhi Agarwal who joined IIM Rohtak and then switched to another institution.
Shubhi's ordeal
Shubhi received a call letter from IIM Rohtak for admission to its Post Graduate Programme in Management, asking her to complete admission procedures by June 2 this year. As directed, she deposited Rs. 3.86 lakhs in two instalments (Rs.1.5 lakhs on May 13 and Rs 2.36 lakhs on June 2). However, within a week after depositing the second instalment, she got another admission offer and she decided to accept that.
Shubhi informed IIM Rohtak regarding her decision and requested the institute to return the fee deposited. Initially, the institute agreed to refund the fee, deducting Rs. 20,000 as processing fee. But it later declined to refund the fee, apparently because the IIMs do not come under the purview of UGC or AICTE. An AICTE/UGC regulated institution in private or public sector would have had to refund the entire fees minus the processing charges.
It was then that Shubhi wrote to Careers360, saying, "None of IIMs is following admission policies properly. Even the private institutes return fees paid by students if they withdraw before the commencement of classes. I would be highly obliged if you could help me with this matter. Rs. 3,86,000 is a considerable amount for me and my family. Letting that go without any fault will really impact our financial condition. Looking forward to hearing from you."
Careers360 steps in
On receiving the complaint, Careers360 tried reaching out to IIM Rohtak through email (twice) and on phone. But, there has been no official response from them till date. However, one of its senior officials on condition of anonymity reiterated the institute's stand, saying, "All the candidates who this information that once they deposit the registration fee, they will not get any refund. So is the case with Shubhi. We have our own rules and regulations in place and we abide by that."
Meanwhile, Shubhi wrote to the Ministry of Human Resource Development and her matter got listed on the Centralized Public Grievance Redress and Monitoring System (PG Portal).
Shubhi's family was under severe pressure as a huge amount of money had been used to take admission and that was withheld by one institute while she also had to deposit fee in another institute as well.
Shubhi shared a conversation of her father with the institute. He also wrote the same to the HRD Ministry where he said, "After the institute declined to give back the money, I started calling it again and again and one day a senior official of IIM Rohtak received my phone and I requested him to consider our application sympathetically but he refused telling us that non-refund of fee was their official stand. 'You are free to approach anybody in India. We are an autonomous institute. You can go to PMO, President, Supreme Court, whatever, we don't come under any ministry. We have our laws and we follow our rules. Our words are final,' he told me.
He added, "I mentioned guidelines issued by UGC Secretary regarding the refund of fee, to which he said that 'we don't come under UGC/HRD ministry and we don't follow their orders. We are an autonomous institute. We don't take any help/grant from GOI so we are not bound to follow their guidelines. We follow our governing body rules' and saying this he put down the phone."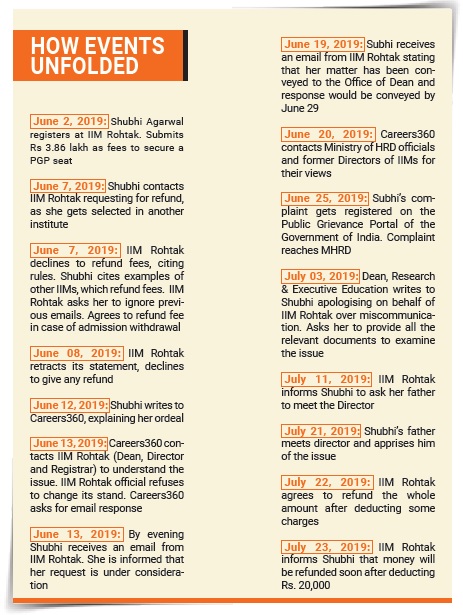 Careers360 impact
Careers360 spoke to former IIM directors, regulators, lawyers and even MHRD officials. They were unanimous that though IIMs enjoy autonomy, it is unfair on their part to withhold fee of any candidate, who is withdrawing admission way before the commencement of the academic session.
On July 10, Shubhi communicated to us that the institute had informed her that she needed to wait for two more days and most likely she would get back her money. We spoke to Prof. Devi Singh, former Director of IIM Lucknow who mentored IIM Rohtak in its initial years. Prof. Singh termed the stand taken by the institute as totally unfair and said that the candidate should approach every possible platform to get her money back.
"This is unfair to students; we never did this with students." He added that though IIMs had the autonomy to decide their processes but this kind of practice was totally unfair. "IIMs are not the institutions which are in the business of making money. The candidate is free to write to the Chairman and to the Ministry as this is a wrong practice being followed. If someone wants to go to some other institute, you should not prevent, if your institute is good why would someone leave?" he asked.
Good news for Shubhi
The good news for Shubhi came on July 22. After a meeting between Shubhi's father and IIM Rohtak's Director, the institute agreed to refund the whole amount. An elated Shubhi thanked Careers360 for helping her get the entire money back after the deduction of Rs. 20,000.
The big question
All Institutes of National Importance and IIMs have a greater responsibility towards the students. They must be more fair than the strictest of conditions imposed by the AICTE and the UGC. It is surprising that IIMs had no fees refund policy and students were forfeiting fees. Autonomy cannot mean abuse of power. IIM Council should revisit the rules that affect students and review all such rules. Careers360 advises all IIM aspirants like Shubhi who withdrew after admissions to claim refund. Careers360 promises to work with the students to get their fees refunded.
Stay updated with latest Education News