Class 11 students design masks with ACs for doctors on COVID duty
Class 11 students design masks with ACs for doctors on COVID duty
Hyderabad girls win award for their design.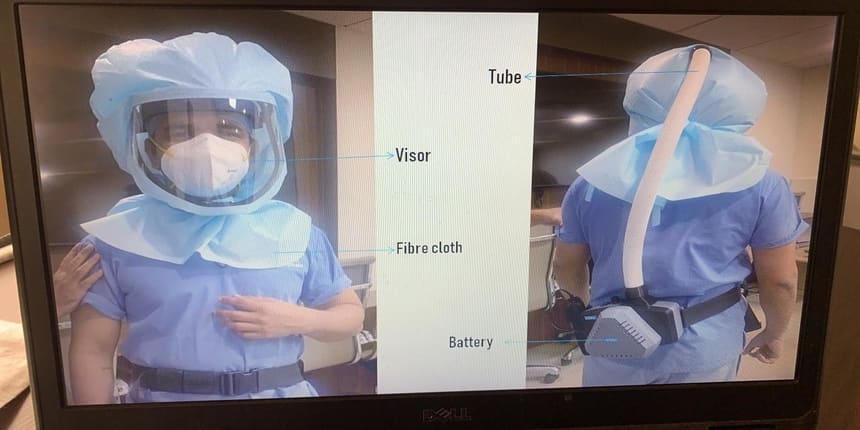 NEW DELHI: Two girls from Hyderabad have designed special masks for doctors treating COVID-19 patients and therefore constantly exposed to the coronavirus. With their design, spectacles don't fog up and it doesn't get uncomfortably warm behind the mask. The reusable mask is fitted with a small motor that serves as an "air-conditioner".
It was a real-life crisis which led to the idea.
"One night when my father came back from duty, he was tired, suffering from intense hypoxia and dizziness. I just wondered how I could help him," said Afnan Towheed, a Class 11 student of Gitanjali Group of Schools in Hyderabad.
Engineering the mask
Afnan's father, a doctor, was on COVID duty and regularly complained of the tough condition that specifically doctors face while on duty. They have to protect themselves with a mask which drastically reduces the free exchange of gases.
It was then that Afnan together with her friend and classmate Shloka Singh decided to work on a special mask which will help doctors treat patients with ease.
"We got to know in detail, from my father initially, what kind of problems doctors face with masks on while treating a patient," said Afnan.
Despite being from the commerce stream, Afnan and Shloka understood the scientific design that has to go into designing the product.
Proper market research was taken up to understand if there is a product which can help medical professionals in such a scenario. "We found that there was no specific mask designed for doctors to care of the problems they face while on duty," she said. "We connected with doctors in Hyderabad as well as in the UK to engineer the product."
The final mask is made of cloth and glass. "It has been specifically dealt with and we want to minimize the wastage and make it environment friendly as well," said Shloka.
The cloth has to be changed every three months and the front is made of glass which can be sanitised after every use. The mask is attached to a motor which is again attached to the waist of the doctor. "The motor is very light and provides air conditioning, said Afnan.
Patent and cost
The two have already applied for the patent after they received a positive response and go-ahead for manufacturing on a mass scale.
"We are beginning to price it at Rs 60,000 per piece in India for private hospitals and in future, we are willing to partner with NGOs to provide the doctors in low-income areas so that they get the benefit as well," said Afnan.
The product is expected to hit the markets in March 2021.
The two girls were awarded the first prize in the global schoolpreneur summit for their product. In global schoolpreneur summit school, students with innovative ideas resulting in a product beneficial for the society are encouraged to participate.
The summit witnessed participation of school students from the south-east Asian countries and the USA.
Also Read:
Write to us at news@careers360.com.
More From Pritha Roy Choudhury