CLAT authorities red flag fake website that duped candidates masquerading as official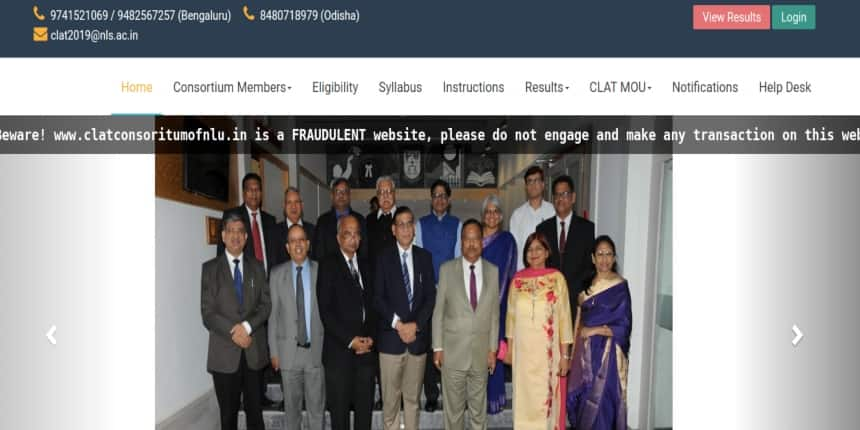 New Delhi, July 27: A fake website www.clatconsoritumofnlu.in that has been collecting money from unsuspecting students in the name of admission to law colleges has been banned by Google after it was reported by CLAT authorities and responsible netizens. The official CLAT website is also running a live ticker on its home page to warn candidates to not fall for similar type of cons.
The target of the website was mostly CLAT 2019 aspirants who were ranked from 2,500 to 10,000.
The con started with unsuspecting students getting unsolicited messages urging them to click on a link. On clicking on the link, the candidate was redirected to the fake website, where he/she was prompted to go through a two step process:
Steps mentioned in the con message:
Candidate were asked to review the provided details in the page and then upload their marksheet and passport photograph. In the next stage, the candidate could select a college from two options that appear on screen.

This is the most devious step, as the unsuspecting candidate is urged to pay the allotted fee. The design and look of the website was presented in a way to avoid raining suspicion.
CLAT authorities clarifying on the matter has said that they haven't sent any messages to candidates and urged candidates to verify the source before making any monetary transactions.
Important details of candidates fall into unscrupulous hands
What is also a matter of concern is how come a fraudulent website got hold of important details of the candidates.
There is a chance that many candidates may have been duped by these anti-social elements, though there is no confirmed figure as to how many candidates actually fell for it.
Stay updated with latest Education News