Colleges @ Home: Universities gearing up to offer online degrees
Colleges @ Home: Universities gearing up to offer online degrees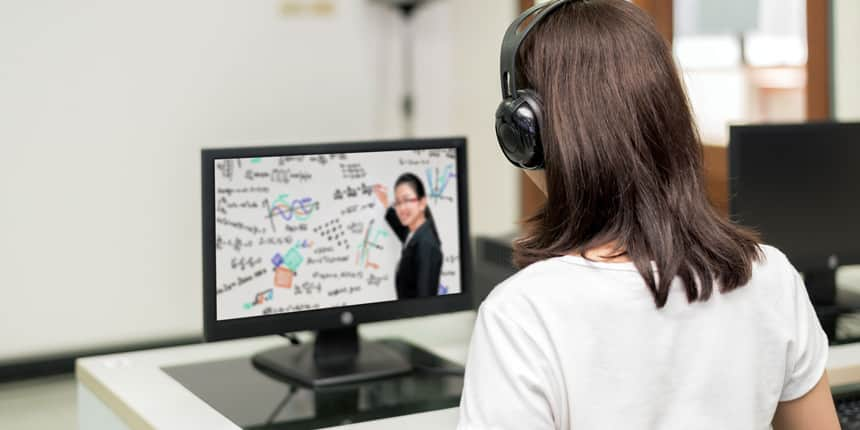 NEW DELHI: In January this year, seven Indian universities were granted permission to start full-fledged degree programmes online.
This represents a significant departure from the earlier policy which, despite being online-friendly, did not allow more than 20 percent courses in a degree programme to be taught in online mode. But the new policy is in line with the Central Government's effort to increase enrolment in higher education through online degree courses. According to government data, just 26.3 percent youths in the agegroup of 18-23 are enrolled in some form of higher education. The government aims to reach 50 percent by 2035.
Union Finance Minister Nirmala Sitharaman said in her budget speech that the online degree programmes shall be offered only by top-ranking institutions. These are universities placed in the top 100 as per the National Institutional Ranking Framework. She had added that only a few such institutions would be allowed to offer such programmes to begin with.
The first batch includes one public and six private universities. These are Indira Gandhi National Open University; JSS Academy of Higher Education and Research in Mysuru; Manipal Academy of Higher Education; Bharati Vidyapeeth, Pune; Shanmugha Arts, Science, Technology & Research Academy, Thanjavur; Dr D.Y. Patil Vidyapeeth, Pune; and Amity University, Noida.
Many of them are ready to launch. Amity University will offer 24 online programs, including six undergraduate and four postgraduate degrees. From this year, Bharati Vidyapeeth is starting with Bachelor and Master of Business Administration – BBA and MBA programmes – to begin with.
'Completely different experience'
One of the key differences between online and offline programmes is that the former allows learning in an "asynchronous mode" – there are no fixed lecture periods and students can access e-tutorials and online lectures at their own pace.
Bhushan Patwardhan, vice-chairman of the UGC, recently wrote in The Times of India: "The online curriculum will have to be of high quality to make the students job-ready, otherwise the increase in enrolment will serve no purpose. For these online programs to gain academic validity, the mind-set of the society must change." There are misgivings about online courses among many in academia.
"In my opinion, curriculum, quality of content, teaching-learning tools and the rigour of assessment will decide the credibility of the online degree," said H Vinod Bhat, Vice-Chancellor, Manipal Academy of Higher Education (MAHE). "It is important for the institutions to maintain the same eligibility criteria, course duration, rigour in curriculum transaction and learner assessment for both online and offline degree courses."
Online learning offers a "completely different experience" and its main feature is the "self-instruction manual" which carrying the course content in a manner that is easy to understand. Despite the absence of classrooms and canteens, learning will not be isolation. Interactions with peers are facilitated through discussion forums.
M M Salunkhe, VC, Bharti Vidyapeeth, argued that online programmes are "more customised" to the individual needs of students. "The flexibility means you don't have to choose between work and education," he explained. "Typically, if a person is working full-time and needs further qualification, an online degree is the best choice. A big advantage of online learning is immediate application of concepts to practice especially if the learner is a working professional."
Online degrees will come cheaper than traditional ones. At Bharti Vidyapeeth, the fee for the BBA programme will be Rs. 25,000 per annum and for the MBA, Rs. 35,000. Amity, too, will charge less for online courses.
The threat of degree mills, dilution of quality
University administrators argue – and the government seems to agree – that online degrees are the only path to achieving a 50 percent gross enrolment ratio – the percentage of youths in the relevant age-group who are enrolled in higher education. "Our aspirational target may not be achieved even by doubling the existing number of universities," said Bhat. "Therefore, we need to think beyond brick –and-mortar institutions," Bhat said.
The draft National Education Policy (NEP) also outlines the importance of online learning. It encourages institutions to develop their own online programs alongside their regular ones, as well as asks them to recognize and award credit for online programs offered by foreign institutions.
However, there are concerns about the greenlights to these courses leading to further proliferation of degree and diploma mills – institutions that award degrees for money and demand little academic work. Distance education has been criticised in India for diluting the quality of degrees. Cases have been reported of fake institutions in the United Kingdom charging students for online courses.
However, Bhat feels the UGC has taken adequate measures to safeguard against such an outcome. He said the institutions have developed quality learning resources, have qualified faculty and devised a secure, proctored examination system.
"In my opinion, if we exercise adequate quality control mechanism via learner authentication during admission, course delivery and assessment, we can ensure the same quality and rigour as regular offline courses," he said.
Assessment for online courses
A robust assessment process is key for the online system to be accepted and for recruiters to treat it on par with the traditional one.
Manipal plans to have formative and summative assessments like in any regular course. Formative assessments will be done through assignments and learner participation on the discussion board. Summative assessments, or endof-term examinations, will be done via secure, proctored online examination, said Bhat.
Bharti Vidyapeeth is also considering a similar system. Elaborating on the process to be followed, Salunkhe said a number of different modes will be employed to assess and evaluate students' learning. These will include self-assessment, where students will participate in the assessment of their own work, along with formative and summative assessments akin to Manipal's pattern.
Write to us at news@careers360.com.