COVID-19: Researchers develop radiation technique for screening
COVID-19: Researchers develop radiation technique for screening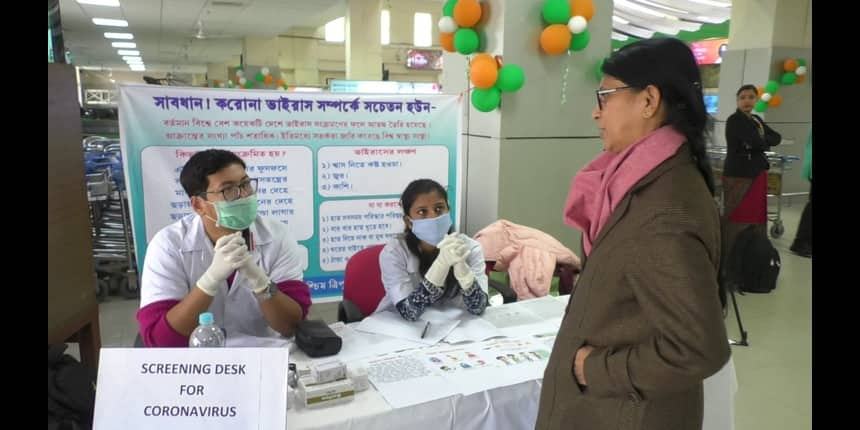 NEW DELHI: As the number of COVID -19 cases rise in India, a team of researchers from the North Eastern Hill University, Shillong and the private, Adamas University in Kolkata, is working on a technology which detects infection even in an asymptomatic individual at the screening stage and helps isolate the patient from the rest of the crowd. So far, the first level screening has involved only a temperature check.
Dinesh Bhatia from the biomedical engineering department in North Eastern Hill University (NEHU), Shillong and Moumita Mukherjee from Adamas University, Kolkata, are working on a terahertz radiation device for early detection of patients infected with coronavirus. Bhatia is working on the analysis after the extraction of biomedical images by incorporating artificial intelligence.
How it works
Screening of patients on a large scale in airports, railway stations and other ports of entry have been through checking of body temperatures using thermometers. It is not enough to detect patients who may be carriers of the virus but are asymptomatic. They can pass the screening test if they don't have high temperature at the time and mingle with the crowd and pass on the infection to the population.
But terahertz radiation technique takes care of that. "I was working in the area of terahertz because it has huge potential in imaging, in biomedical imaging for early cancer detection," says Mukherjee who was associated with DRDO for fifteen years before joining Adamas University in 2015.
The terahertz radiation technique helps detect the virus at the very first stage "In the case of COVID-19 when the virus enters in the upper respiratory tract, it remains there for three days and after that it goes to the lower respiratory tract and from there to lungs", she added.
The basic diagnostic factor is the presence and distribution of water content in the cell which is infected and oedema of the cell confirms it, she explained.
By using the technique of terahertz radiation which is non-ionic, the patient can be isolated at the very first stage.
Government approval
While terahertz radiation can detect a viral disease in a patient, further tests are needed to confirm the presence of coronavirus.
The technique can do mass screening of the patients and the device is portable.
According to Bhatia, the application of terahertz radiation for detecting coronavirus is the first of its kind.
"We are awaiting approval from the government authorities," says Bhatia.
According to the Ministry of Health and Family Welfare (MoHFW), 15,24,266 people have been screened, the number of positive cases are 1,117 and the death toll is 32 as on March 31.
Also read:
Write to news@careers360.com.
More From Pritha Roy Choudhury