COVID-19: States frame guidelines for informal and community schools
COVID-19: States frame guidelines for informal and community schools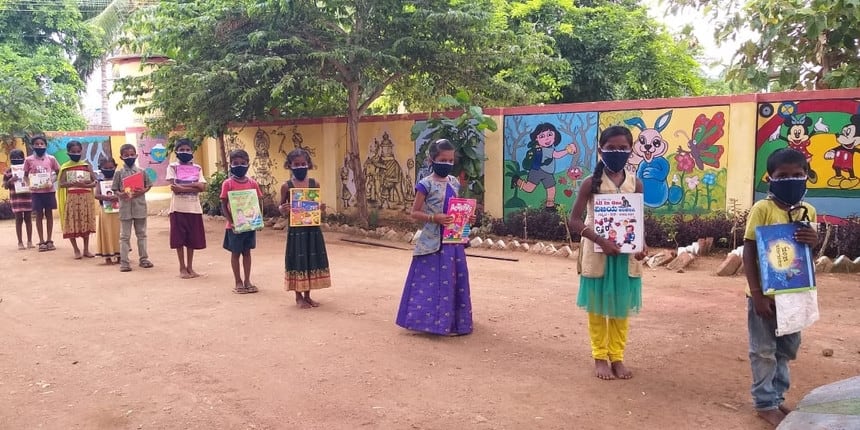 NEW DELHI: Open-air classes in fields or woods in Kashmir, studying in community centres and libraries in Karnataka, or in groups of five or six in Tripura -- these have replaced formal classrooms for hundreds of children across states during the COVID-19 outbreak.
As uncertainty lingers over the reopening of schools and online education failing to reach all students, state departments that oversee formal education have started accepting, even promoting, such informal arrangements. Over July and August, several issued instructions for stop-gap measures such as volunteer-driven neighbourhood schools and community classes to keep children engaged and prevent them from dropping out.
Karnataka announced the 'Vidyagama' scheme on August 4 that encouraged teachers to hold community classes and identify "volunteers" to assist them. Jammu and Kashmir and Assam have released guidelines on neighbourhood schools run by volunteers. Tripura's efforts to start such an initiative have met with some resistance from the community.
Karnataka: Community classes
The community classes in Karnataka, an initiative of the non-profit teachers' group, Bharat Gyan Vigyan Samiti (BGVS), began in the rural areas in the north as a means to keep students engaged in education. Teachers feared that the prolonged closure of schools due to COVID-19 would cause children to drop out, especially in rural areas.
"We had to somehow keep the children in the loop. We know that if children stay away from schools for three to four months they may not come back, especially girls and those from poorer backgrounds. Many studies have shown that if a girl child does not go to school then early marriage they may be forced into early marriage," Chegareddy FC, a school teacher in Gadag district and the vice president of BGVS.
Called Vaatara Shaalas, the BGVS initiative started in the first week of June. It began in rural Karnataka as the COVID-19 infections were largely limited to the metros at that time. Teachers started engaging with small groups of children wherever they found space -- temples, mosques, community centres, libraries. Soon there were 14 such centres across the state.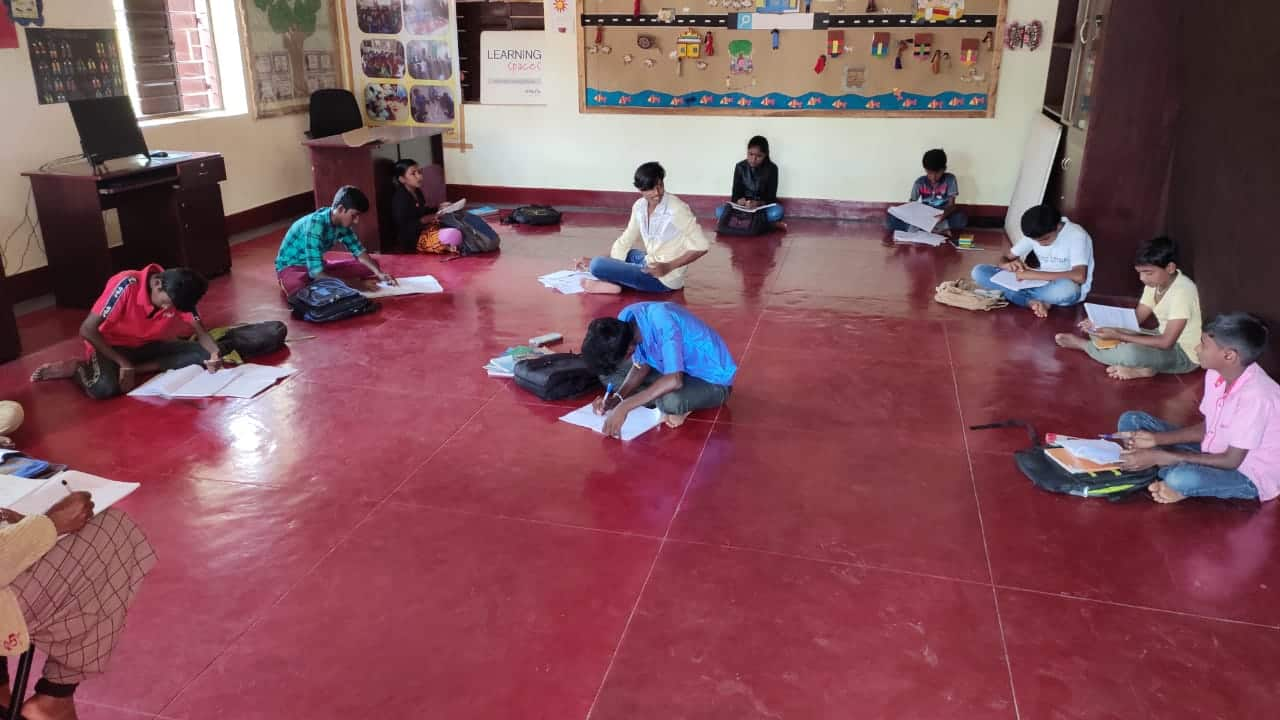 Vaatara Shaala in Gadag district.
Later, on August 4, the Karnataka Department of Education, launched the 'Vidyagama' scheme to standardise these community classes. The Vidyagama guidelines, along with instructions for online classes, have encouraged teachers to conduct neighbourhood classes with the involvement of the community. The scheme encourages identification of volunteers to help with the organization of the classes.
"The teachers are following the same curricular framework that is provided by the state of Karnataka but the activities are different. Most textbooks and worksheets have been developed on the assumption that schools are running but now when we are trying to do activities we have to pick activities that ensure social distancing," Shubankar Chakraborty, president of BGVS.
"Government is providing the necessary administrative support. They have given guidelines with Vidyagama. In that, the responsibility for initiating such blended education has been given to the Deputy Director of Public Instruction (DDPI) of each district," Chakraborty added.
Assam, J&K: Formal structure to informal education
Open-air community schools began in remote parts of Jammu and Kashmir in early July but the Union Territory government issued specific guidelines on organising "community classes on voluntary basis" on August 1. The School Education Department, Jammu and Kashmir, said the classes will be organized by "volunteer teachers" and conducted in "open areas and grounds" to ensure adequate social distancing between students.
The department also suggests "staggered schedules, shift timings and rotation of students" in case open spaces are not available. The teachers have to follow the standard syllabus prescribed by the Central Board of Secondary Education (CBSE) or Jammu and Kashmir Board of Secondary Education (JKBOSE) and classes "should not exceed 40 minutes". The notification also said that the "local community volunteer tutors" can include youth as well as retired government employees.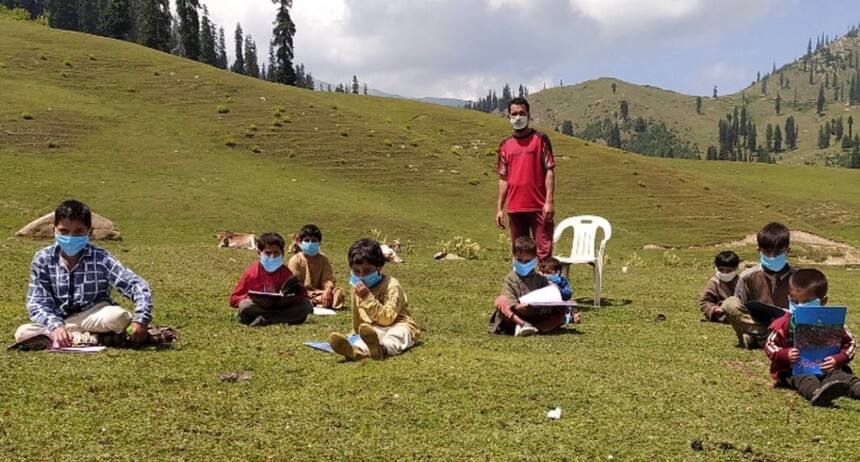 Community classes in Kashmir
Similar guidelines were issued by the Assam Government which proposed informal classes for students between Classes 5 and 12 from September 1. The department has proposed providing assignments or tests to students in Classes 1 to 6 while distributing mid-day meals. However, the classes "will not be mandatory for students", the department said.
In the notification, the Department of Education has also proposed mandatory COVID-19 testing for all participating teachers and resource persons.
However, in the case of Assam, the informal classes will be held on school premises. Students' attendance is not mandatory but it is "mandatory on the part of all working teachers to impart education".The department has also invited suggestions from "stakeholders" by August 20.
Tripura: Community pushback and opinion polls
However, such initiatives haven't gone down well everywhere. The Tripura Government, recently, faced criticism for the proposing neighbourhood classes.
The Tripura Government has set up a centralised scheme called 'Ektu Khelo, Ektu Padho', meaning 'play a little, study a little', in which online classes and workbooks are shared through WhatsApp and SMS. The scheme covered Classes 3 to 8. However, they soon discovered that nearly 30 percent of the students have been left out.
"Out of 3.2 lakh who were enrolled in Classes 3 to 8, we were able to cover just over two lakh students. Around 94,000 students do not have access to smartphones or other phones," said Saju Vaheed A, director of elementary education, Tripura. A new strategy was needed.
"We issued guidelines for neighbourhood classes which begin from August 20," Vaheed said. "In that we have issued a general guideline that the teachers will go to the community, form small groups of five-six students and teach them.The neighbourhood classes will be more focused on the syllabus than the Ektu Khelo, Ektu Padho Scheme." Standard procedures for preventing the spread of COVID-19 will be followed.
However, Tripura's move to conduct neighbourhood classes has received some pushback from the local community, including teachers. They are concerned about safety.
"Some teachers are saying that it is not feasible and there are demands for withdrawal," admitted Vaheed. "The department is planning a pan-state opinion poll through an Interactive Voice Response (IVR) system sometime next week to take an opinion from parents and teachers on the neighbourhood classes."
Also read:
Write to us at news@careers360.com.
Stay updated with latest Education News