Delay escalated new AIIMS establishment cost by 145%; huge faculty, non-teaching staff shortage: CAG
Delay escalated new AIIMS establishment cost by 145%; huge faculty, non-teaching staff shortage: CAG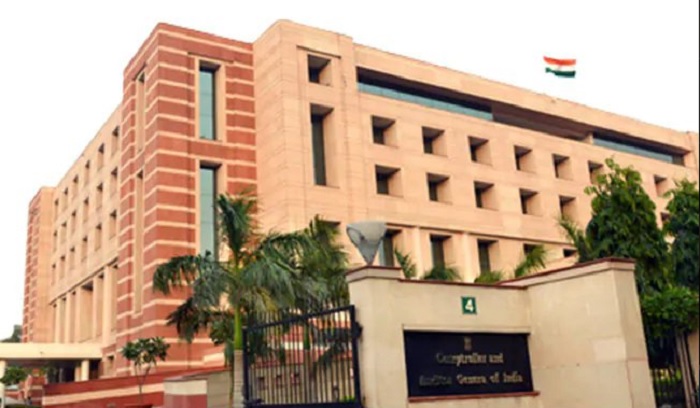 NEW DELHI, AUGUST 13: The Comptroller and Auditor General (CAG) of India has flagged a number of problems in implementation of the Pradhan Mantri Swasthya Suraksha Yojana (PMSSY) Scheme. A total of 20 new All India Institute of Medical Sciences (AIIMS) and 71 Government Medical College Institutions (GMCIs) were to be established, in six phases under the scheme. The problems include cost and time overrun, huge shortage of teaching and non-teaching staff in newly established AIIMS, as well as shortcomings in planning and approval of scheme at various levels.
The CAG in its report has underlined huge mismanagement and diversion of funds and large variation in estimated cost of each new AIIMS. The project cost escalated from Rs 332 Crore in 2006 to Rs 820 Crore in 2010, due to increase in cost indices, enhancement in area and additional equipment requirements.
Though, the cost escalated because of additional requirements, the CAG Report states that the six new AIIMS were holding an unutilised balance of funds to the tune of Rs 1,267.41 crore.
PMSSY Cost Escalation
In 2003, the PMSSY Scheme was announced to correct the imbalances in the availability of tertiary healthcare services and improving the quality of medical education in the country. The scheme comprised of setting up of AIIMS like institutions and upgrading the existing State GMCIs.
Initially, the Government planned to set up six AIIMS like institutions and upgrade 13 existing state medical colleges. In subsequent years, the scheme was expanded to cover 20 new AIIMS and 71 GMCIs in six phases. A total amount of Rs. 14,970.70 crore was allocated for the scheme between 2004 –17, of which an amount of Rs. 9,207.18 Crore had been released.
CAG carried out a performance audit of the implementation of the scheme covering the period from 2003 –04 to 2016 –17. The audit brought out large scale inadequacies in planning and financial management coupled with poor contract management and execution of works. It has also found lack of synchronisation and coordination of activities resulting in undue delays.
Diversion, Non-Utilisation of Fund
The CAG, in its report, has stated that several crores of rupees allocated to set up GMCI's were diverted for other purposes. The report states, "Four GMCIs (BJMC–Ahmedabad, BMCRI-Bangalore, NIMS Hyderabad, and RIMS-Ranchi) diverted Rs. 26.71 crore for other purposes."
As many as seven GMCIs are yet to furnish utilization certificates amounting to Rs 234.98 Crore to the Ministry which might bring out further instances of diversions and misutilisation of funds.
In case of AIIMS, CAG has reported two major issues, one, deviation from actual number of equipments to be purchased to excess payment to contractors, and two, equipments, though purchased much earlier at premium rates are yet to be put into use, thus causing huge loss to public exchequer.
CAG Report says, "In AIIMS Patna, Rishikesh and Raebareli, there was deviation in actual quantities with respect to 127 items of work as compared to quantities given in the Bill of Quantities (BOQ) of the contract. The total monetary value of these deviations was Rs. 74.84 Crore.
In AIIMS Bhopal, Jodhpur, Patna and Raipur, there was an excess payment of Rs. 19.62 Crore to contractors due to adoption of higher rates in BOQ, price escalation in violation of contract and change in mode of contracting."

In the three newly established AIIMS Bhubaneswar, Jodhpur and Raipur, there was an excess payment of mobilization advance of Rs. 16.91 crore to contractors. In AIIMS Bhopal, Bhubaneswar, Jodhpur, Patna, Raipur and Rishikesh 1,318 equipment valued at Rs. 454 crore remained undelivered as on 31 March 2017 for period over two years from the due date of delivery.
"In four new AIIMS (Bhopal, Bhubaneswar, Patna and Rishikesh), there was delay ranging from 3 months to over three years in installation of 850 equipment costing to Rs. 76.40 crore," the report states.
Faculty Shortage
The Ministry sanctioned 305 faculty posts and 3,776 non-faculty posts for each of the six new AIIMS. As per the report, in the six new AIIMS (Bhopal, Bhubaneshwar, Jodhpur, Patna, Raipur and Rishikesh) the shortage of faculty posts ranged from 55 per cent to 83 per cent. Similarly, the shortage of non-faculty posts ranged from 77 per cent to 97 per cent.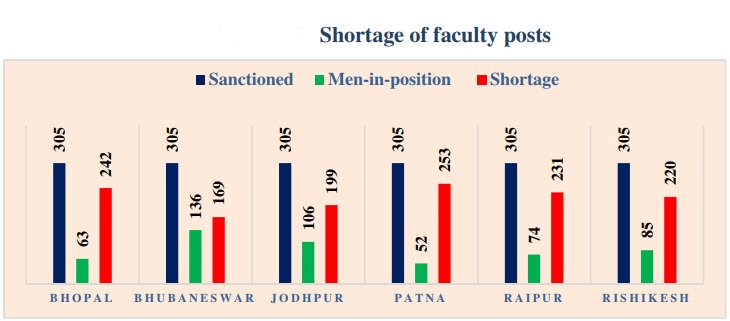 Though, all the six new AIIMS announced in Phase-I have become functional, there has been delays ranging from about four to five years in setting up which can be attributed to deficient project and contract management, administrative laxity and weak monitoring.
Due to shortcomings in planning and assessment for implementation of the project, the capital cost escalated from Rs. 1,992 Crore in 2006 to Rs. 4,920 Crore i.e. at the rate of Rs. 820 Crore per new AIIMS, which was 145 per cent increase in capital costs.
Stay updated with latest Education News