The Delhi Experiment: How well did AAP's school reforms work?
The Delhi Experiment: How well did AAP's school reforms work?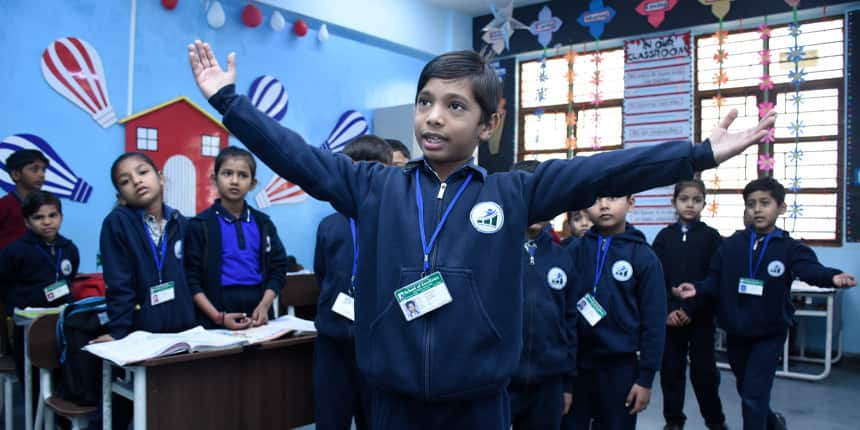 By R. Radhika and Atul Krishna
NEW DELHI: No one asks Rishu but he has experienced Delhi's education reform first hand.
In 2016, he was placed in the "Pratibha group" of Class 9.
He was pleased to be in the company of students who were considered advanced learners and had performed up to standard in a test. He attended a government school for boys in Rohini. But his satisfaction was short-lived. He had studied in Hindi since Class 1 but lessons for the Pratibha group were taught in English only.
"A few of us had been in Hindi-medium since childhood so, we could not follow everything," he explained. "We would not get our doubts cleared. If one or two keep asking questions, the class won't move."
His education derailed, Rishu failed in 2017, again in 2018, and dropped out. He now works in a computer repair shop and his story has disappeared into the much larger narrative of Delhi Government's education triumphs – designed by Nobel Laureates and powered by non-profits.
The reformers themselves seem confident their work will help them when Delhi goes to the polls on February 8, 2020. While campaigning for the Delhi Assembly elections on January 22, Aam Aadmi Party's Manish Sisodia said: "This is the first time a government is asking for votes for education."
Sisodia, the incumbent deputy chief minister and education minister, presided over large-scale reform in Delhi's public schools. Education budgets soared, non-profits received critical roles and there were new schools, curriculum changes, training programmes, summer camps and reading campaigns. Teachers were sent to other states, and even abroad, for training. Overseeing their implementation on the ground was Atishi Marlena, former advisor on education to Sisodia and now a contestant from Kalkaji. Marlena's main claim on her campaign fundraising page is that "she transformed Delhi government schools by getting things done inside the system."
Careers360 spoke to teachers, students, parents and activists to understand where "the system" stands after five years of frenetic reform. Some effects were undeniably positive – communities were empowered, cheating curtailed and the impression of public schooling as a system damaged beyond repair was changed. At the same time, certain interventions were controversial, may have even caused harm, and all schools did not benefit equally from the reforms or infrastructure upgrades.
The first year
In 2015, the new government had its work cut out. Government schools were short of space, thousands of teaching posts were vacant, students were absent often and cheating in examinations was common. There were islands of excellence – the Rajkiya Pratibha Vikas Vidyalayas were another generation's model schools. However, there was growing concern about the standards of learning in the general schools, attended by Delhi's poorest, most marginalised children. They were promoted with little instruction till Class 8 and then faced detention en masse in Class 9.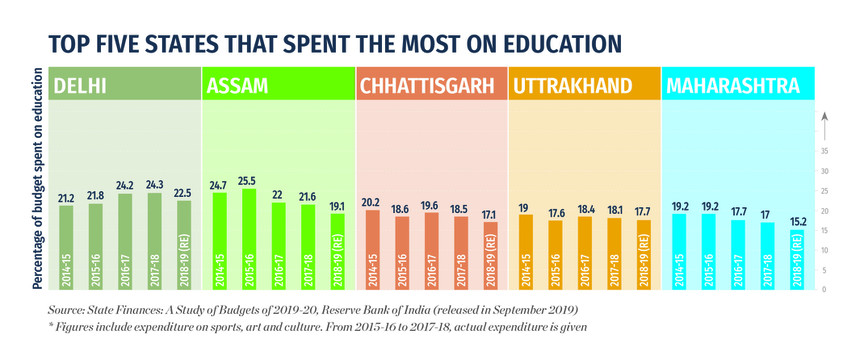 The AAP promised change. It began with doubling the state budget for education to Rs. 4,570 crore, or 24 per cent of the total outlay. It initiated the expansion of school infrastructure. It converted 54 institutions into 'model schools' for special treatment. It also drafted a policy for regularising guest teachers that was never implemented and failed to convince the Central Board of Secondary Education to lop 25 percent off its syllabus. Several Bills it drafted never became law – the new ministers struggled with technical difficulties but were also actively thwarted by the Centre.
The biggest reforms came in 2016.
The challenge
We have been working on four major areas – transformation of infrastructure, transforming the teacher-student interaction, increasing the engagement of parents in school activities, and curriculum transformation," said Shailendra Kumar Sharma, principal advisor to Delhi's Director (Education).
In 2016 Delhi Government launched 'Chunauti 2018' for Classes 6 to 9.
Meaning 'challenge 2018', it was a range of measures aimed at closing the learning gap in Class 9. Interventions started in Class 6 and involved workbooks, remedial classes, reading programmes and large-scale parent-teacher meetings. Because most Delhi Government students join in Class 6 after studying in largely dysfunctional municipal schools, it started 'Mission Buniyad' in 2018 to prepare them for middle school.
Chunauti 2018 began with a baseline assessment conducted by the Directorate of Education (DoE) of Delhi but designed by education NGO, Pratham, in 2016. According to it, 74 percent of Class 6 students were unable to read their textbooks.
Based on the results, students were classified into three groups – Pratibha, Nistha and Neo-Nistha. Prathibha students could read sentences in Hindi and solve simple mathematical problems. Those who couldn't do either or did just one went to Nishtha. The non-readers were in Neo-Nishtha. At Rishu's level, Class 9, there was a third group – Vishwas. It was for students who had failed the grade twice or more.
Ability and grouping
However, such grouping was controversial. One Delhiite even challenged Chunauti in court. Kusum Jain of the Parents Forum for Meaningful Education, was against the labelling of students. "It is so destructive for young minds," she said. "Even parents feel dejected about their kids being labelled as weak." The next hearing is on February 27.
Ravi Sharma, with two daughters in Rajkiya Kanya Vidyalaya in Nangloi, admitted it "lowered a student's morale" in some cases. "I believe it has a lot to do with how the teacher handles such students." Sharma added: "All parents want their child to be in 'Pratibha' but do not know what is happening in the classrooms. Parents think of it as a social embarrassment when their own children are in Section D and their friend's kids are in A."
PS Sharda, a member of Jain's group, called it an "apartheid". He said: "Students are categorised to cover up the failure to teach them. Having them together would enable peer learning."
The principal of District Institute of Education and Training, Dilshad Garden, Anil Teotia did not agree. "The mind-set with which an activity is conducted is crucial," he said. "The re-grouping of students was done so that special attention can be given to students lagging behind."
After three months and another test, the government declared that 95 percent non-readers were now readers. Most education initiatives were powered by a non-profit. Apart from Pratham, Creatnet education, Saajha, Asheray Welfare and Charitable Society, Jodo Gyan, Pravah, Arpan, Sacchi Saheli – have all been involved.
In April 2016, some of the best teachers were pulled out of classrooms and a group of 200 mentor teachers created. Each was responsible for assisting with quality improvement in a few neighbouring schools.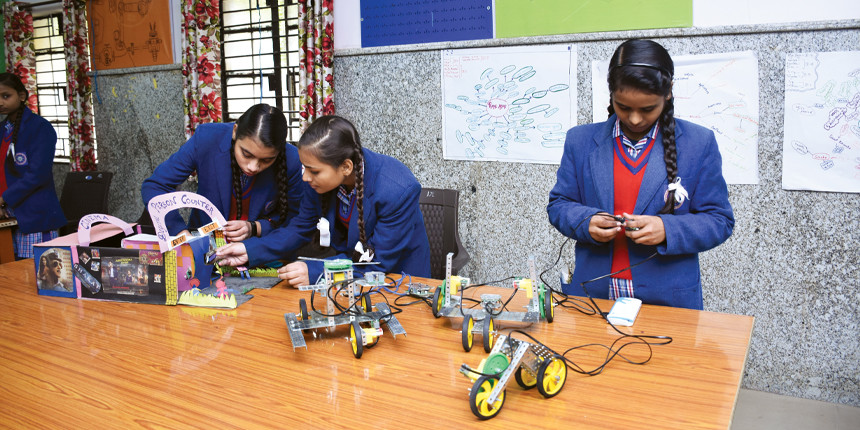 Tinker lab at GGSSS, New Kondli.
The target
In 2014-15, 48.26 percent of examinees from government schools failed in Class 9. Unable to dock the syllabus, the government adopted a different strategy. The Vishwas group would write the Class 10 examination under a "Modified Patrachar Scheme". They could attend classes but wrote exams conducted by the National Institute of Open Schooling – a distance learning body which allowed greater flexibility with subjects than CBSE.
"How will a kid who didn't do well in a regular school study in open school?" asked Jain. Rishu told Careers360 that he was not told about this option at all.
Others were better informed and 59,897 students wrote the Patrachar exam in 2018, up from 3,500 in 2017. The results vindicated Jain. Just about 11 percent of students had passed, an improvement over the 3.5 percent in 2017 but still a very poor performance.
Results in the regular exam were similarly disappointing. In 2015-16, 49.22 percent had failed Class 9. In 2017-18, The Times of India reported that 48 percent had failed.
Board exam scores are no measure of learning but the reforms had not met their target. This cast a long shadow. To make future results more palatable, large numbers of students who failed were denied readmission in 2018, reported The Times of India. This sidelining was both predicted and criticised by education activists.
Dev Saini was in Class 9-Nishtha at a north-west Delhi school. In Class 10, he failed in maths. Instead of being promoted and allowed to re-sit maths as per CBSE policy, he was told to "repeat the whole year or just stay at home and study", he said. His sister failed one subject in Class 10 and was moved to Patrachar too.
However, the account of an east-Delhi principal differed: "When a weak student joins Class 9 and he fails, in my experience, such students don't improve even on the second attempt. Now, they have an alternative and aren't being abandoned. After qualifying the NIOS exam in Hindi and social sciences, they become eligible for enrolment in Class 11. Many students are taking this route back to the formal system."
The curriculum
There were new courses. In 2018, values education was recast into a "happiness curriculum" involving meditation, story-telling and other exercises for classes till eight.
An "entrepreneurship mind-set curriculum" (EMC) followed in 2019. Over 14,000 students interacted with entrepreneurs. The EMC originally came with an offer of Rs. 1,000 for student enterprises but it was withdrawn.
"Traditionally, the syllabus emphasised acquiring knowledge," said Shailendra Kumar who is originally from Pratham. "We wished to incorporate skill, attitude along with it."
But teachers felt pressed for time. "They must also complete the syllabus," said one. "When the EMC was introduced, we were already done with a large part of it. Next year, it might affect how we teach the syllabus and the students' performance." As some schools, physical education and library classes were suspended to make time.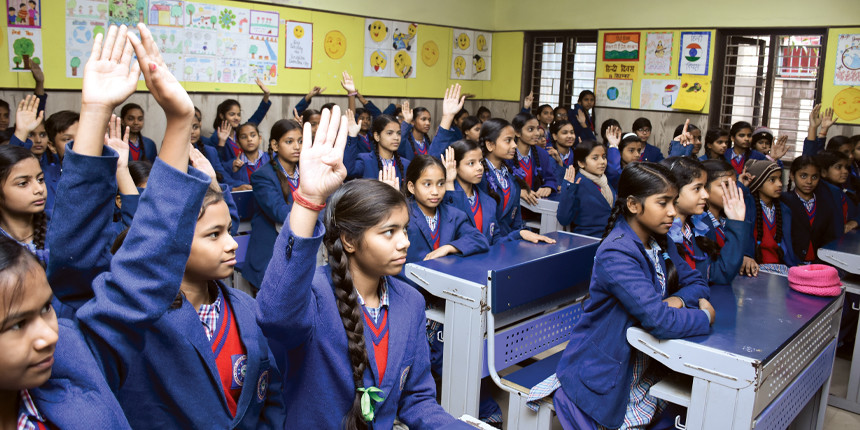 Ongoing Happiness curriculum class.
'Secure our future'
But pass-percentage remains a major metric for assessing teachers. The reforms made great demands on resources, increasing the pressure on teachers already burdened with many administrative duties.
"Subject periods last just 35 minutes. How do we complete the syllabus?" asked Ajay Veer Yadav, general secretary of the Government School Teachers' Association. He added that teachers must follow an online schedule and cannot "adjust by focusing more on certain topics and less on others".
Paperwork increased. "For certain activities, teachers send activity reports to the department," said a principal. "Their spending time away is affecting the children."
Teacher-strength is already low. The government-appointed 7,500 teachers over 2017-19, said Shailendra Sharma and the "net vacancy" stands at 7,000. But Yadav pointed out that the number is actually over 25,000 once the guest teachers are counted. That group is in despair. Regularisation of contractual staff was a campaign promise for AAP. Guest teachers saw their pay rise but their status remained unchanged.
"If a permanent teacher is appointed, I must resign the next day, even if I have worked at the same school for 10 years," said one. "My ability to learn and pass exams will diminish over time. We want a policy that will secure our future."
Excellence and neglect
Over the past five years, school infrastructure has expanded considerably with thousands of new classrooms built and several new schools. Most visible of them are six "Schools of Excellence" built over 2016-18, following an older policy of promoting a handful of institutions by directing the best resources to them. Fully-equipped with smart classes and English-medium, these have classes from nursery to Class 12. Apart from a controlled roll strength, the School of Excellence, Khichripur, benefits from an estate manager and an eager school management committee, said Seema Roy Chowdhury, its principal. She was transferred from Government Girls Senior Secondary School, New Kondli, a model school. While these six benefit a small section of children, other institutions catering to much larger populations stay the same or decline.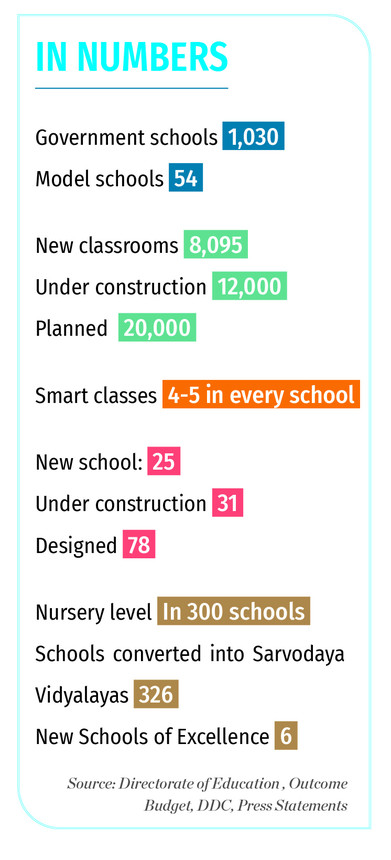 For Mary Jyotsana Minj, who replaced Roy Chowdhury, running GGSSS-New Kondli is harder.It has over 4,000 students and inadequate classrooms. "Sometimes, I merge classes," she said. "Tomorrow, an event is happening and I have to send students home after the midday meal." Schools in Paharganj are "filled with garbage", said local activist Lalit Bhasod. In several, children are beaten and school property encroached. A girls' school sits on top of a temple. For every temple function, students get an "unofficial holiday", he said. "The new strategies were implemented in posh areas and where they (AAP) have support."
Mobilising communities
But the government tried to engage communities everywhere. Communities monitor their schools through parent-teacher bodies called school management committees, or SMCs, mandated by law. New rules framed by the AAP government enhanced their powers. Ordinary parent-teacher meetings became "Mega PTMs". Once trained, SMCs helped with school programmes, inspected classrooms and school finances, and kept an eye on attendance and the quality of new constructions. This, more than the curricular interventions, may have a lasting and positive impact on schooling.
"The SMC ensures smooth functioning of the school," said a principal. "We don't always agree with SMCs but a consensus must be built through transparency and trust-building. They have to be tutored in the government processes for purchasing things, for example."
Write to us news@careers360.com
More From Team Careers360