Delhi University teachers demand ordinance to regularise 4,500 ad-hoc teachers
Delhi University teachers demand ordinance to regularise 4,500 ad-hoc teachers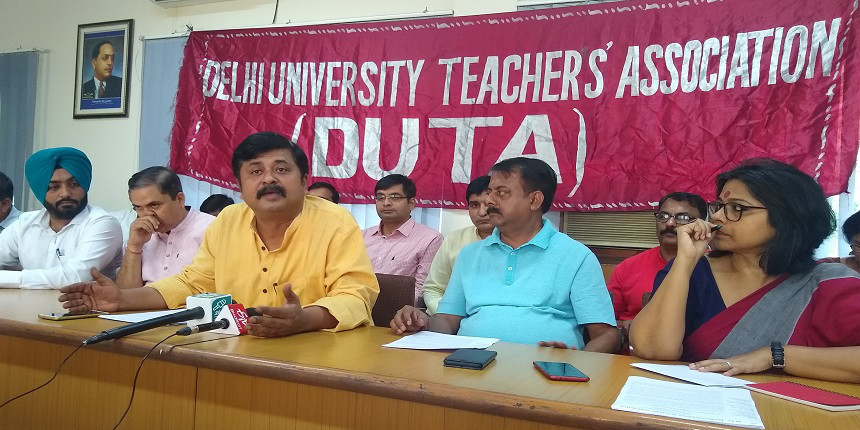 NEW DELHI, OCTOBER 11: The Delhi University Teachers Association (DUTA) has demanded that the university administration pass an ordinance for the one-time regularisation of ad-hoc teachers. According to the association, as many as 4,500 ad-hoc teachers have been working in the university for over a decade.
In the past 10 years, permanent faculty recruitment at DU happened in just two brief rounds -- in 2014-15 and 2017 -- and that too, in a select few colleges or departments. This happened after the Delhi High Court asked DU to fill up vacant posts.
However, that process was stalled after the higher education regulator, University Grants Commission (UGC), changed its policy for implementing reservation in teaching positions in March 2018.
The DUTA has stated that these teachers (ad-hoc) perform the same duties as their permanent colleagues but have been denied basic rights to a dignified life. "Despite fulfilling all the requisite academic qualifications like NET/JRF, M Phil, PhD, post-doctorates etc., from prestigious universities in India and abroad, and having teaching experience for years, these teachers are yet to be regularised in their respective positions which are substantive in nature and are earmarked into different categories as per the approved reservation roster," says the statement released by DUTA.
Protest March
The teachers association has also decided to intensify its demand and march from Mandi House to Shastri Bhavan (which houses Ministry of Human Resource Development), on October 16.
As per DUTA's statement: "The indefinite nature of ad-hoc service stands in stark violation of not only the statutes and ordinances of the University of Delhi but also of UGC regulations which have stipulated maximum 10% for such vacancies. Not only that, but it also goes against the spirit of various court judgements .... and violates the fundamental rights of the affected teachers including the right to equal wage for equal work."
The association's president, Rajib Ray, said at the press conference: "We demand a one-time enabling regulation to ensure the absorption of the temporary/ad-hoc teachers in the university. In order to respond to the peculiar situation which exists in DU, the UGC or MHRD should frame a specific regulation which allows the regularization of serving temporary or ad-hoc teachers on permanent basis through a one-time absorption: a provision for teachers working against vacancies which are approved and earmarked according to the reservation roster meant for teaching positions in the University."
Stay updated with latest Education News