A 'deluded estimation': JNUSU rejects latest hostel fee proposal
A 'deluded estimation': JNUSU rejects latest hostel fee proposal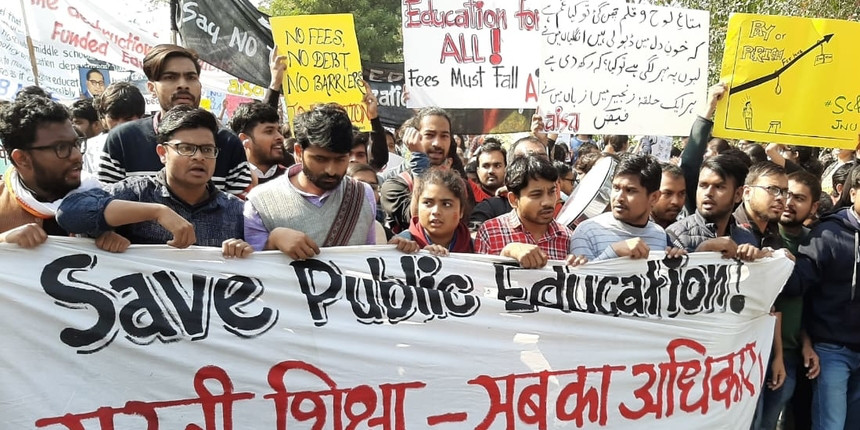 NEW DELHI: The Jawaharlal Nehru University administration's high-level committee, set up on November 24, has recommended a 75 percent fee-rollback for students from families living below the poverty line (BPL) and a 50 percent rollback for the increase announced in the draft hostel manual.
As per the recommendations made on November 25, students will have to pay Rs.1,000 per month for utility and service charges including water and electricity, while BPL students will pay Rs.500. The new hostel manual draft required the students to pay Rs.2,000 per month.
However, the JNU Students Union (JNUSU) in a statement released today, November 26, described the new recommendations as an "outrageous fraud by this incompetent Vice-Chancellor and his partners in crime of the so-called high-level committee". The recommendations pre-empts the report of the "high powered committee" that was established by the Ministry of Human Resource Development to examine the same issue on November 17.
A circular issued by the administration on Monday, November 25, read: "The high-level committee considered the feedback of the student representatives submitted to the dean of students' office through emails. The Committee has made significant recommendations that would benefit all the students in the university by addressing their concerns."
The administration has also appealed the students to "end their strike with immediate effect in the academic interest of their fellow students".
'Deluded estimation'
"In its deluded estimation, what it thinks is a concession on fee hike is a document unacceptable in its entirety," said the JNUSU in response.
The union has called the move a bypassing of all the statutory bodies like the IHA, executive council and other deliberative structures. "If accepted, this would set a precedent where any high-level Committee can be formed in the future to take any arbitrary steps without the need to call any meeting of the consultative bodies," said JNUSU. The union has also pointed to how a committee was suddenly formed on November 24 and was ready with suggestions the very next day.
The JNUSU said that the recommendations themselves are "untenable" as "the administration has never had any data on BPL students because no such estimation was made by the government in 2002".
"On the substantive issue of this so-called concession, the administration has no idea as to how it is going to implement the so-called relief for BPL Students. The Vice-Chancellor in an interview has himself acknowledged the same by saying that with regards to the implementation of the relief 'they will cross the bridge when it comes,'" the statement read.
The JNUSU also urged the MHRD committee to take note of "yet another illegal procedural manoeuvre by the JNU administration".
Meanwhile, a section of teachers has disassociated themselves from the JNU Teacher's Association, to form a separate body called the JNU Teacher's Federation.
Write to us at news@careers360.com.
Stay updated with latest Education News