Following JNU, IIMC students demand 'accessible education'
Following JNU, IIMC students demand 'accessible education'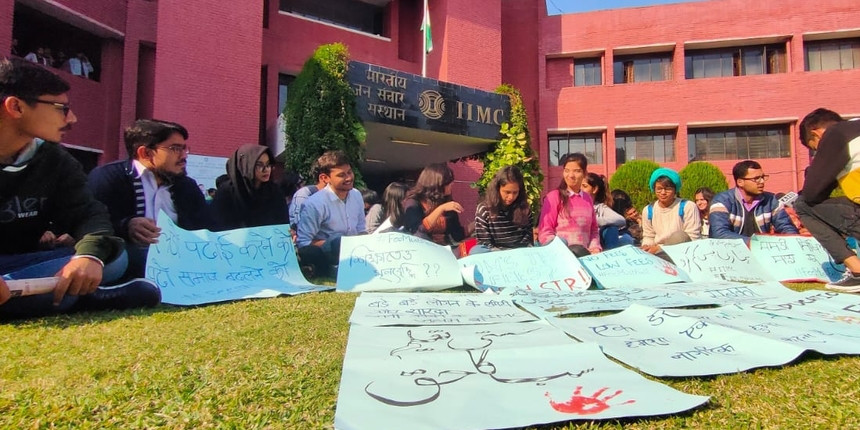 NEW DELHI: Against the backdrop of the protest against increased hostel fees in Jawaharlal Nehru University (JNU), students of the Indian Institute of Mass Communication (IIMC) have begun their own agitation demanding a revision to the existing fee structure to make education accessible. Their protest has been on for four days.
Students of JNU have been protesting for over a month demanding a rollback of a new hostel manual which had provisions to increase fees every year.
At IIMC, students have been protesting since Tuesday, December 3, "demanding a structural fee reform in the present fee structure." They have accused the administration of increasing the fees every year, making education "less accessible for students from financially weak backgrounds".
At present, the fees for the one-year postgraduate diploma courses in IIMC range from Rs. 47,000 for Urdu, Odia, Marathi and Malayalam journalism to Rs. 1.6 Lakh for radio and television journalism. On top of that, students have to pay Rs. 3,000 per month for mess fees, and Rs. 3,500 for girls' hostel and Rs. 5,200 for boys' hostels.
"The fees here are high. As a central government institute, IIMC should be affordable to people from all sections of society. They cannot just go on increasing the fees by 10 percent every year," says Devesh Mishra, a Hindi journalism student.
"I am the son of a rickshaw driver and from a family with an annual income of Rs. 1.2 lakh. How can I pay this tuition? I had to take out loans to afford it," said another Hindi journalism student, Rajan Raj, from Jharkhand.
The director general of IIMC was not available to talk when Careers360 contacted him. The copy will be updated when he responds.
'Dissuading tactics'
Students have also demanded the repeal of a circular published on November 28, asking for full payment of semester fees by January 15, 2020, until the issue is resolved.
A grievance committee, consisting of five faculty members and 10 student representatives, met the students on Saturday, December 6, and asked them to "withdraw protests for any talks to happen", students said.
"We had demanded from the grievance committee to suspend the order and call for an immediate executive committee meeting to resolve the issue. They said that an executive committee meeting can only take place in April and that any talk regarding revision of fee structure can only happen once we withdraw our protest. They are just using tactics to dissuade us," said Astha Savyasachi, an English Journalism student.
Students also pointed out that even with subsequent fee hikes over the years, the institution is not providing accommodation to everyone.
"Unlike the girls' hostel, the boys' hostel at IIMC does not have the capacity to provide rooms for everyone. I have been shifting from one friend's place to another for the past few months as I can't afford to live in a flat. Why can't they provide accommodation to all students?" asks Rajan.
Write to us at news@careers360.com.
Stay updated with latest Education News