FYUP 2.0: Is Indian Education Prepared For It?
FYUP 2.0: Is Indian Education Prepared For It?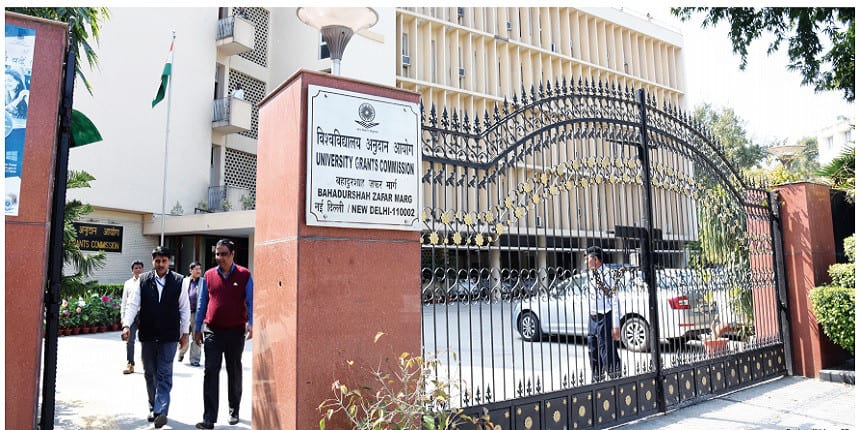 NEW DELHI, SEPTEMBER 06: The 4-year undergraduate programme, which was aborted five years ago, appears to be making a comeback. Will it be a game-changer now? What are the pros and cons?
4 min read
Mar 05, 2022
Two recommendations that came in recently are likely to bring about dramatic changes in India's undergraduate education. The latest one by a University Grants Commission (UGC) Committee headed by Prof. P. Balaram, the former Chairman of the Indian Institute of Science (IISc), proposes reintroduction of Four Year Undergraduate Programme (FYUP).
Earlier, the Draft National Education Policy (NEP) had also recommended the same with a slight difference.
These recommendations come five years after the same proposal was scrapped by the Ministry of Human Resource Development (MHRD) after it ran into controversies regarding the manner in which it was introduced, limitation of electives, lack of infrastructure and faculty to teach, among others.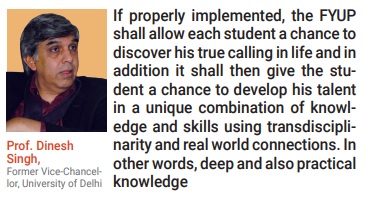 The argument in favour of FYUP is that it will improve the quality of research in colleges and universities and help Indian degrees get more international acceptance. "If properly implemented, the FYUP shall allow each student a chance to discover his true calling in life," says Prof. Dinesh Singh, former Vice-Chancellor, University of Delhi. "In addition, it shall then give the students a chance to develop their talent in a unique combination of knowledge and skills using transdisciplinarity and real world connections. In other words, deep and also practical knowledge," he adds.
On the other hand, the NEP has recommended 3-year and 4-year courses to co-exist, with multiple exits and entry options. The Draft reads, "Students will graduate with a four-year Liberal Arts Science Education degree with Honours, or may graduate with a B.Sc, BA, B.Com or B.Voc after completing three years with a suitable completion of credits within their subject."
Whatever be the pros and cons, the FYUP will mean a shift from the current 10+2+3 scheme to a new programme with multiple exit points and freedom to complete the programmes later.
What is FYUP?
FYUP follows the American education system, wherein students take up sciences, arts or commerce in the first year, and later choose major and minor specialisations and go on to graduate in one particular discipline. The nomenclature of the degree remains the same, like a Bachelor of Arts (BA) or a Bachelor of Science (BSc).
In India, the duration of engineering courses like B.Tech and BE is four years, allowing students to undertake project work and internships along with classroom learning. Similarly, FYUP in other streams is recommended for the allround development of students while focusing on research, which is missing in the current 3-year programmes.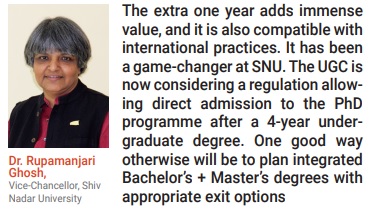 It will be spread over eight semesters so that students get time for relevant training, research and make themselves job ready. In science subjects, students will be exposed to courses in humanities and vice-versa. Dr. Rupamanjari Ghosh, Vice-Chancellor, Shiv Nadar University, says FYUP will instil disciplinary depth along with multidisciplinary breadth in the students. "The 4-year architecture allows the students to share a common core of subjects, take an individual set of electives and take courses that ground them in international issues," she says.
It will also bring in some parity between different streams of study. "In a true multidisciplinary 'liberal studies' set-up, there ought to be parity in the sciences, social sciences and management programme structures with the 4-year engineering programmes for students to have the flexibility of choices, and break the old and ineffective mould of education in silos," Prof. Ghosh adds.
Symbiosis International University, Shiv Nadar University and IISc Bangalore are the pioneers in introducing FYUP in India. University of Delhi, Azim Premji University, Ashoka University and Dr. B.R. Ambedkar University, Delhi, later joined the bandwagon.
Lesson from past
The FYUP had landed in controversy from the day it was announced in DU. A major sticking point was that the new idea was not debated enough in public. Teachers who were against its implementation believed that the decision was taken in haste with no consultation with teaching departments, factoring in their pedagogic concerns.
The students were reportedly unwilling to accept FYUP as it would prolong their plans for Master's or job hunt by a year. There was also a fear that since many exit options were available, students could opt for associate degrees with lesser duration, ultimately affecting their employability. However, Prof. Singh terms it as a wrong perception. "For one, FYUP shall make our students far more employable and also make them entrepreneurs. Also, the duration of Master's shall be cut down and may eventually become irrelevant, except for those students who want to do research at good universities abroad," he says.
More than any drawback of the programme, vested interests could have played a role in its rollback, adds Prof. Singh. "Actually, we did not encounter any major issues in its implementation. In fact, we took anonymous feedback from about 10,000 students in writing and almost 90 percent of them expressed happiness and satisfaction. This was a myth created by certain vested segments of the media that there were implementation issues," he said.
However, since the FYUP had encountered stiff resistance in its first avatar, the UGC or MHRD could undertake a detailed study of the present system and its drawbacks for a better system to evolve. For instance, when SNU implemented it in 2011, the university did not face any problems as all the contours of the programme were looked into in detail, says Prof. Ghosh."We started in
2011, and have never had any internal problem in the implementation of our curriculum at SNU. A lot of thought and conviction have gone into our curriculum design, and as a practice, we continuously review our curriculum, teaching-learning processes and outcomes with all the stakeholders, refining as often as necessary. The UG curriculum model as designed at SNU is in the interest of the students -- it has to be understood and fully supported by the students and faculty for successful implementation."
The way forward
As we go to press, the MHRD is yet to receive the UGC proposal. Once it receives the same, it is likely to consult all the stakeholders before deciding on the way forward. However, R Subramanyam, Secretary, Higher Education, has clarified that in case the FYUP is implemented, it will not apply to those already enrolled in three-year programmes.
The FYUP will to some extent bring the Indian education more at par with the global system by giving it flexibility, more options for students while giving them more time to decide on their specialisations. Prof. Ghosh expresses confidence that the new system will be a game-changer for the country's undergraduate education system, as it happened with SNU. "The extra one year adds immense value, and it is also compatible with international practices. It has been a game-changer at SNU. The UGC is now considering a regulation allowing direct admission to the PhD programme after a 4-year undergraduate degree. One good way otherwise will be to plan integrated Bachelor's+ Master's degrees, with appropriate exit options," she rounds off.
---
Follow us for the latest education news on colleges and universities, admission, courses, exams, schools, research, NEP and education policies and more..
To get in touch, write to us at news@careers360.com.