Greenwood High students get learning lessons from former President Pranab Mukherjee
Greenwood High students get learning lessons from former President Pranab Mukherjee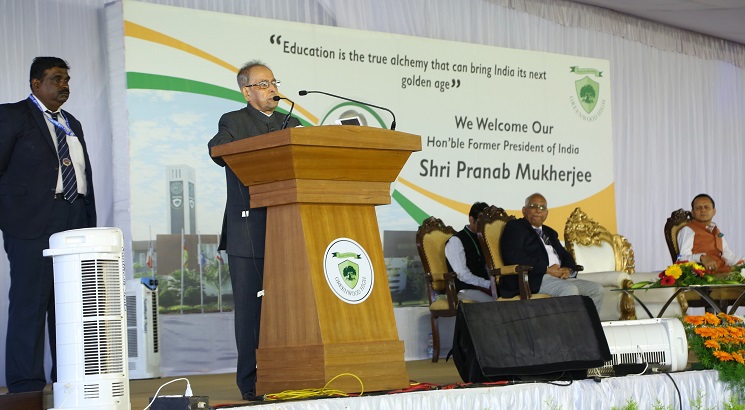 NEW DELHI, NOVEMBER 29: It was an inspiring day for over 5500 students of Greenwood High International School when former President Pranab Mukherjee made his august presence felt at its campus. The dignitary interacted with students and delivered an enlightened speech on inclusive and holistic education that left the entire school community excited.
The former president opined that education is the ladder that can help those at the bottom rise to the pinnacles of professional and social status. Education is the mantra that can transform our economic fortunes and eliminate the gaps that have made our society unequal. Educational institutes of our country, he said, have the onus of building the youth of the country by imparting values which are crucial for shaping the nation's future – values of equality, compassion and democracy which bring together our diverse cultures. India's strategy of high economic growth, he said, aims at overcoming poverty and ensuring development for all. We have to make economic growth relevant to our people, especially to those at the bottom of the socio-economic pyramid. Distributive justice, as a higher goal of democratic polity, can be achieved only through a sound education system. Pranab Mukherjee added "We are all equal children before our Mother India."
Pranab Mukherjee, who began his career as a teacher before joining politics, drew attention to the advice of Mahatma Gandhi who said, 'Literary education is of no value, if it is not able to build up a sound character.' As you grow in life, the veteran thinker said, remember that there is no end to education and learning. Always move ahead with an open mind to widen your horizons and reach new heights. All challenges can be overcome if you work with sincerity and dedication, and maintain an inner poise, he said, and wished the children the best in life and career."
He answered queries from students, who later shook hands with him. Students and teachers showed their appreciation of the veteran leader by applause and cheers.
Bijay Kumar Agarwal, Chairman of the Board of Trustees, Greenwood High said: "It was our privilege that honourable former President of India Shri Pranab Mukherjee spared his valuable time to visit our school to interact with the students. He enlightened the students about the virtues of loyalty and honesty and urged them to make India economically progressive. He persuaded the assembled students to aim high in life and achieve their aims through passion, hardwork, commitment and zeal."
Aloysius D'Mello, Principal of Greenwood High said, "Shri Pranab Mukherjee's personality, his experiences, his reflections, his anecdotes and analogies of life inspired and motivated the young audience. In his message he emphasized on contributing towards our nation's growth by playing our roles with integrity."
Stay updated with latest Education News