How government school teachers are helping Delhi fight the coronavirus
How government school teachers are helping Delhi fight the coronavirus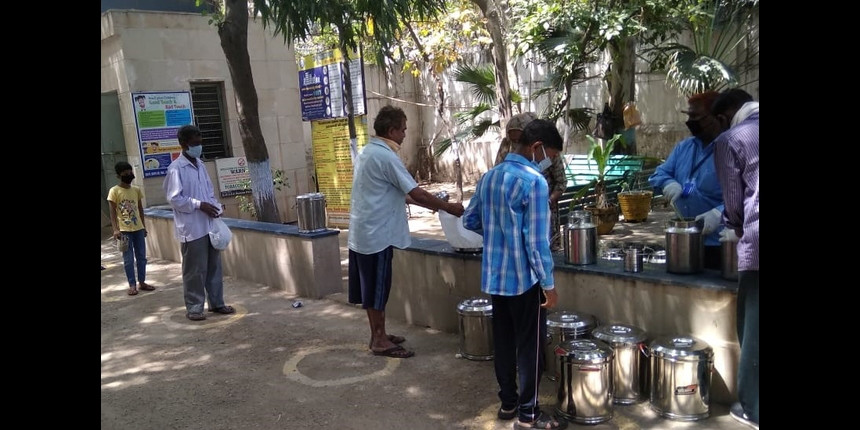 NEW DELHI: Jagat Singh, a teacher in Narela government school, said will be spending the night at the Delhi Development Authority's flat-cum-quarantine centre.
Singh is a small but essential part of Delhi's fight against COVID-19.
There is one quarantined person in each room of the flat he is in and Singh serves as the control centre. "It's basically like a call centre. I have to sit here and receive calls to do the needful. Some need water, some need the rooms cleaned, I communicate that with the service people," Singh said.
Singh is one of the 176 government school teachers who are in charge of the quarantine facilities for asymptomatic contacts of COVID-19 patients.
The north district magistrate on March 30 had ordered district education authorities to identify quarantine facilities where government staff, including school teachers, were responsible for "discharging the duty of containment measures".
As per the north district magistrate's order on March 31, Alipur and Narela were allotted 60 government school teachers each while Model Town got 56 to work in these facilities.
Hundreds of others are involved in managing the distribution of free meals at schools for migrant workers, daily-wagers and the homeless stranded by the lockdown.
Different roles
"We are in charge of distributing the resources as decided by the higher officials. We make a list and then send it to the service men to do accordingly," said another teacher who is assigned a quarantine centre in Alipur. "We also have to keep a record of what complaint came from which room," he added.
While teachers were assigned quarantine duty at the centres, several schools were themselves converted into what the government calls "food centres or hunger relief centres".
These were set up by the Directorate of Education as per an order on March 28, a day after Delhi's chief minister Arvind Kejriwal announced this would be done "for distribution of cooked food for homeless/poor/distressed/deprived persons". The meals are distributed twice, once in the afternoon and once late evening.
"Initially, we had two schools designated as hunger relief centres in every ward. So, we had 48 such centres in the 24 wards of North Delhi. Now, we have increased the number to 70 schools," said Krishan Kumar, sub-district magistrate, Alipur.
A principal said that public education staff have been deployed for making passes as well.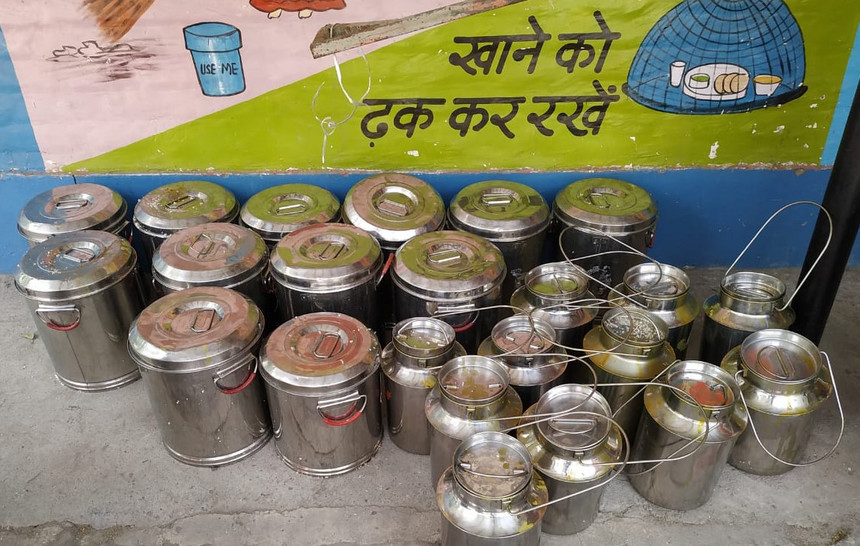 Each school provides food for around 500 people (Source: special arrangement)
Numbers can vary
The 'Delhi model', as Kumar calls it, uses the existing mid-day meal facilities and manpower for the distribution of food where the heads of schools are the nodal officers.
"At first, we only had Delhi government schools but we have also included schools that come under the municipal department. Each school serves around 500 people," said Kumar.
However, school authorities said that although each school is supposed to serve 500 people, numbers can vary according to the area.
"Here we have three schools within 500 metres. In areas where the schools are a bit farther apart, like in Patparganj, around 1,500 people come to collect the meals since there is a slum cluster there," said the principal of a school in East Delhi, asking not to be named.
Shortage of protective equipment
However, the shortage of masks has had an effect on the food distribution also. The authorities said that due to the lack of masks and other protective gear they have had to distribute food without checking identity cards.
"The plan was to give cooked meals to people who don't have ration cards or those who live on the streets, etc. but it is very difficult to segregate and identify this. We can't check ID and all since that is risky," said the principal.
"I've managed my own masks, some were distributed to my estate manager and sanitation staff. But nothing came from the government as of yet," he said.
School authorities have also said that the education department is planning to convert schools into shelters in case the need arises. "They have taken count of the number of classes and other facilities," the principal said.
But school authorities are hoping that it will not come to that since, according to them, schools won't make good shelters as the patients would be forced to share the washroom.
Also read:
NBT set up team to assess psycho-social impact of COVID-19
Meet the student group helping hundreds stuck in COVID-19 Lockdown
Write to us at news@careers360.com.
Stay updated with latest Education News