Meet the student group helping hundreds stuck in COVID-19 Lockdown
Meet the student group helping hundreds stuck in COVID-19 Lockdown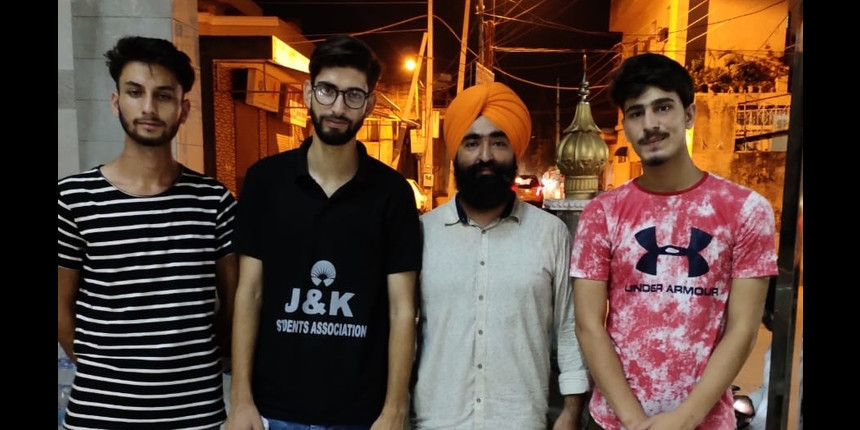 NEW DELHI: On March 21, Safat Ahmed Malik and nine other Kashmiri students boarded a train from Bangalore to Chandigarh as their institutions had closed down amid the coronavirus threat. The students were hoping to hail a taxi from Chandigarh to reach their home in Kathua, Jammu and Kashmir. While they were on their way on March 22, the Punjab Government announced that the state will go into lockdown. Borders were closed and people's movements were restricted. When Malik and friends reached, they were stuck.
That is when the Jammu and Kashmir Students Association stepped in. "One of the students had my number and contacted me. I managed to get them accommodation in Jammu and Kashmir House and a Gurudwara in Sohana. It was very difficult to do so on such short notice," said the association's spokesperson, Nasir Khuehami. Later, on repeated requests from the organization, the Punjab Government would open the border and provide transportation to the students who are now quarantined in Kathua.
After travel restrictions were imposed to control the spread of the novel coronavirus, the Jammu and Kashmir Students' Association has pulled at least 1,000 people out of tight spots and delivered relief to many more. Kheuhami said he receives around 300 calls for help in a day.
Budgam Issue:
Issue resolved, SSP Budgam addressed. We have provided them rice, sanitizers, pulses & other essential Commdoties.

— JandKStudentsAssociation (@JKSTUDENTSASSO) March 30, 2020
The Association
The association was formed by Khuehami in 2016. "There are already many organizations and NGOs but they are not working so well on the ground level. So we thought let us start such a group and let us work for the student's safety," said Khuehami. Over four years, the association's membership has grown from three to 300 across the country.
They began helping students from Kashmir studying outside the state. In the winter of 2016, six Kashmiri students were allegedly thrashed by a right-wing mob and later arrested by the police. The association urged the Inspector General of Uttarakhand to look into the matter and ensure the safety of the students. The students were released after verification of their identity. "That was our first major effort to help students," said Khuehami.
The association drew attention again in early 2019. On February 14 in Pulwama district of Kashmir, 40 soldiers belonging to the Central Reserve Police Force (CRPF) were killed in a terror attack. Soon after, Kashmiri students across the country were harassed and abused. "We evacuated nearly 5,000 Kashmiri students and provided them with shelter, food and accommodation," said Khuehami. With the help of Khalsa Aid, a non-profit, the association managed to ferry hundreds of students to safety.
Recieved Dozens of texts and Calls from Students studying in different institutes of dehradun, Complaing that College authorities are asking us to pay unneccesary fine (Rs 4000 per student) for running away post pulwama Attack. pic.twitter.com/wNR6fLR1Ml

— JandKStudentsAssociation (@JKSTUDENTSASSO) May 2, 2019
They were equally active after the abrogation of Article 370 when the state was under lockdown with no internet connectivity. "I wanted to set up a platform to help the students belonging from Kashmir irrespective of their religion, caste and creed," said Khuehami. The organisation helped students access their board exam results with volunteers across the country looking them up online.
A similar helpline was set up during the nationwide lockdown to contain the spread of coronavirus and COVID-19, the disease it causes.
Students, guards, tea-sellers
As states started sealing their borders in a bid to fight the pandemic, the number of calls to the association grew.
In the last week of March, Khuehami received a call from students stuck at the Jammu bus station. They were without transportation as a 21-day lockdown had been enforced across the country. The association reached out to some of the higher officials including the Director-General of Police in Jammu and Kashmir. The students were granted permission to leave for the Valley and the organisation arranged six buses for them. Since the lockdown, the association has helped students stuck in Jaipur in Rajasthan, Gandhinagar in Gujarat and at a railway station in Budgam, Kashmir.
But requests for assistance and funds are coming from a much larger and more diverse group of people too. The group has assisted a tea-stall owner who was running out of food; a resident of Mehdeen Rambag Colony who was "completely out of essential commodities"; a family with young children living on rent in Muthi Jammu; and a security guard at a Srinagar hospital.
The association is approached on WhatsApp and social media. A typical call for assistance looks something like this: "A person [requires] accommodation in the Noida Sector 62 near A7 Tech Mahindra building. Any one from said location agreeable to help. Please DM for details."
These are typically followed by a flurry of messages and a fundraiser.
"We are very active on all the social media platforms. We have a large group where we communicate and organise to resolve issues," said Khuehami. "So far, I can say that we have managed to solve 90% of the issues that were put in front of us."
Also read:
COVID-19: PIB sets up fact check unit, starts a daily bulletin
Fake COVID-19 news: IIT Bombay launches 'KauwaKaate' to check facts
Write to us at news@careers360.com.
Stay updated with latest Education News