How NLUs plan to implement the NEP 2020
How NLUs plan to implement the NEP 2020
India's premier law schools, the National Law Universities, are discussing ways to implement the new National Education Policy. They will need more of everything – funds, infrastructure, teachers.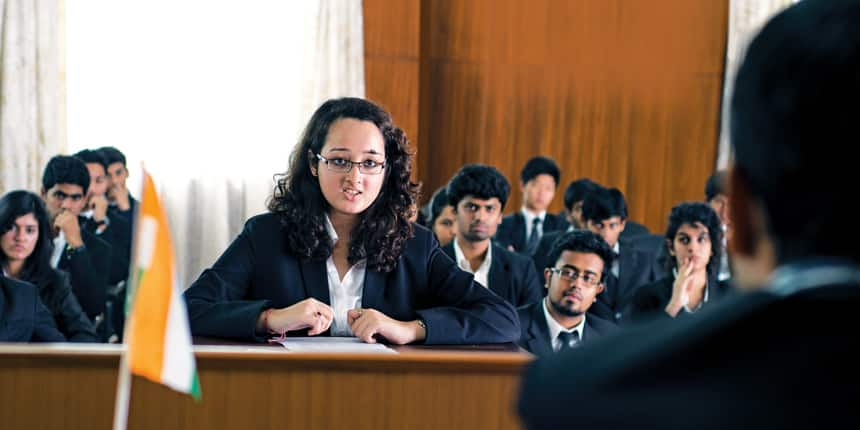 NEW DELHI: Even before the National Education Policy (NEP) 2020 insisted on all institutions becoming multidisciplinary universities, the National Law Universities (NLUs) had begun moving beyond law. With departments on social sciences and humanities and offering programmes in management and public policy, the NLUs' leaders insist they are already multidisciplinary institutions.
However, set up under state law and in many cases, funded by the states, for an NLU to become a "multidisciplinary university" in the pattern envisioned in the NEP 2020 will be a challenge. At present, there are 22 NLUs with around 2,538 undergraduate seats and 724 postgraduate seats. Some of them have already begun discussing ways in which they can meet the NEP's requirements.
NEP proposals and NLUs
The National Education Policy (NEP) 2020 cleared by the Union Cabinet last year makes way for restructuring the Indian higher education system. The NEP 2020 envisions one large multidisciplinary higher educational institution in or near every district by 2030. One of the key reforms it proposes is the phased conversion of "single-stream" institutions – ones that teach or focus on just one discipline – with small student bodies into large, multidisciplinary institutions or "clusters". It also suggests restructuring the undergraduate degree into one with multiple exit and entry options. Students can leave with different levels of qualifications – certificates or degrees. While focusing on law, the NLUs have been shifting away from their "single-stream" identity for several years. The national law universities were created on the same lines as the premier management and engineering institutes, Indi-an Institutes of Technology (IITs) and Indian Institutes of Management (IIMs). As standalone institutions, they were to be the beacons of excellence in legal education. However, the legal and policy framework on which these stand is radically different from that of the IITs and IIMs and it also complicates the process of implementing major structural reforms.
To begin with, IITs and IIMs are all national institutions, established through acts of Parliament and where they receive public funds, they get them from the central government. In the case of the NLUs, the framework is more complex. Despite their name, they are established through state laws and where they are not self-financed, they receive funds from the state governments.
The NLUs follow the regulations of the Bar Council of India (BCI), the professional body which regulates legal education in the country. The University Grants Commission (UGC), the apex regulator of higher education, is involved, as are the state governments. For widespread reform in the NLUs, all the bodies will need to agree and alter their regulations. That apart, many NLUs also have limited infrastructure and teaching resources. They are hoping for funds from the states, specific allocation for NEP-implementation in the Union Budget and, where feasible, working on raising funds from alumni.
Outside the core
The NLUs run integrated law programmes that combine training in law and undergraduate studies in another discipline, typically in humanities or social sciences. In consequence, many of them already have full-fledged departments in other fields of study, typically social sciences, humanities and legal management. Each of the NLUs is multidisciplinary in nature as it offers courses in these fields as well, said Paramjit Jaswal, former Vice-Chancellor of Rajiv Gandhi National University of Law (RGNUL) in Patiala, Punjab. The governing body of the NLUs will decide how the suggestions of the NEP will be implemented. "However, I am of the view that we need to have islands of excellence like we have IITs, IIMs. Similarly, today we need NLUs for law. To turn them completely into something like a regular university was not the idea with which they were created," he said.
However, all NLUs already have, or plan to launch courses in areas that are not strictly a part of legal studies. The National Academy of Legal Studies and Research (NALSAR) Hyderabad, for example, has a full-fledged management studies department that offers a full-time MBA programme; and the National Law School of India University (NLSIU), Bengaluru, offers a two-year, residential, interdisciplinary master's programme in public policy. To go beyond law, social sciences and humanities, NLSIU Bengaluru might tie-up with other state universities to form a cluster, its Vice Chancellor, Sudhir Krishnaswamy told Careers360.
The Maharashtra National Law University (MNLU) has two departments for social sciences and humanities, in addition to law. All departments have dedicated faculty-members and offer subjects accordingly. "The university offers a number of diploma and certificate courses and scholars from any field of study can enrol in the PhD programme offered by the university," said MNLU, Nagpur Vice-Chancellor Vijender Kumar.
Multiple entry and exit options
The NEP suggests that a university must offer all types of degree programmes and multiple entry and exit options. For NLUs, which run a five-year integrated programme without a provision for exit, this implies comprehensive restructuring of the curriculum. A three-year postgraduate law programme (LL.B) teaches only subjects from law whereas, in the integrated programme, the first two years mostly cover non-law subjects. So, there are questions about what qualification a student choosing to exit without completing the full course will leave with, whether they can be eligible for even a certificate or diploma in law without having studied any. At present, BCI regulations allow only those with law degrees to practice as lawyers.
While some NLUs have started discussing ways this multiple-exit option can be implemented internally, the BCI will ultimately decide on the structure.
"We have to work this out. The Bar Council of India will have to also look into this as it regulates legal education in India. We do have some creative ideas on how this can be done so that it encourages people to do law and we will work in that direction. We have to see if someone who wants to exit after two or three years should be given a BA degree or certificate. All these decisions will be taken by the BCI," said Krishnaswamy.
Funding reforms
While the older NLUs are fully sustaining themselves financially, many of the new ones rely on state governments for funding. Expanding into a multidisciplinary university would mean new programmes, more infrastructure and increased recruitment of both teaching and non-teaching staff. NLUs relying on state funds will also require further support.
"We would…need to hire good quality faculty and that would require funding," said Nishtha Jaswal, VC, Himachal Pradesh National Law University, hoping the state government will fund the expansion. NLSIU Bengaluru is fully self-financed and is also working on raising funds from alumni and setting up an endowment fund like IIT Delhi has done. Krishnaswamy also pointed out that the government may allocate funds toward NEP implementation and that would help as well.
"Funds have always been an important factor and MNLU, Nagpur is getting funds and assessment in blended form," said MNLU VC, Kumar. "The state government is extending support to the university and the university also relies on self-generated funds. The university has in the past established a committee for raising donations."
Write to us at news@careers.360.com.