IIM Ahmedabad Recruitment Conclave 2019: Stakeholders bat for digitisation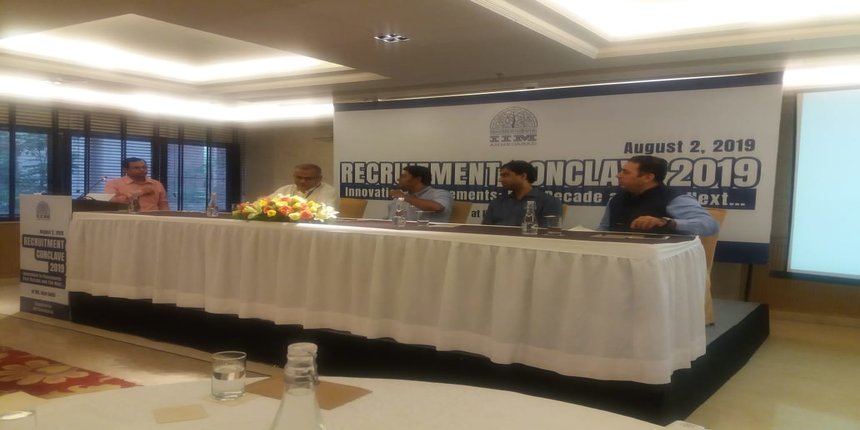 Compare Colleges
College Comparison based on Courses, Placement, Rank, Fee
NEW DELHI, AUGUST 2: Indian Institute of Management, Ahmedabad organised a recruitment conclave with an aim to discuss the innovations required towards building a strong placements ecosystem. In order to get the perspective of all the stakeholders, the panelists comprised of recruiters, faculty members and representatives of student placement cell. One of the key take away from the conclave was the digitisation of the placement process so that it could pave the way for more transparency and ease the process of recruitment for everyone.
Recruiters gamify the selection process
According to some of the recruiters, the past few years have seen a paradigm shift in the selection process. Some of them select the candidates on the basis of the various games which the candidates have to play and based on their performance the selection is made. One of the recruiters who was from Yes Bank was of the view that they recruited candidates on the basis of the game which they had to play using their phone and internet and their performance was judged on three parameters such as (i) Highly fit (ii) Average (iii) Low Fit
Students Placement Cell Call for Standardisation of Compensation
The representatives of the placement cell of IIM Ahmedabad, Bangalore and IIFT stressed on the need for standardization of compensation by companies visiting different B-schools. Aiming to disseminate the information with ease, candidates now have to simply upload the CVs. Alumni are invited ahead of the placements so that students can make an informed decision while they apply to a particular company for a job.
Faculty Calls for less Stress On Students
The faculty from IIM Ahmedabad, Lucknow, Indore, Kozikhode were of the few that the students were under a lot of stress as they had to complete their academic tasks as well as the large number of interactions which the candidates had with their prospective recruiters. The faculty called for structural innovation.
Stay updated with latest Education News