IIM graduates debut with degrees
IIM graduates debut with degrees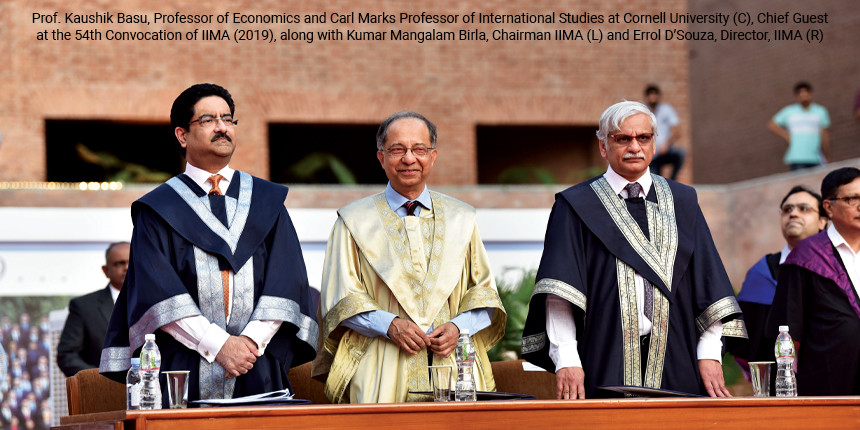 NEW DELHI: Shivani Pethe, a research scholar with Indian Institute of Management Calcutta (IIM-C), had faced a peculiar problem. With a background in statistics and master's degree in operations research, she wanted to study "industrial clusters".
"I am working on industrial clusters. My particular topic is at the intersection of operations management and strategic management," she says. Her best bet for research guidance was not a university but an IIM. "I picked an IIM over any university because it really allows you to have a multidisciplinary approach which a normal university with a single operations management program may not be able to," says Pethe, now in the fourth-year of the program.
At the time she joined, the doctoral research programmes at the premier public business schools did not end in PhD degrees. They were called "fellowship programmes" and their graduates "Fellows". Similarly, students of the two-year post graduate management programmes left with diplomas, not degrees. While granted equivalence by the Association of Indian Universities, the PGDM-holders often faced problems at the time of recruitment and promotions in India's regular public university system. Some even faced problems while pursing studies abroad.
Pethe's status has changed since. In 2017, Parliament passed the Indian Institute of Management Act bestowing upon the IIMs the power to award degrees instead of diplomas. When she is through with her research, she will be a full-fledged PhD degree holder and permitted to use the honorific "doctor" before her name.
Beyond the name
"A "PhD" is a universally-accepted title. Previously, those who were in doctoral studies were called 'fellows'. In that case, if they wanted to apply for post-doctoral studies abroad, they did face problems. Also, they could not apply for jobs abroad which were looking for PhD qualification holders. Now that is taken care of," says Himanshu Rai, director, Indian Institute of Management – Indore.
The problem was not with the curriculum, but with nomenclature. The change means little also to the large number of "post graduate diploma in management" or PGDM students who leave the IIMs each year to join managerial positions in various industries. Despite that students from management as well as research programmes at several IIMs had petitioned their managements to be allowed to leave with degrees in early 2018 when the rules for the new law were yet to be framed.
At IIM Ahmedabad (IIMA), the batch of management students that graduated in 2018 even conducted a survey. According to the representation they finally made to the administration and governing body, they gathered 250 responses, representing over half the batch, and 94 percent of them had said "they would prefer to be presented an MBA degree over the PGP Diploma". Only three students were "indifferent".
"A degree is generally more valued than a diploma for further studies or a job abroad, that's why the students prefer a degree," said Raafi Mohammad, one of the student representatives from that batch. "A group of students wanted to put forth a petition to the institute's administration to grant them degrees instead of diplomas. As a general secretary, I was responsible for (placing it before) the administration. At that point of time, it was not possible for the administration to carry it out because the rules and regulations surrounding the degree were not finalised yet."
A similar petition had gone from the Fellows as well and met a similar fate. "The FPM was always a doctoral programme but we'd call it a "doctoral diploma" and its graduates would normally get absorbed into the IIM system," says a researcher at IIMA asking not to be named. The new IIMs came so there were jobs, and even the management schools of the IITs hired from the IIMs. But we had heard that our seniors had faced problems at the time of recruitment and promotions in the traditional universities."
On equivalence
An alumnus of IIM Calcutta who was part of the management programme and was awarded the MBA degree in April 2019, says on conditions of anonymity, "If you compare PGDM and MBA degree, what holds weight is the MBA degree over the diploma. If I have to choose between two people based solely on their educational qualification, I think the MBA degree course would add more value."
"The diploma (programme) is recognised as an MBA in India although the certificate says PGDM. What matters is, if you have to get a job abroad, you have to get an equivalence (certificate) from a certified institute like World Education Services," says Shubham Goyal, an alumnus of IIMA. A diploma programme can be declared "equivalent" to a degree programme by certain agencies, including the AIU. The change in nomenclature saves students a lot of time while applying for further studies. "That requires (me to submit) my transcripts (for) whatever I have done till now in my bachelor's and my master's programmes," said Goyal. "They will see what the length of the courses was; what are the different courses offered. They will do a background check then they decide on equivalence."
MBA for 1-year executive PGP
Students of the one-year full-time Post Graduate Programme in Management for Executives too gained from the new law. Professionals who completed the one-year executive program can now enrol for doctoral studies.
"Yes, we have awarded MBA degrees to those who completed the one-year post-graduate management programs for executives. The only criterion is that they have to complete 650 contact hours. So, a person who has completed the one-year program too can continue with his doctoral studies," adds Rai.
IIM Bangalore was the first to award MBA degrees to its students of Post Graduate Program students in 2018 followed by IIM Indore, Ahmedabad and Calcutta, amongst others.
Prior to the Act, all IIMs were individual entities under their respective societies act. They still continue to follow their respective curriculum which is updated with the addition of demand-based topics.
Presently there are 20 IIMs in India.
Stay updated with latest Education News
More From Pritha Roy Choudhury