'We don't get worked up about rankings': IIM Udaipur Director
IIM Udaipur director Janat Shah spoke about carving a separate identity as a new IIM and why NIRF Rankings for management do not always make sense.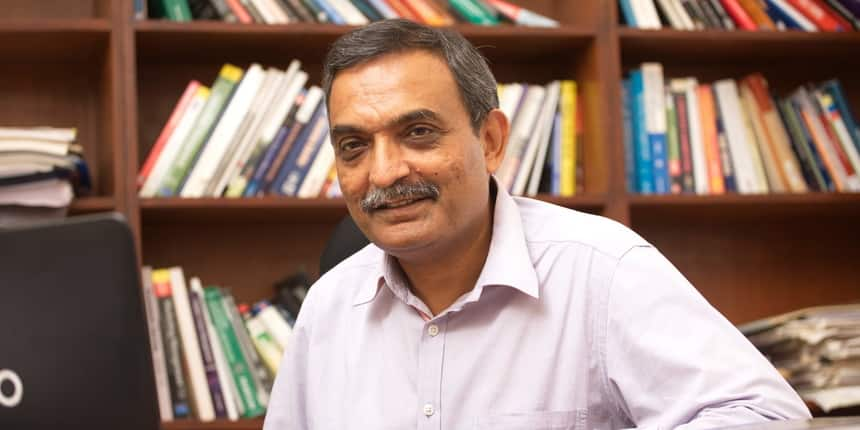 NEW DELHI: Indian Institute of Management Udaipur was set up in 2011 as one of the second-generation IIMs. Janat Shah has been its director since inception and spoke to Careers360 about the goals set for the institute, its growth, why IIM Udaipur reports under 100% placements every year and where the National Institutional Ranking Framework (NIRF) may be going wrong with B-schools.
Q. It's been a decade since IIM Udaipur was set up and you've been the director from the start. You must have visualized where the institute should be in 10 years. Do you think you are there now?
A. From the beginning, we were very clear that IIM Udaipur should be in the league of the IIMs in Ahmedabad, Bangalore and Calcutta in 20 years. Luckily, we had an outstanding board.
In our vision, we would be recognised globally in 20 years. The first 10 years, we decided to focus on local benchmarks but use global measures.
We decided to focus on two areas other institutions were not focusing on – research and global accreditation. In research, we wanted to be in the top five in the country by 2020. In education, our goal was to get global accreditation. Finally, we wanted to be in the Financial Times Global Masters in Management Rankings. We managed all three by 2020.
Also Read| Being future-ready: IIMs, PGDM institutes bat for STEM-embedded MBA

In research, we focused on high-quality journals. There are two well-known lists of journals– the UT Dallas list which is tougher and the Financial Times list. We decided to focus on the more difficult-to-get-into UT Dallas list. Today, we are number four in the country there.
In the same way, we realised that apart from IIM ABCs, other institutions were not focused on the global rankings and global quality accreditation at all. IIM Udaipur was accredited by the Association to Advance Collegiate Schools of Business (AACSB) in 2018.
Q. What are the major areas of focus for the institute?
A. One: digital. When we looked around, industry was changing phenomenally. If you look at the top 10 companies in terms of market capital, seven were digital. But when we looked at our curriculum, we didn't see anything which was about digital. Here was an opportunity to take leadership.
We put together an advisory body of industry leaders and they helped us design a one-year MBA in digital enterprise management. Now we are bringing that into a two-year MBA. We feel this focus on digital will give us an edge, five years down the line.
Also Read| Picking science stream in Class 11 raises earning chances by 22 percent: IIMA Study

Second initiative is our Vision 2030. We want to be known globally for our education and research. We want to be there in the UT Dallas top 100 global institutions list by 2030.
We realised that the way we manage relationships with corporations was very transactional. Our third objective was to change that. We have identified sectors and had someone working with each. For example, we have identified somebody who will work with the consulting industry, understand their challenges, bring those issues into the curriculum, talk to student clubs, etc. In each area, we will have an industry advisory body to guide us.
Q. How challenging is it to be a newer IIM and create a separate identity?
A. Since we had an excellent board and a long-term focus, nobody asked about our issues in the initial stages.
We decided to focus on our two-year MBAs and not on executive education at all. We are the only institution to not focus on executive education in the first 10 years.
We also decided to follow IIM Ahmedabad's standard for reporting placements. Everybody said this will hurt you in the short-term. If you look at placement numbers, even among second generation IIMs, we were actually lowest. Because we said we will go by auditing, we are the only institution that recorded less than 100% placements.
Also Read| NIRF Ranking 2021: Can't compare IITs, IISc with BHU, says BHU director

We genuinely believe that if you build transparency, integrity, it will help in the long run.
Obviously, the IIM brand itself is a great thing that field has become crowded. There are already 13 IIMs. We were already asking how to create a separate identity. Having a strong board is one way.
Second, we have to give credit to the government. The government gave us the infrastructure and said they will support us for eight years. We took full advantage of that, putting resources into research and building high-quality programmes.
Q. Any specific challenges of being a newer IIM in achieving all this?
A. In the initial years, students were concerned that we were not focusing enough on placements. Our emphasis was on building a strong foundation. Even last year, we posted less than 100% placements. Nobody does that. It's a question of communicating to all the stakeholders, primarily students, faculty, staff and alumni. It is what matters in the long-run.
The NIRF (National Institutional Ranking Framework) rankings include a research component. Every year the board asks me why our score is low on research when we focus on it. But if you look at it carefully, the top three institutions in management research is Indian Institute of Technology (IIT) Roorkee, IIT Delhi and IIT Kharagpur. If you ask any serious researcher globally, they don't take IITs' management research seriously –I'm talking only about management.
If you look at UT Dallas rankings or the FT papers, there isn't even a single quality paper in those journals by the IITs. Even though NIRF talks about research, what they mean is research by quantity.
Everybody would like to see better performance on NIRF rankings, everyone would like to see higher compensation numbers but we don't play that game.
Q. IIM Udaipur did really well in the NIRF rankings 2016 but seems to have declined since then.
A. Yes, but being ranked at five then did not make any sense. We said, "This is not reality". If we consider all dimensions, we are definitely between 10 and 15. We don't get worked up about it each year. When we got the fifth rank I said, "This doesn't make sense".
Do you genuinely think that IIT Roorkee is the number-one research institution for management? If you don't, how can you trust those numbers? So, if the measurement is wrong, why should we look at that measurement?
Also Read| 'Business as usual': NIRF no different from global rankings, say former education officials

We are focused on building a culture. If we slipped this year in NIRF, that's okay. That's the right thing in the long-run.
For example, we are reasonably sure that we will see significant improvement in our placements in the next few years. This is mainly because we are focusing on something we haven't in the past years. I am fairly sure that the results we showed in research, global rankings, and placements in the next three years.
Q. IIM Udaipur's Vision 2030 has focused on "high quality research" and "student transformation". How do you hope to achieve these?
A. There are three parts to student transformation. The first is academic. Then, what happens outside academics, in clubs and committees. The third is career. We have focused on academics but will keep improving. We have a taskforce for that.
Second, we had focused a lot on building a strong student culture outside academics.
For careers, we have a "learning and development" group through which we help each individual understand about themselves, figure out what they are passionate about.
Then, we have one of the best research ecosystems in the country today.
Our mandate to faculty is that you should be recognized in the area that you want to be recognized in. For example, we are not going to ask anyone to focus on digital. You decide where you want to work. For example, if I'm working on sustainability then 10 years down the line, if there are 100 top researchers in that field, I should be one of them. I should be in that conversation.
We have put together an ecosystem and enabling environment, the outcome will happen. That is our broad philosophy.
---
Follow us for the latest education news on colleges and universities, admission, courses, exams, schools, research, NEP and education policies and more..
To get in touch, write to us at news@careers360.com.
Know More About
NIRF Rank
22
Rating
4.5/5
Download Brochure