IIT Guwahati develops kit to transport COVID-19 tests
IIT Guwahati develops kit to transport COVID-19 tests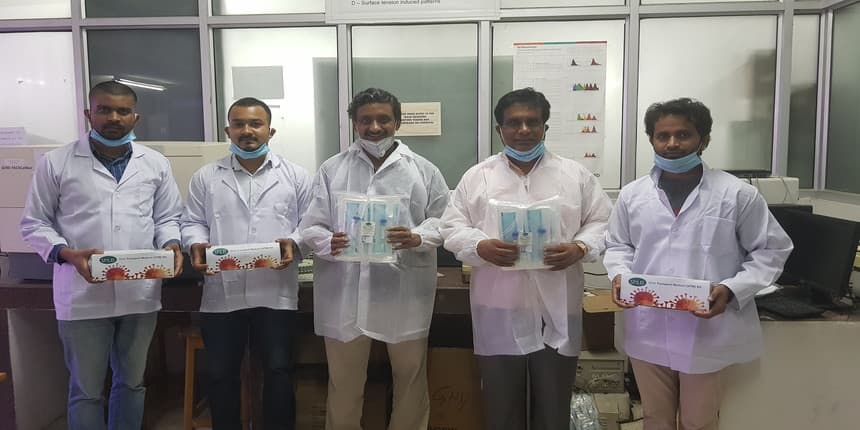 NEW DELHI: Indian Institute of Technology, Guwahati, has launched sterile viral transport media, or VTM kits, used to collect the nasal and oral swab specimens from the source to the laboratory safely for culture and testing, says a statement from the institute.
During this period the virus, if present, in the sample specimens should remain intact until the testing procedure is completed.
Formally launched by Himanta Biswa Sarma, the minister of finance, health and family welfare, Assam, the kits were developed as per the standards laid down by the Guwahati Medical College Hospital(GMCH).
Speaking about the launch of these kits, Sarma, said, "We want to identify and contain this disease at an early stage and it is vital that we have all the crucial kits and materials so that our frontline healthcare workers and doctors who are doing a commendable job do not face any hurdles."
The research team was led by Parameswar Krishnan Iyer, and Siddhartha Sankar Ghosh, professors from IIT Guwahati and Labanyamoy Kole from RR Animal Healthcare Ltd. The kits have now been tested and validated.
About "SPILD" VTM kits
The "SPILD" VTM kits consist of a solution specially formulated for the collection and transport of SARS-CoV-2.
Each kit comprises a Centre for Diseases Control-recommended and validated transport medium, and one each of nasopharyngeal and oropharyngeal specimen collection swabs. The complete package is suitable for the collection, transport, maintenance, and long-term freezer storage of viral specimens.
The unique formulation of the transport medium helps in preserving the viability of viruses for up to 72 hours. The swabs have been designed ergonomically with a pre-moulded breakpoint on their shaft for enabling secure sampling.
These sterile "SPILD" VTM kits comply with the CDC recommended configurations for viral specimen collection for COVID-19 and are packed in user-friendly individual packs.
Also Read:
Write to us at news@careers360.com.
More From Team Careers360