India's coronavirus lockdown extended to May 3, 2020: PM Modi
India's coronavirus lockdown extended to May 3, 2020: PM Modi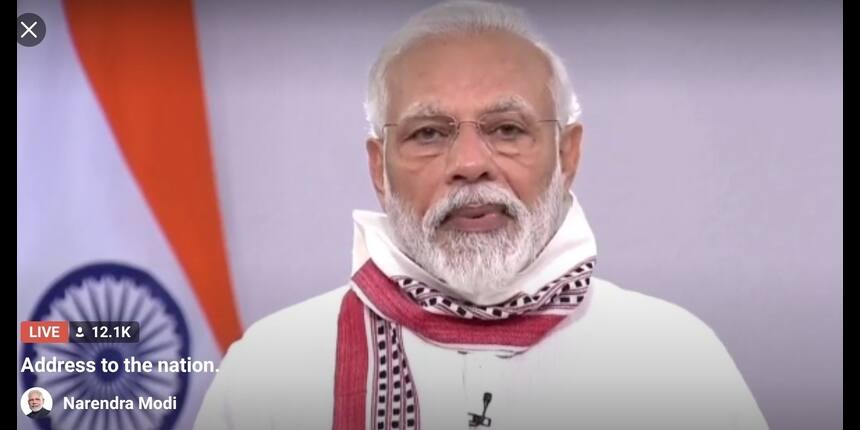 NEW DELHI: India has decided to extend the countrywide lockdown till May 3.
Prime Minister Narendra Modi said this in a televised address to the nation on April 14, the day on which the current 21-day lockdown ends. The lockdown had been enforced on March 25 to control the spread of coronavirus and the disease it causes, COVID-19.
"Keeping all suggestions in mind, we have decided that India's lockdown must be extended till May 3," Modi said on Doordarshan News.
Modi pointed out that "some states have already extended the lockdown".
Some nine states, including Madhya Pradesh, Maharashtra, Odisha, Punjab, Karnataka and Tamil Nadu have already extended the lockdown till April 30 and May 1.
Addressing the nation at 10 a.m Modi said: "We have to follow the rules exactly the way we have been doing. I appeal to all citizens to not let corona spread to new areas. Location-wise, even if it increases by one patient, it should worry us."
"Till April 20, every district, every state will be closely monitored," Modi said, adding that relaxation in lockdown will follow if the number of hot spots do not increase.
"We'll constantly evaluate how well we succeed, and if hot spots do not increase, from April 20, we can relax some restrictions in those areas," he said. Hot spots are geographical areas from which a large number of cases have been reported.
No word on education
No mention was made of education. The academic schedule has been massively disrupted by the coronavirus pandemic. The Class 10 and 12 board exams conducted by the Central Board of Secondary Education (CBSE) and the Joint Entrance Examination - Main, or JEE Main, for admission to engineering, were both postponed on March 18. The JEE Advanced, for admission to the Indian Institutes of Technology, was also postponed on April 1. In between practically every state authority has postponed or cancelled exams altogether, electing to promote students on the basis of assessments and evaluation that have already been conducted.
However, a committee has been established to report on salvaging the academic calendar. It was supposed to submit its report on April 13 but held back due to the possibility of an extension. No new dates have been announced for school board exams or entrance exams – most postponed in March – so far.
Modi had addressed the nation for the first time on March 19 when he proposed "Janata Curfew" or people's curfew on March 22. He asked the people to pledge solidarity to the healthcare workers by symbolically clanking pots.
Next time, on March 24, Modi addressed the nation again and called for a 21-day lockdown which was to end on April 14.
Also read:
Write to us at news@careers360.com
More From Team Careers360