Industry, Academia and former policy-makers launch Indian School of Public Policy
Industry, Academia and former policy-makers launch Indian School of Public Policy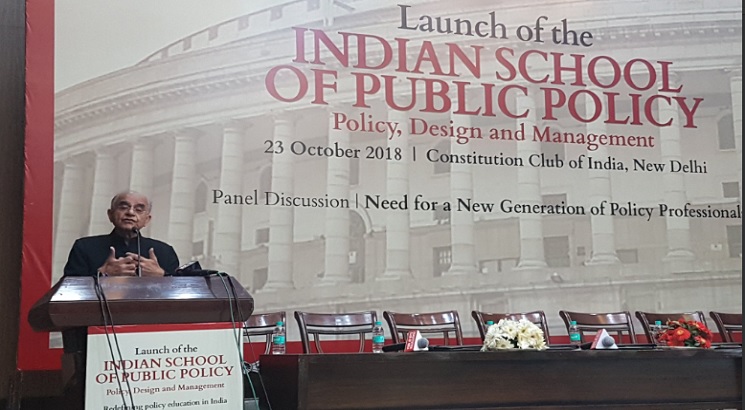 NEW DELHI, OCTOBER 23: The Indian School of Public Policy (ISPP) focused on design and management of institutions and rules that govern society was launched by former-policy makers, industry-leaders, philanthropists and eminent academicians today.
The school intends to develop a new class of policy leaders for India by equipping policy professionals with knowledge, skills, wisdom and ethics to understand, design and implement local solutions to India's enduring policy and governance challenges.
The one-year, Master's equivalent program will be a blended design of theory, perspectives and best-practices of public policy from around the world, augmented with technical, managerial and leadership skills.
ISPP has already secured commitment of support from industry leaders like Deloitte, Uber, PwC, Twitter, Dasra, Skill India, GMR Group, Samhita and Manipal Education Group besides others who will be involved in design of the curriculum and will also enable training and professional development opportunities.
Dr.Shubhashis Gangopadhyay will be the Founding Dean of the School. He is the Founder-Director of the India Development Foundation, former Professor at the ISI and an advisor to the Government of India in several capacities.
Patrons of ISPP include Nandan Nilekani, Co-founder and Non-Executive Chairman, Infosys; Former Chairman, Unique Identification Authority of India; Vallabh Bhanshali, Co-founder, Enam Group; Founder Director FLAME University; Jaithirth Rao, Founder, Former Chairman and Managing Director, Mphasis; Chairman, Value and Budget Housing Corporation among others.
The school will offer one-year full-time program in public policy, design and management to candidates with two-three years of relevant professional experience and will offer full waiver on fees to 20% of enrolled students. Scheduled to commence its first session from 19 August 2018, the course fee would be seven lacs annually.
Stay updated with latest Education News