At IRMA, executive MBAs spend a month in a village to learn about rural life, economy
IRMA's executive MBA in rural management "reorients the workforce" toward rural life and economy. The response to it has been encouraging.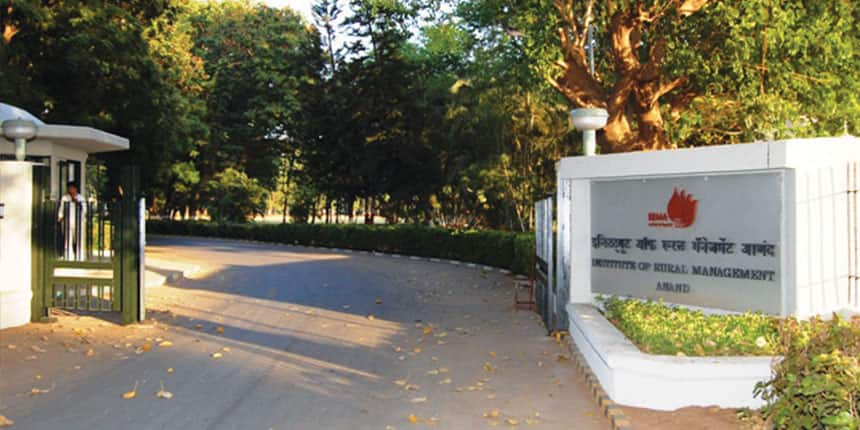 NEW DELHI: All Rajesh Kumar Dubey knew was that he did not want to continue in his line of work. This realisation led the 36-year old, who had been working in a top private steel company for 15 years, to choose the executive MBA in rural management at the Institute of Rural Management Anand (IRMA), a premier private business school in Gujarat.
As part of his course at IRMA, Dubey, along with two other classmates, recently designed a rural tourism programme to create supplementary income for the residents of Jathi village, near Varanasi, Uttar Pradesh. The project was part of IRMA's unique village fieldwork programme in which executive MBAs, most of them working professionals, spend a month in any designated village to learn more about rural management.
IRMA started the executive MBA in rural management in January, 2019, with an aim to "reorient" the workforce towards changing patterns of rural life. The response for the course has been very encouraging.
"The idea was to reorient the workforce, the people, the professionals, to the rural areas. Why this is important is that the rural economy, the consumption pattern, everything is changing very fast. The agricultural sector has been under distress for a long time. There are a lot of people who are below the poverty line but there is also a huge middle class in the villages. So, the idea is to reorient the workforce to that," said Shyam Singh, assistant professor of executive MBA in rural management at IRMA.
Village outside the media
"We understand village India through cinema or media. I'm saying this for people who are born and brought up in a city. Going and living there for a month show you the significance of human relations there and also the challenges. If you ask the students why the villagers don't use a toilet even though they have one, they would be better informed to answer that question now than before," said Singh.
The course has seen a steady number of nearly 40 participants every year. IRMA officials said that a majority of professionals who took up the courses hailed from the cooperative sector.
Also Read| How 'professors of practice' helped shape management education

"A big chunk of the professionals who come to IRMA come from the dairy sector because of the history of IRMA. So, people who are working in AMUL, Mother Dairy and other companies under the National Dairy Development Board (NDDB) come to IRMA. People also come from NGO sectors, those working in development organisations and corporate social responsibility (CSR); then there are people from agricultural marketing, etc. Most of them come from the cooperative sector which is the dominant sector," said Singh.
There are also professionals who are sponsored by their own companies to scale up their expertise.
"There are people coming from various industries and some of them are sponsored candidates so they go back to where they come from and will get promotions and bigger responsibilities. Some of them seek new jobs. For instance, people who are placed in Mother Dairy, AMUL, ITC, people who are working in CSR, so it is a range of industries," said Singh.
Steel plant to rural development
There are also people like Dubey who are in it for a change in career.
"I was more interested in rural development. All I knew was that I did not want to work in my previous field anymore," he said. "I became interested in this while working in rural Odisha because my plant was there. I was looking at the conditions of the villages, which were very bad. From our company, we used to go and teach children as part of the CSR activities. It was a voluntary call but I would participate," said Dubey.
Many participants were also attracted to the legacy of IRMA. It was founded by Dr. Verghese Kurien, known as the 'Father of the White Revolution in India', who revolutionised dairy farming in the country. Keeping to its roots, one of the unique and important aspects of IRMA's courses is the village field work.
Students of executive MBA in rural management, which is a 15-month programme, are placed in a village where they stay in the home of a host for an entire month.
Also Read| IIM Calcutta's northeast entrepreneurship programme is focussing on students
"Many of them tend to enter into their own enterprises. In order to understand where the entry points are, they need to understand how the rural economy functions. So, basically, we place them in a village through a host organisation, which is usually an NGO. After that, they do an exploratory study of how the village functions and then execute a small action-oriented task for the host organisation," said Singh.
This involved understanding the basic issues that plagued the assigned village. For Dubey, this meant understanding the deep-rooted caste issues that are present in rural India.
"The biggest challenges we faced were electricity and caste issues. There was no electricity most of the time and the hamlet was divided by caste. Each caste had a separate section in the village. Also, no one was willing to open up to us thinking we were government officials. These were the major challenges. Eventually, they did open up to us but it took some time," said Dubey.
Task: Rural tourism plan
The host organisation assigns learners a task – usually planning-related – related to the village. "Sometimes they try to understand the education level. Sometimes they are asked to understand whether self-help groups (SHGs) can be established or not. Sometimes they are asked to understand the economy to ascertain if a commerce-based company can be established," said Singh.
Dubey's initiative to develop rural tourism in Jathi village was one such project.
"Every village has unique food, culture, arts and crafts and Banaras [Varanasi] is nearby. Our NGO collaborated with Kashiyatra.com and for every booking, if the visitors are interested to see rural life, they take the tourists to Jathi. The villagers were paid for this and whatever handicrafts the people bought provided supplementary income for the villagers. It was a pilot project initiated by us and it was a success," said Dubey.
The course, teachers said, also taught students to understand the effects of their actions on the rural folk and take a humanitarian approach to business management.
"Our selling point is that it teaches both a blend of management and development," said Singh. "Secondly, not only we try to develop career opportunities for the candidates, we are also helping them realise that they are making an impact in rural life. Whatever they are doing they should know that this is changing somebody's life in the rural area. That is quite clear in our course. Now they are quite clear about the aspirations, the sensitivities in the rural areas. More often, we tell our candidates making money is not bad but do it for humans' sake so that you know that you are doing it for people who are underserved."
---
Follow us for the latest education news on colleges and universities, admission, courses, exams, schools, research, NEP and education policies and more..
To get in touch, write to us at news@careers360.com.
Know More About
NIRF Rank
58
Rating
4.2/5
Download Brochure