ISRO, CBSE, NITI Aayog launch space challenge for Classes 6 to 12
ISRO, CBSE, NITI Aayog launch space challenge for Classes 6 to 12
NITI Aayog's Atal Innovation Mission has teamed up with CBSE and ISRO for the challenge to be held during the World Space Week, from October 4 to 10.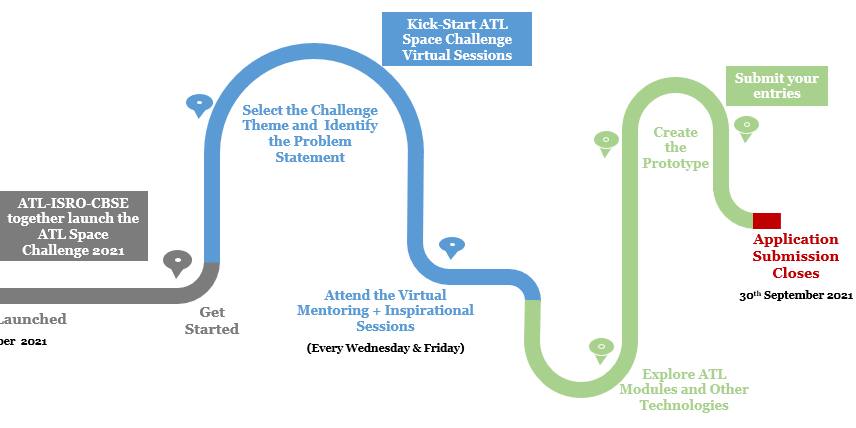 NEW DELHI: The government's think-tank's NITI Aayog's Atal Innovation Mission in collaboration with Indian Space Research Organisation (ISRO) and Central Board of Secondary Education (CBSE) has launched the 'ATL Space Challenge 2021' for students of Classes 6 to 12.
The ATL space challenge will be celebrated from October 4 to 10 during the World Space Week, it commemorates the contributions made in the field of space science and technology.
According to the official website: "The objective of the challenge is to enable young innovators of schools across the country to learn and engage in creating new, efficient and innovative solutions for specific, real-world challenges in the space sector and develop solutions which address the key problem areas of the challenge. The top teams shall be recognized with interesting opportunities and prizes at the conclusion of the challenge"
In order to understand the concepts of themes students can logon to the ATL Space Module.
ATL Space Challenge 2021: Themes
Each team is required to select one problem which falls under one of these categories given below.
Explore Space - gaming technology, app development, robotics

Reach Space - 3D technology, artificial intelligence or machine learning in space, space apps

Inhabit Space - 3D technology, healthcare, AI/ML in space

Leverage Space - geospatial technology, drone Technology, visualize data


Eligibility, Team composition
Students from both ATL and non ATL can submit their entries in the Challenge, school teachers, ATL In-charges and mentors may support the student teams, maximum 3 students in each team and one school teacher or ATL in-charge and individual entries are not allowed and if a team exceeds 3 members their application will be cancelled.
APPLICATION SUBMISSION
All the solutions and innovations must be aligned with the themes of the challenge, every team must select one problem to solve under these themes, each team can submit their solutions under one theme only, submitting under multiple themes will result in disqualification.
Write to us at news@careers360.com.
More From Abhijit Srivastava