Jharkhand: Scholarship site closed, SC, ST students left in the lurch
Jharkhand: Scholarship site closed, SC, ST students left in the lurch
Scholarships: Admissions and promotion have been delayed by COVID-19. Despite that, Jharkhand did not keep the portal open.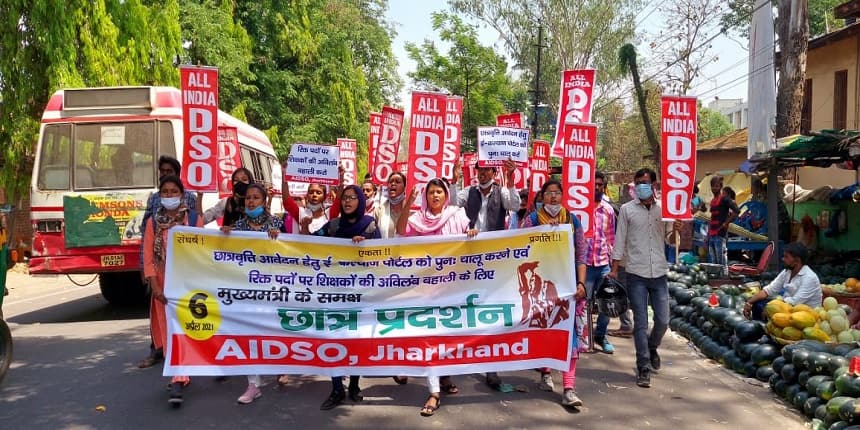 NEW DELHI: Ravi Kumar from Ranchi enrolled in a BEd programme for teacher training in February, 2021. Over 23,000 teaching posts are vacant at various levels in the state and Ravi Kumar was hoping to get a job on completion of the course. However, he now worries he may not be able to complete it at all because the Hemant Soren-led Jharkhand government has closed applications for a state scholarship scheme leaving thousands of university students in the lurch.
The state government runs a scholarship scheme for students belonging to the historically marginalised Scheduled Castes and Scheduled Tribes. Students typically apply after securing admission to a programme. However, the COVID-19 pandemic has disrupted academic schedules and delayed admissions to several programmes including the popular BEd. Plus, the move from one semester to the next has also been delayed for many.
Despite this, the state government closed the website for the scholarships, E-Kalyan, even before the admission process was over for several courses. This has thrown the higher education plans of thousands of students in the state out of gear. Students across Jharkhand are now protesting and demanding the reopening of the website.
"We have been trying to contact E-Kalyan Jharkhand on the number provided on the website but nobody is answering the call," Kumar told Careers360. "I am not sure how I will be able to continue my education as I don't belong to any rich family, neither bank will give me a loan."
Jharkhand: Late admission
This year, applicants started filling their scholarship forms from February through the e-Kalyan portal. Because of the delayed admissions, students from several courses had not filled their scholarship applications when the state government closed the e-Kalyan portal on February 10. Thousands of students belonging to various reserved categories are now facing difficulties.
"Last year's admissions happened late and because of that, for some courses like BEd it continued till March. But the scholarship portal began in December 2020 and was closed on February 10," explained Jeevan Kumar, secretary, All India Democratic Students' Organisation (AIDSO) Jharkhand, which has taken up the applicants' cause. "For other courses also, students who were in the second or fourth semester and got admission into the third and fifth semesters late and because of that delay, could not fill the scholarship form."
Due to the spread of coronavirus, schools and colleges across the country were closed for months last year and during the most critical exam and admission periods. Delays were a common feature last year and will be this year as well. Once again, close to two dozen states have shut education institutions, this time due to the far deadlier second wave of the COVID-19 pandemic.
Jharkhand: Counting on scholarships
Every year around 18,000 admissions take place in BEd courses in Jharkhand out of which close to 400 are in government-run colleges, said Jeevan Kumar. The fee in government colleges is around Rs 18,000-20,000 for the entire course, while in private colleges it is between Rs 1.5 lakh and Rs 2 lakh. The scholarship offered by the state government is a major support to students.
According to Jeevan Kumar, students who study BEd in private colleges get around Rs 1 lakh during their entire course. "By the time the admission portal was closed only 3,000-4,000 admissions had taken place, and many of those students were not able to fill the form for the scholarship," he said.
He also said that for management (MBA) courses, the fees around Rs 40,000 – Rs 50,000 and students get anywhere between Rs 25,000 and Rs 30,000 from the scholarships. Similarly, law students get Rs 18,000- Rs 20,000 while the course costs between Rs 22,000 and Rs 25,000.
"Any student from SC, ST, OBC or EWS [Other Backward Classes, Economically Weaker Sections] who applies for the scholarship is eligible for financial help under this scholarship scheme," Kumar added.
AIDSO has petitioned the Jharkhand Welfare Minister to reopen the portal and allow students to fill the form. Kumar said: "If they do not open the portal we will intensify our protest as many of the students will have to leave their study in between."
Different student organizations have demanded the reopening of the e-Kalyan portal.
Write to us at news@careers360.com.