JNU standoff: Alumni association asks admin to invite students for dialogue
JNU standoff: Alumni association asks admin to invite students for dialogue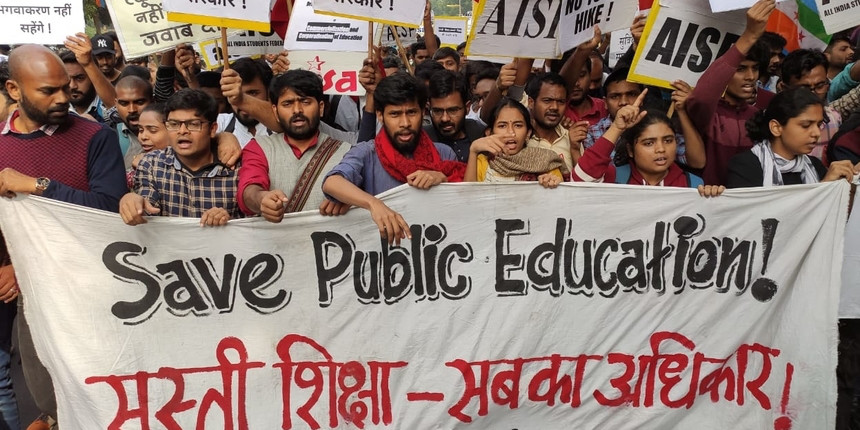 NEW DELHI: Expressing concern over the current standoff at Jawaharlal Nehru University (JNU), its alumni association (AAJ) has called upon both the administration and the students to "restore peace" and to uphold the "JNU spirit of tolerance, mutual trust, and dialogue".
In a statement released on Sunday, November 24, the association has urged the administration"suo motu invite agitating students for a dialogue". It also appealed to the students "to take a pause, think with positive mind and withdraw their agitation immediately to pave the way for meaningful dialogue".
Their statement said: "We appeal to all stakeholders (students, administration, alumni and faculty members) to shun their differences and act with restraint in order to restore peace and foster an academic environment in the campus in true JNU spirit of tolerance, mutual trust and dialogue."
It further said, "AAJ fully appreciates our students' and researchers' demand towards free and affordable higher education but for it to actually happen, they must evolve a modus operandi and model for free education in consultation with all stakeholders without getting into ideological differences."
The statement also said that while they are sympathetic to the students, the association "cannot turn a blind eye to JNU Administration's financial constraints".
"High-level committee"
The alumni association's statement followed a circular from the JNU administration on Sunday in which it announced the formation of yet another "high-level committee" for the resolution of the issue.
There is also a "high-powered committee", established by the Ministry of Human Resource Development, that has been trying to resolve the impasse. Students have been protesting against an increase in fees for JNU hostels since October 28, demanding a complete roll-back. The administration hasn't relented.
The JNU circular asked students to submit their recommendations within the same evening.
Unimpressed, the JNU Students Union (JNUSU) said in a statement issued on the same day that the order is effectively "subverting the IHA committee", which had initially introduced the new draft hostel manual draft. The "IHA" is "Inter-Hall Administration".
The JNUSU also pointed out that the JNU "high-level committee" was formed even before the MHRD's committee had submitted its report
Stay updated with latest Education News
More From Team Careers360