Meet the college student helping Centre build astronomy labs in schools
Aryan Mishra, a newspaper vendor's son, followed his passion for astronomy all the way to the office of India's Principal Scientific Adviser.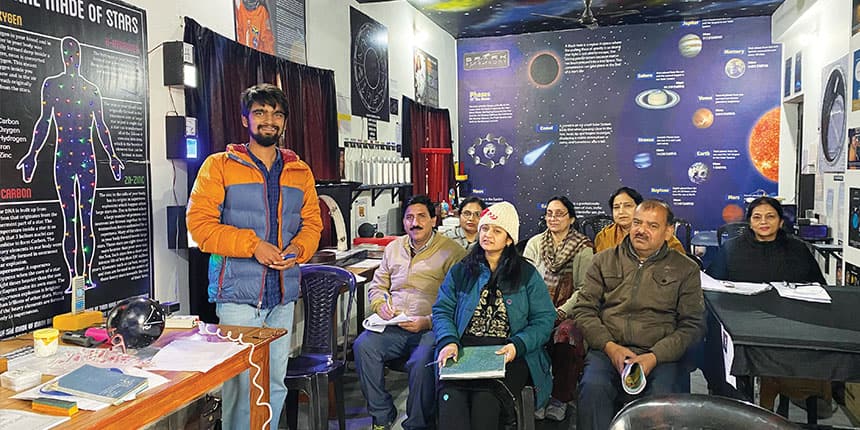 NEW DELHI: Aryan Mishra, a 21-year-old second-year BSc Physics student at Ashoka University, says, "Gazing at the night sky full of stars sparked the curiosity which has led me to where I am today."
The son of a newspaper vendor, Mishra is balancing his college education while helping the central government build low-cost astronomy labs in schools in remote areas of Ladakh and other parts of the country.
Through his start-up called 'Spark Astronomy', launched in 2018, Aryan has so far built 15 astronomy labs in private schools in Haryana, Rajasthan, Delhi, Punjab, Maharashtra, Gujarat, Jammu and Kashmir. Three labs installed in Kendriya Vidyalayas in Kargil, Leh, and Jammu are the latest addition.
In the absence of financial resources, Mishra has found ways to hold on to his rather expensive passion and help children explore the skies, going beyond the two-dimensional pictures in their textbooks. The idea behind building astronomy labs, he said, is to make astronomy accessible to people regardless of their financial status.
"There are students who reach their school covering 12 km on foot in minus 30 degrees temperature. They brave hailstorms and blizzards to access education," Mishra told Careers360. "If I can help make astronomy accessible to these children, it will be worth it."
While he has resolved to make education accessible to children, his own childhood was filled with struggles to get a quality education.
Long way to school
Having no education himself, Mishra's father strived to provide quality education for his curious son in a private school in Delhi. His mother's jewellery was sold to keep him in school. Living in an unrecognized slum colony also stood as a hurdle to getting admission in a school.
"Back then, there was no EWS [Economically Weaker Section] quota and we had to pay the hefty school fee. I have been turned down by private schools for living in the slum area. My uncle who worked as a watchman in a famous lawyer's house had asked him to help us use his address for school admission," recalled Mishra. For very long, Mishra studied in a school with a fake address.
To support his family, from Class 8 to 11 Mishra also delivered newspapers in the early hours in New Delhi's tony neighbourhood of Vasant Vihar. "I was teased for being a paper-seller's son. The school kids saw me delivering newspapers at people's homes. I used to help my father on busy weekends when people expected their papers early," said Mishra.
However difficult the journey, learning more about astronomy remained Mishra's goal early in school life. Despite the odds, Mishra always
made efforts to save money and buy his own telescope.
"I used to travel in DTC [Delhi Transport Corporation] bus to reach the coaching class and I walked from Vasant Vihar to Munirka daily to save Rs 5 or 10 every day and collected Rs 5,000 to buy my first telescope," he explained. "My parents, at this point, were against the idea of investing time or money in astronomy. I couldn't convince them of the merits of the field because at that time, I had no answer either," he added.
Discovering an asteroid
"I come from a family where aspirations are limited to securing a government job. A field like astronomy is considered only for the rich," said Mishra. Nevertheless, his determination and knack for it were recognized when he discovered an asteroid in Class 9.
In August 2014, Mishra and his classmate Keerti Vardhan discovered an asteroid in a nationwide campaign organized by the Science Popularization Association of Communicators and Educators (SPACE) in collaboration with the International Astronomical Search Collaboration (IASC). Without internet or laptop, Mishra spent hours in a local cybercafé to collect astronomical data to discover the asteroid between Mars and Jupiter.
"Imagine, a newspaper vendor's son was featured in the newspaper. That is when my parents started believing in my dream. Life's first lesson that I learnt is that you must prove that you are made for it. My world is my parents and I had to prove it to them," said Mishra.
In August 2019, the principal scientific adviser to the Union government noticed Mishra's ideas and work on Twitter and invited him to help the government set up low-cost astronomy labs in various Kendriya Vidyalayas and Jawahar Navodaya Vidyalayas across the country. The government aims to build 500 such labs. Each lab will be equipped with four telescopes, 30 spectroscopes, a solar filter for watching solar eclipses, virtual reality box sets and 25 working models demonstrating practical knowledge of astronomy and related subjects. Mishra's project also provides teachers with training and workshops.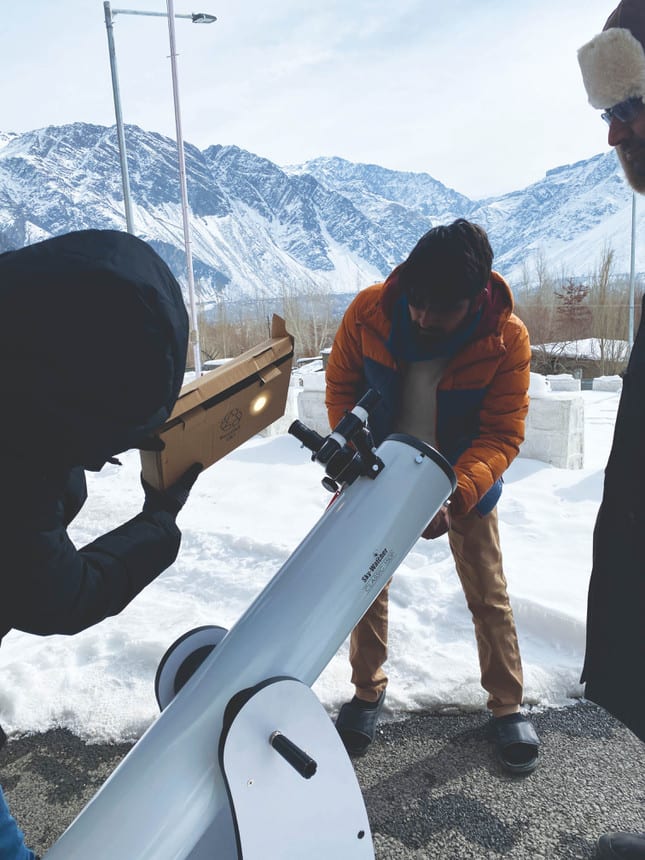 Teacher training at Kendra Vidyalaya, Kargil
"He followed me on Twitter and then I was invited to his office to discuss the projects. I had no connections, no experience and no knowledge of the bureaucracy," Mishra recalled. "Currently, I work as a consultant to the office of the Principal Scientific Adviser."
Supernova explosions
Living in the remote areas of Ladakh where phone reception is a luxury, Mishra has found it difficult to continue his online classes. After all educational institutions were shut down in March 2020 due to the COVID-19 pandemic, Ashoka University shifted to online classes.
"When you are passionate about something, you have to manage studies with work. The course work has also increased because in the fourth semester you get into the core subjects in our college," said Mishra.
After travelling extensively throughout India, Mishra believes he has learnt more beyond the four walls of a classroom. In spite of being heavily invested in government projects, he does not plan to continue for long.
"Life is unpredictable, and I want to do so many things that I feel passionate about. I want to pursue my masters in astrophysics, do something for elephants, scale mountains," he said. Ultimately, he aims to go to space one day.
"I have been always fascinated by stars. Astronomy connects you to the reality of the universe. When I look at the stars, I find peace in the fact that we are all made up of stars.
You, me, and all of us," he said. "Everything that we touch is made up of supernova explosions."
Write to us at news@careers360.com
Know More About
Rating
4.5/5
Download Brochure