COVID-19: Students struggle for months without fellowship during pandemic
Many students and research scholars went months without scholarships in 2020. Many have still not received them.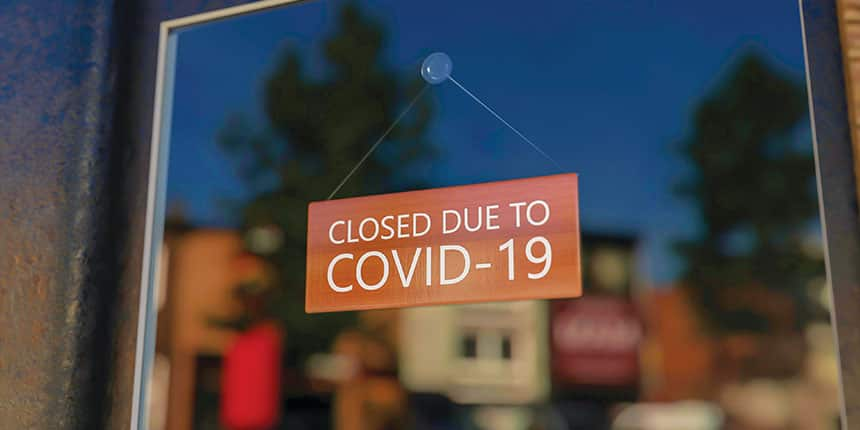 NEW DELHI: Rishabh (name changed on request), an undergraduate student of Jawaharlal Nehru University (JNU) holds a merit-cum-means scholarship provided by the central government to students from disadvantaged communities. After months of lockdown, Rishabh returned to his hostel in JNU in August 2020 to attend the third semester but did not receive any scholarship. Seven months on, he is still trying.
Rishabh is not alone as students across universities have complained about irregularities in the disbursal of scholarships and fellowships. While the university administrations blamed the pandemic, lack of administrative staff and technical difficulties, students claimed that the
administration's responses were vague and lacked urgency.
Rishabh was one of the few remaining students in his hostel as most had gone home once the pandemic forced classes online. The JNU Students' Union had sought a waiver of hostel and mess fees but the plea was rebuffed. Instead, the administration reportedly insisted on collecting dues before allowing students to register for the next semester.
"The food quality was also bad. When we went to the administration to complain about the fee, they said the cost of production had increased," Rishabh said.
"The scholarship meant financial freedom and not depending on parents. With no scholarship, I had to borrow money from family and friends to survive," said Rishabh.
No fellowships for a year
Some students did not receive their fellowships for an entire year.
"It has been a year since we received the non-NET fellowship," said a PhD student at JNU who is still waiting. The non-NET fellowship scheme by the central government supports full-time research scholars who do not have the Junior Research Fellowship (JRF).
"As PhD students, we have to buy many books and have to travel for field work. Without the scholarship, this has been very difficult. I'm lucky because I'm supported by my family but some of my friends have been forced to take up other jobs," he said. "It doesn't help that at JNU where everything is on paper unlike other central universities which have online portals for scholarships. The officials are saying that the finance department is understaffed that is why the fellowships are delayed."
But there are problems at other universities as well. "I was the topper of the MBA entrance exam in 2019 and have not received the scholarship even once since I joined in June," said Kashyap M, an MBA student at Pondicherry University. Kashyap was the candidate for the Merit Scholarship given to the first three rank holders of postgraduate entrance examinations by the Pondicherry University.
When he enquired, Kashyap was told his scholarship was held up because he had participated in a protest against a 200% fee hike in January 2020. "But I had not received the scholarship even before the protests happened," said Kashyap.
"There are many students who have not received their scholarships. At the same time, you could see the administration using funds for other purposes such as the construction of walls," said Parichay Yadav, president, Pondicherry Students Union.
For centrally sponsored scholarships, students alleged that the funds were dispersed from the central government but did not reach them.
"There have been delays in the processing of the scholarships. When we met with them, the University Grants Commission (UGC) officials told us that we are sending the money but the money is not reaching the students," added N Sai Balaji, who is a former students' union president at JNU.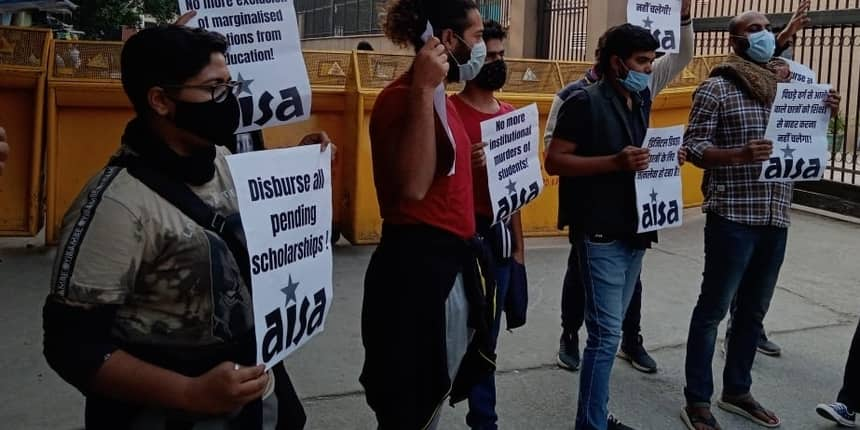 Students protesting for disbursal of scholarships.
Trouble at NITs
In the closing months of 2020, various PhD scholars were out in the streets protesting against the decision of the National Institutes of Technology (NITs) in Hamirpur and Jalandhar to revoke admission to full time scholars after the selection process was done. The institutes argued that they did not have enough funds for providing fellowships to the scholars.
"In NIT Hamirpur, once the students got selected they were put into the self-financed category in which the costs have to be borne by the students themselves. NIT Jalandhar, on the other hand, cancelled admissions even though some students were ready to be put in self-financed category," said Vikrant Singh, president of the Joint Research Council of India (JRCI). JRCI is an organisation of PhD scholars from the NITs and Indian Institutes of Technology (IITs).
"Students are asking us what to do and frankly we don't know what to do, whether to approach the High Courts or the Supreme Court. The students are also afraid to be petitioners which is understandable as they don't want to get in trouble with the institutions as it may affect their career,"
Singh said.
At NIT Rourkela, the institute maintains that the students, who joined in 2020, are still under provisional admission even though they have completed two semesters, students said. M.Tech students at the institute said that they had not received any scholarship at all for both semesters as the institute is yet to conduct physical verification of certificates.
"No one who has joined this year has got the scholarship money. They said that the scholarship can only be provided after physical verification of certificates but students are all stuck in different states," said an MTech student at NIT Rourkela asking not to be named.
NIT Rourkela provides a fellowship of Rs. 12,400 per month to students who have a valid Graduate Aptitude Test in Engineering (GATE) score.
Students said that their group mails asking for solutions get vague, and sometimes monosyllabic, answers in response.
"They had taken stock of the students' opinion on conducting the physical verification but nothing has happened since. They are also not very responsive. When we mail them to raise the issue we usually receive vague, short answers," the student added.
A battle
Obtaining the scholarship after a gap is itself a challenge, as Anitha S discovered.
Anitha is a PhD student of a public college in Thanjavur, Tamil Nadu, who was regularly availing the National Fellowship for OBCs till the summer of 2018. But from July 2018 to April 2019, Anitha did not receive any scholarship at all.
"I don't know why the scholarship money did not come on time. I tried reaching out to the college officials multiple times but they had no answer. I've sent multiple emails to the UGC and is yet to receive a reply."
After April 2019, Anitha continued receiving her scholarship amount as usual but there was no communication about the nine-month gap.
Anitha's husband works as agricultural labour and she had to depend on the money earned by him to fund her studies. Two years on, she is still trying to get back the scholarship money that went missing during those nine months.
"I've tried everything. I feel helpless" said Anitha.
Update: The name of the public institution in Thanjavur has been removed from the online version of the story based on a request. Careers360 honoured the request because the fellowship in question is a national one and the institution itself does not offer it.
Write to us at news@careers360.com.
Know More About
NIRF Rank
2
Rating
4.3/5
Download Brochure