MHRD meeting unsatisfactory, JNU students march to Rashtrapati Bhavan
MHRD meeting unsatisfactory, JNU students march to Rashtrapati Bhavan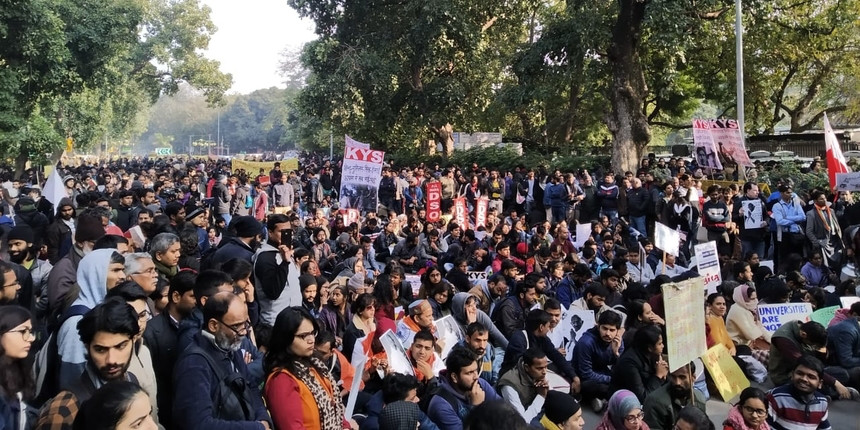 NEW DELHI: Hundreds of students and teachers of Jawaharlal Nehru University (JNU) participated in a 'Citizens' March', today, January 9, condemning the mob attack on Sunday and demanding the resignation of its Vice Chancellor (VC). They were also joined by large numbers of alumni, students of other institutions and members of the general public.
The students marched to Mandi House where Delhi police had imposed Section 144 of the Code of Criminal Procedure which does not allow for a gathering of more than four people. The students then moved towards the Ministry of Human Resource Development to continue the protest.
JNU Students' Union President Aishe Ghosh, who was severely injured during the Sunday's attack, was also present at the protest. She, along with JNUSU secretary Satish Chandra Yadav and some faculty members, had a meeting with education secretary Amit Khare.
The students called the meeting 'unsatisfactory' and proceeded to march towards Rashtrapathi Bhawan, during which they were lathi-charged by Delhi police near Shastri Bhawan.
#DelhiPolice is at it again... beating up students and teachers while they try to march peacefully towards Rashtrapati Bhawan.

Have we run out of criminals to chase, that we've turned all our wrath on students and their teachers??#goondaraj #delhipolicegundagardi #JNUViolence pic.twitter.com/3OiNGWpbq2

— Insiyah Vahanvaty (@insiyahv) January 9, 2020
UPDATE: DELHI 6/10pm 09.01.2020

People protesting near Janpath from the march today by JNUSU-TA, have been cornered by police from both sides. They have been lathicharged. Two buses full of detainees have left already. Internet is also going off and on there.
Lawyers reaching.

— Mishika (@mishikasingh) January 9, 2020
The students were initially blocked at the campus by Delhi Police.
Police is not letting the JNU students leave for the protest at Mandi house, citizen's March against the violence that happened at JNU. Today we March time demand JNU VC's resignation. Support and join in large numbers. #StandWithJNU #JNUVCMustResign pic.twitter.com/B4yni13uNG

— Sana (@Contre_Method) January 9, 2020
But they managed to continue the march to Mandi House.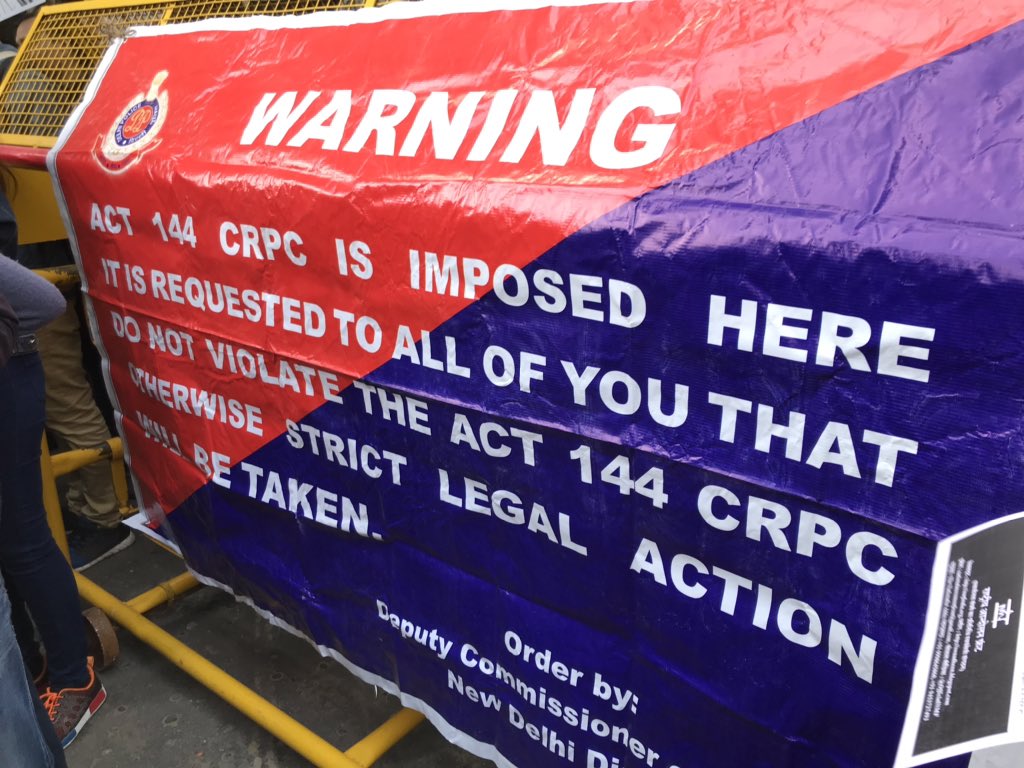 Section 144 was imposed at Mandi House (Credit: Anjali Bhardwaj).
Our President is here. We have reached Mandi House. #VCHatao #JNUTerrorAttack pic.twitter.com/fULkTA8eV9

— JNUSU (@JNUSUofficial) January 9, 2020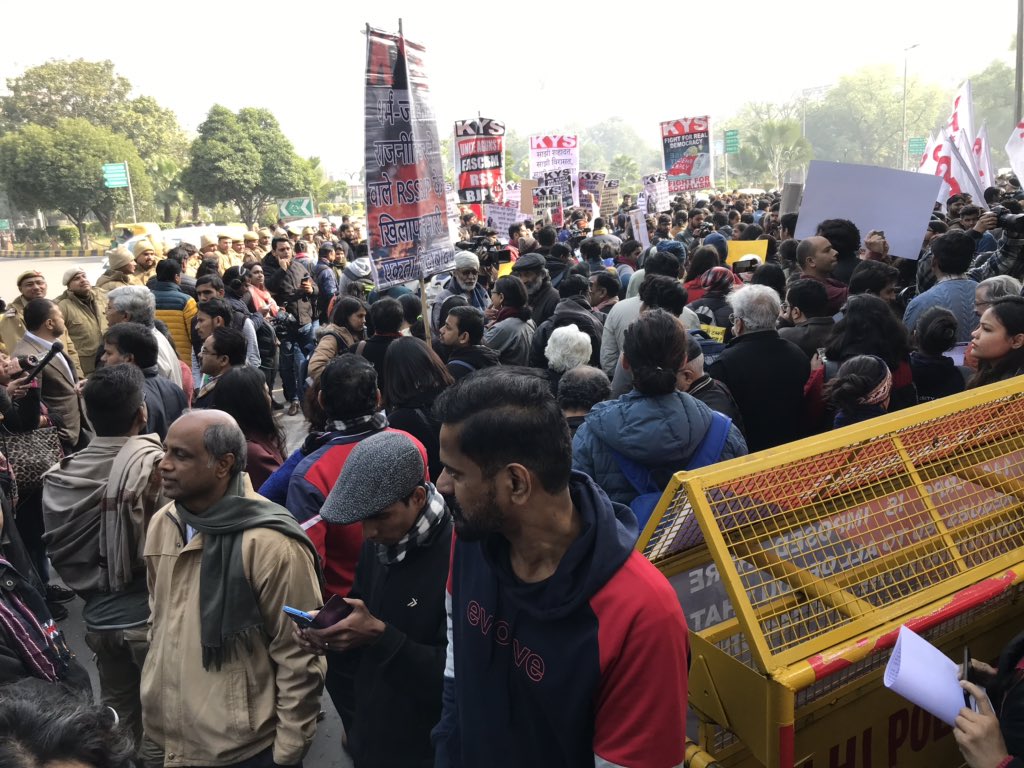 Protesters had to move out from Mandi House as section 144 was imposed (Credit: Anjali Bhardwaj)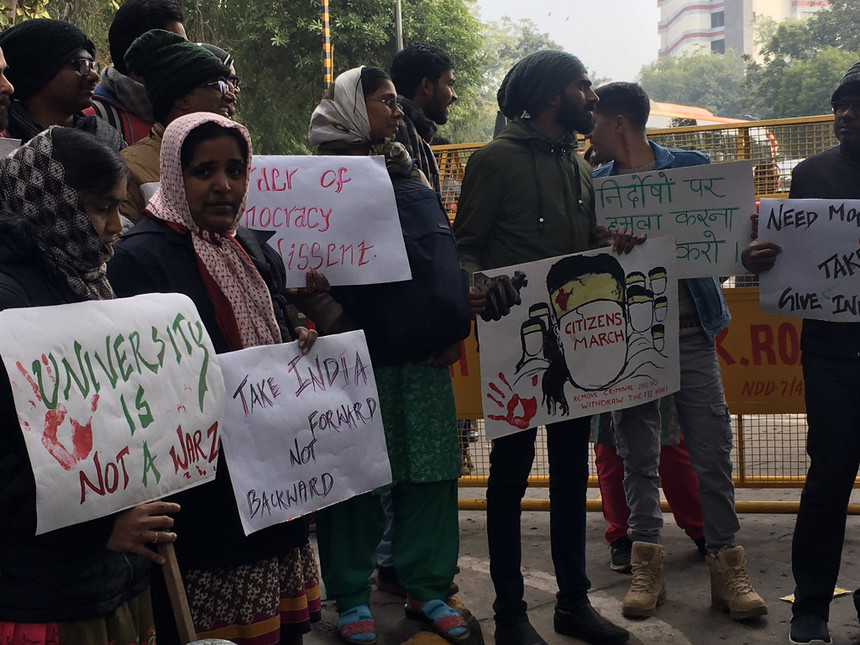 Protestors condemned the attacks on universities (Credit: Charmy Harikrishnan)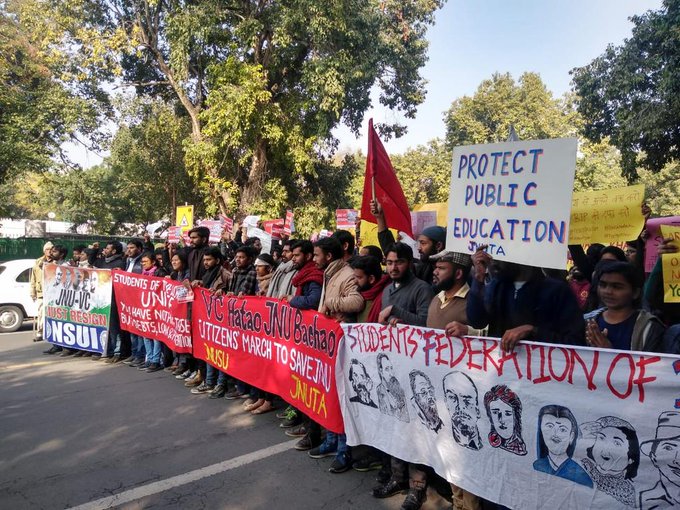 Student bodies came together for the protest (Credit: Faizan Haider)


A banner at the protest at MHRD (Credit: Alka)
Stay updated with latest Education News
More From Team Careers360