Gender-neutral toilets can increase sexual assault, abuse: NCPCR Chairperson
Gender-neutral toilets can increase sexual assault, abuse: NCPCR Chairperson
NCPCR chairperson also said that NCERT did not make "wider consultations" before publishing the manual on inclusion of transgender children.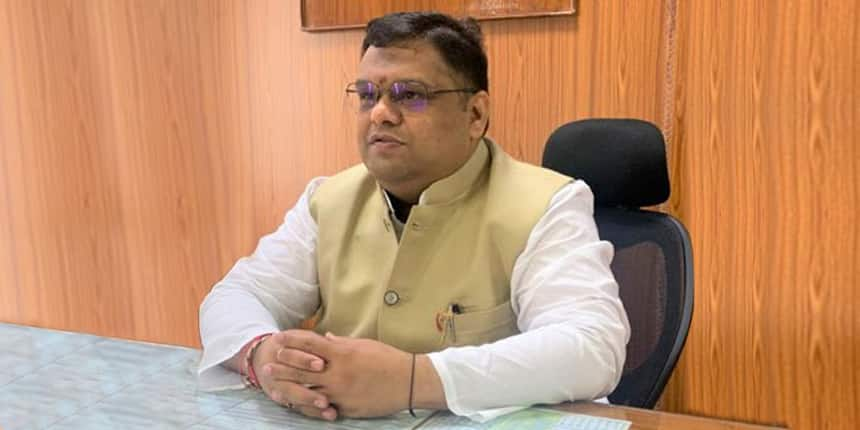 NEW DELHI: The National Commission for Protection of Child Rights (NCPCR) chairperson Priyank Kanoongo said that the introduction of gender-neutral toilets in schools can increase the instance of sexual assualt and sexual abuse. He also said that NCERT did not make "wider consultations" with responsible bodies before putting out the teachers' training manual on gender.
NCERT, in early November, put out a manual titled "Inclusion of Transgender Children in School Education: Concerns and Roadmap" for sensitizing teachers on gender-fluid identities. Following a complaint, the NCPCR had written to NCERT to "rectify anomalies" in the manual.
Also Read | NAS 2021: In Delhi, struggle to get students to appear; teachers rued timing

The complaint objected to the suggestions of introducing "gender-neutral toilets" and "discussing puberty blockers" with children.
"We received a complaint. What the complaint pointed to was clear. How can teachers tell children that they should take puberty-blocker hormones? If the doctor instructs that then okay. How can teachers say that these hormones can be taken? If this is schedule H medicine or Schedule X medicine, which schedule medicines. No one knows," said Priyank Kanoongo, chairperson, NCPCR.
The manual is no longer available, however, reports said that the said manual only told teachers to "discuss" hormone therapy.
The NCPCR letter received wide-spread condemnation from parents and academics. A parent of a queer child asked NCERT to retain the manual through an online petition. It garnered over over 7,000 signatures. Then, over 50 academics from India and abroad have signed a similar petition asking the manual to be retained and condemning NCPCR's "pressure tactics".
However, NCPCR said that the commission has advocated for gender segregated toilets for students in schools to reduce instances of sexual abuse and sexual assault.
"If there are gender neutral toilets then there are chances of sexual assualts, sexual abuse of girl children. There are many such cases that come to us. When we tell ministries and various departments about ensuring the safety of children, we have said that the toilet blocks should be different for boys and girls, regardless of how small they are. It doesn't matter how small the children are, sexual assaults are happening. This opens a way for this to happen," said Kanoongo.
"The NCPCR safety manual for schools was prepared by us along with NCERT, different ministries, departments of states and various schools and there it was written that toilet blocks should be separate. Now you have written one side that it should be non-binary and on the other that it should be binary then there will be problem in implementation," said Kanoongo.
On being asked whether the NCPCR safety manual is gender-sensitive, Kanoongo said that the commission did not draft the manuals, merely "compiled" them.
"We haven't made anything new. We have just compiled whatever manuals were available with various bodies and ministries and states. There were 21 different guidelines on child safety. It took us four years to compile them into one," said Kanoongo.
"The ministry and the government are the authorities to ensure that these things are in place. It is for them to consider how anyone can tell students about taking hormones, who in the world would allow that. Tomorrow you'll tell children to take drugs, take liquor or take tobacco. We are trying to solve these problems and now you are telling teachers that you should tell them to take hormones," said Kanoongo.
Kanoongo said that NCERT should have taken up wider consultation with all the stakeholders before releasing the manual.
"NCERT outrightly, without informing anyone, has come up with this. NCERT is not the lone body responsible for ensuring the safety of children. There are many other stakeholder bodies... Everything should be comprehensive. NCERT should make larger consultations with all stakeholders (before releasing the manual)," said Kanoongo.
West Bengal: Films in schools
In another case that soon followed the NCERT controversy, the NCPCR wrote to international non-profit UNICEF, Central Board of Film Certification (CBFC) and the West Bengal Government regarding the screening of films on homosexual relationships.
The UNICEF has planned the screening of several short films on homosexual relationships in West Bengal government schools. It garnered national attention and responding to news reports, the NCPCR shot off letters to UNICEF, CBFC and West Bengal Government regarding the screening.
The NCPCR chief said that the commission has merely written letters to the Central Board of Film Certification (CBFC) and the West Bengal Government to ensure that the film selected for screening have been approved by the CBFC for children.
"In West Bengal, we got to know that the films that were released were about sexual relationships. I'm not getting into whether this is homosexual relationship or bisexual relationship. As far as my concern, my job is to ensure that the censor board has certified this film to be viewable for children. That's it," said Kanoongo.
---
Follow us for the latest education news on colleges and universities, admission, courses, exams, schools, research, NEP and education policies and more..
To get in touch, write to us at news@careers360.com.