NAS 2021: In Delhi, struggle to get students to appear; teachers rued timing
NAS 2021: In Delhi, struggle to get students to appear; teachers rued timing
National Achievement Survey 2021: One school had 28 students showing up, two short of the minimum sample. Schools lost touch with many due to COVID-19.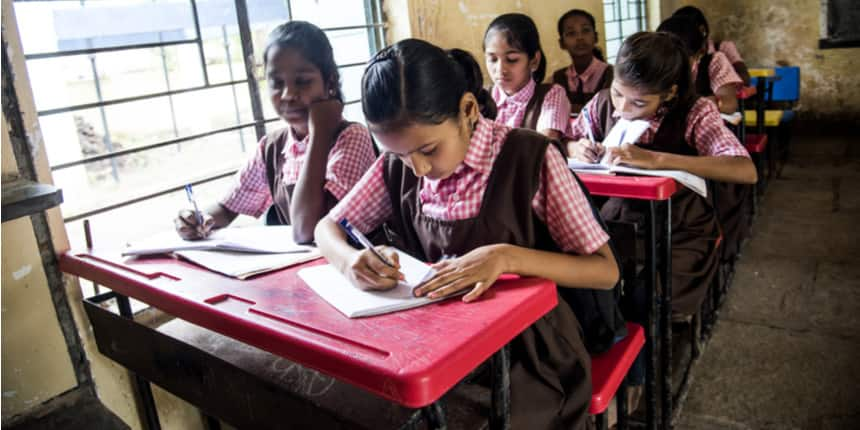 NEW DELHI: Till late evening on Thursday, Sushma Kumari, principal of SDMC Primary School in Bindapur village, was calling each parent, coaxing them to send their children to school today, Friday, to participate in the National Achievement Survey (NAS 2021). She was trying to get at least 30 students, the minimum sample size per school, to turn up. Just 28 students attended overall.
"Right now we are struggling to have at least 30 students for the exam. Most of them have gone back to their villages due to Chhath Pooja. When we call up the parents and ask them to send their children they say that their train reservation is for the 15th or 20th," said Kumari.
In the ministry of education's estimate, 38.88 lakh children across 1.24 lakh schools were scheduled to appear for NAS 2021, a large-scale assessment test used to measure learning among school children in India. This year, it is being conducted among children of Classes 3, 5 and 8 and its findings will be used to guide policy decisions on education in the wake of COVID-19 and the disruptions it caused to learning.
NAS 2021: Measuring learning gap
Even with the students who have attended, Kumari is unsure performance. Because for most of the pandemic, teachers from SDMC Primary School Bindapur were unable to get in touch with the students.
"Most of the students are from financially-poor backgrounds. They don't have a phone for themselves, they only have one phone and that is with their parents. Even if they have phones there is no incoming facility or mobile data. How are we to reach the students? When we go to their homes either they have all gone from there or the parents are not around," said Kumari.
Many students here were completely shut out from mainstream education as it went online. Teachers who tried through other means, such as through distributing worksheets, also were unsuccessful. NAS 2021 is intended to take stock of the impact of just this situation -- it will measure the learning gap left by the protracted school closures. In India, schools reopened over October and November.
Achievement Survey: Working children
Kumari said that it is difficult for them to convince parents to send their children back or even allow them to study due to their financial situation.
"It is difficult because some parents have even called up their children to work. When we confront them, they say, "What do we do with studies when we can't even quell our hunger". Some of them have not even returned to school yet but turn up when ration and books are distributed," she said.
Also Read | Only 8% of children are studying online regularly in rural areas: Report
Even schools that have been able to contact students have been struggling.
"We could see that their learning level has dropped since they lack practice for over a year," said Mary Jyotsana Minz, principal of Rajkiya Sarvodaya Kanya Vidyalaya in East Vinod Nagar.
In RSKV East Vinod Nagar, they have called in all students for NAS 2021. Survey authorities would take a random sampling of 30 students to appear for NAS 2021.
"We were able to reach out to maximum students in our schools. I think we were in touch with almost all of Class 11 and 12 during the pandemic. For those we could not reach, we distributed worksheets to the parents every Monday which were submitted by them by the next Monday," said Seema Verma, English teacher and IT coordinator at RSKV East Vinod Nagar.
Also Read| Gross enrolment ratio rises overall but falls at primary level: UDISE+ Report
Teachers said that the pandemic has affected the learning levels of younger students more.
"For the children who have come back, we see a drop in levels. But they have improved enormously when it comes to handling digital devices. It has amazed me how far they have improved. This is also learning," said Verma. "But that said, the students are still struggling. Especially the small children who have lost one-on-one guidance. They are struggling to get back into the rhythm."
Teachers felt that the break in routine has impacted the attitude of students towards studies.
"These children have lost their motivation to study after the long break. They don't have the same discipline. We're trying to bring them up to par," said Minz
National Achievement Survey Timing
Teachers said the timing of the NAS 2021 also did not help. With crucial half-yearly assessment incoming, teachers were forced to pay more attention to older students.
"Even the teachers are more focussed on the higher classes such as Classes 10 and 12 because their half yearly assessment which amounts to 50% of their marks is coming up. So, teachers are also forced to give less attention to students in Classes 6 to 8," said Minz.
"Even the directorate is concerned about the NAS survey. They had called in meetings with the DDs over the past few days. They want good results because the survey also reflects the performance of Delhi schools nationally. But we have to focus on the upcoming exams which will determine their marks. In that way, we are caught in between," said Minz
"They could have conducted the exams a little later, maybe in March. Because now we have to focus on this as well. But let's see what happens. Governments do these things," said Verma.
Delhi deputy chief minister Manish Sisodia had urged education minister Dharmendra Pradhan to postpone the NAS 2021 citing lack of students.
---
Follow us for the latest education news on colleges and universities, admission, courses, exams, schools, research, NEP and education policies and more..
To get in touch, write to us at news@careers360.com.