NCHM JEE 2020- NTA issues Covid-19 guidelines for exam day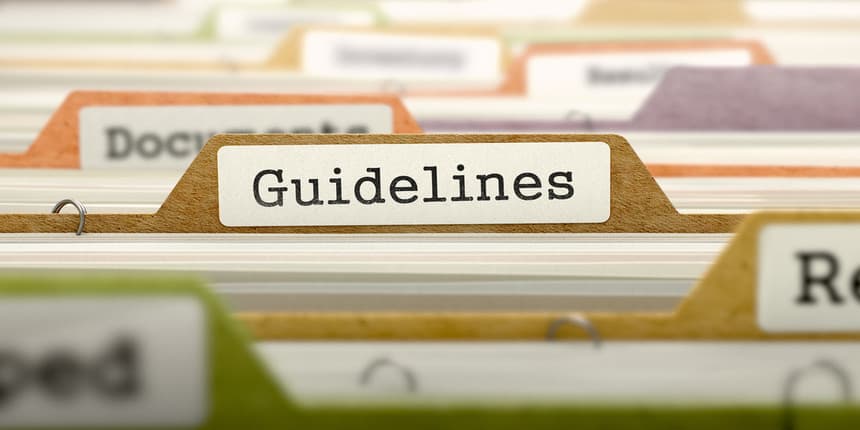 NEW DELHI: The National Testing Agency (NTA) has issued the exam day guidelines for the National Council of Hotel Management and Catering Technology Joint Entrance Examination, or NCHMCT JEE in wake of COVID 19. It is pertinent for the candidates to follow the guidelines at the test centre of NCHMCT JEE 2020 for their own safety. According to NTA, they have ensured that all possible steps are executed at the test centre in order to ensure the safety of the candidates including social distancing, wearing of mask and thermal checking.
Preparations at the NCHM JEE Exam Centres( Regarding Covid-19)
The seating area (including monitor, keyboard, mouse, webcam, desk and chair) for candidates will be properly sanitized before the commencement of the exam.

Door handles, lift buttons, staircase railing, wheelchairs will also be disinfected beforehand

Inspection of each candidate will be done through Handheld Metal Detector (HHMD)

All aspirants will be provided with a fresh three ply mask before they enter the exam centre of NCHM JEE

The body temperature of all candidates will be checked using thermo guns before they enter into the exam centre

Candidates will be made to sit with a gap between two seats as per Government of India (GOI) guidelines.

For candidates ease, hand sanitizers will be available at the entry area as well as at various places inside each exam centre.

Barcode readers are available at the entry point to scan NCHMCT JEE 2020 admit card.

It will be ensured that invigilators take precautions like wearing the mask and gloves.

Rough sheets will be kept at all test centre desks for candidates before NCHM JEE exam starts.
Pre- NCHM JEE Exam
Carry all important documents
As the NCHMCT JEE exam is conducted amidst covid-19 times, it becomes necessary for the candidates to follow the advisory regarding covid-19. There will be a certain set of items that are allowed to be carried in the NCHM JEE 2020 exam centre. These are:
NCHM JEE admit card along with duly filled self declaration (Undertaking) form which candidates must have downloaded from the NTA website

Exam related documents like valid ID proofs

Additional photograph, which may be required for attendance sheet

Personal hand sanitizer (50 ml)

Personal transparent water bottle

A simple transparent ballpoint pen
Reach exam centre on time
Candidates are advised to visit their NCHMCT JEE 2020 exam centre a day before, if possible, so that they do not find any problem in locating the NCHM JEE test centre. NCHMCT JEE 2020 is scheduled to be held from 3:00 p.m to 6:00 p.m. However, students need to report one hour before at the test centre mentioned in their NCHMCT JEE exam 2020 admit card. If religion/customs require an aspirant to wear some specific attire then such an aspirant is required to reach their NCHMCT JEE 2020 test centre early for thorough checking.
Pwd Candidates
If an aspirant is claiming relaxation under PwD category then he/ she needs to bring a PwD certificate issued by the Competent Authority.
Social Distancing and Precautions to be taken
Candidates are required to maintain a distance of minimum six feet from each other inside the NCHM JEE test centre. All candidates will have to sanitize their hands by washing with soap and with hand sanitizer before entering the NCHMCT test centre. All aspirants will be provided with a fresh three Ply mask before entering the exam centre. Aspirants will not be allowed to wear the masks they are carrying from home.
During NCHMCT JEE Exam
For doing the rough work, five blank A4 sheets will be there at each candidate's seat at NCHMCT JEE exam centre.

Additional rough worksheets can be provided to the candidates only on demand.

Aspirants need to sign and paste their passport size photograph on the attendance sheet only after sanitizing their hands
Post NCHMCT JEE Exam 2020
Candidates must drop their duly filled NCHMCT JEE 2020 admit card in the designated dropbox else his/her marksheet will not be evaluated

Candidates need to write their name and NCHMCT JEE Roll Number at the top of their rough sheet and place it in the designated drop box before leaving the examination room/ hall.

On completion of the exam, candidates will be permitted to leave the exam hall in an orderly manner such that at a time only candidates leave the exam hall
Also Read-
NCHM JEE 2020: Tips to crack the entrance exam
PUTHAT 2020- Change in admission policy- no entrance exam
Write to us at news@careers360.com
More From Team Careers360