NEET 2019: Exam rescheduled on May 20 for cyclone affected candidates in Odisha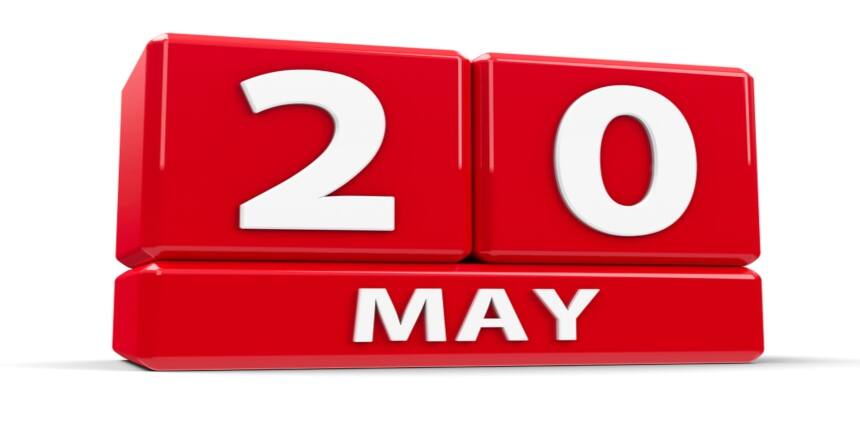 Radhika
|
May 6, 2019 - 5:45 p.m. IST
NEET Online Preparation
Crack NEET 2020 with NEET Knockout Program, If you Do Not Qualify- Get 100% MONEY BACK
NEW DELHI, May 6: After the restoration of normal conditions in Odisha, post-cyclone disaster, the Ministry of Human Resource and Development has announced the dates for National Eligibility Cum Entrance Exam. The exam for all the cyclone-affected candidates will be held on May 20, 2019, from 10:00 AM to 1:00 PM.
National Testing Agency (NTA) is most likely to re-activate the admit card link for such candidates on the official website of NEET. Odisha is still in the recovery phase, mitigating the effects of what is being called as the 'super Typhoon' of the century. There are a total of seven exam centres in the state, namely, Angul (3601), Balasore/Baleswar (3602), Behrampur (3603), Bhubaneshwar 3604, Cuttack (3605), Rourkela (3606), Sambalpur (3607). NEET was successfully conducted in the rest of the country on May 5, 2019.
NEET 2019 in Odisha
The education secretary of MHRD, R. Subrahmanyam tweeted the official notice announcing the date for NEET in Odisha. The notice specifies that all seven exam centres will remain the same.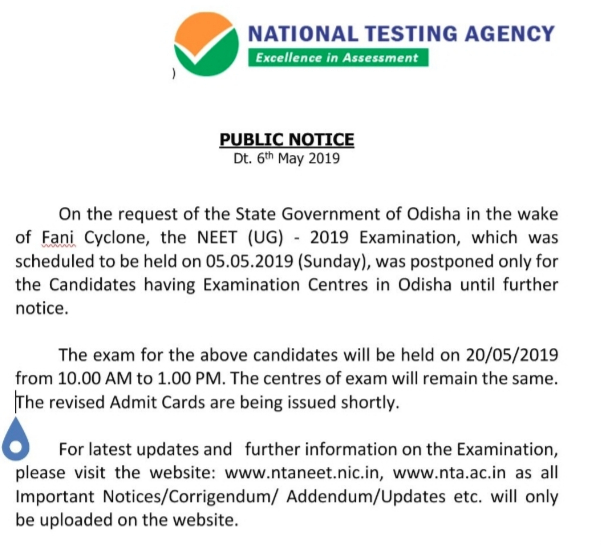 Surviving the storm
Causing widespread destruction of property and human life, Cyclone Fani went up strong with a wind speed of more than 200 Kmph. However, impeccable disaster response planning at place minimised casualties remarkably. About 11 lakh people had been evacuated from the cyclone hit areas on April 21 owing to forecast given by the Indian Meteorological Department (IMD). The cyclone has also been identified to have covered a huge geographical area including districts of Andhra Pradesh and West Bengal. The power supply in the state had been discontinued in the state. Speaking to a national daily, Hemant Sharma asserted, " the power infrastructure was severely damaged in Puri, Khurda, Ganjam, Jagatsinghpur, Kendrapara and Balasore." Since one of the exam centres is in Balasore, the authorities will have to put their efforts to restore the infrastructure.
Stay updated with latest Education News