NEET, JEE Main: NALSAR VC suggests ways to avoid 'zero academic year'
NEET, JEE Main: NALSAR VC suggests ways to avoid 'zero academic year'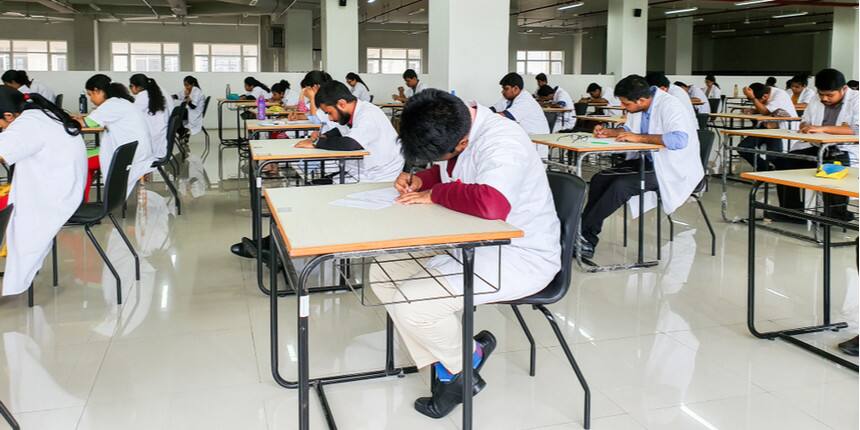 NEW DELHI: In line with the students' demand to postpone the Joint Entrance Exam (JEE) Main 2020 and National Eligibility cum Entrance Test (NEET) 2020, the Vice-Chancellor of National Academy of Legal Studies and Research (NALSAR), Hyderabad, has suggested ways in which the semesters can be restructured to save the academic year.
Recommended: Predict your Rank & Admission Chances in MBBS/BDS Colleges as per your NEET Score. Click Here 
Latest: JSS Academy of Higher Education & Research applications open  Click Here to know more
Faizan Mustafa, VC, NALSAR, has recommended several alternative models of academic calendar that can help avoid a zero academic year for students if the medical and engineering entrance exams are postponed. Mustafa added that he believes a postponement is "much needed".
So far, the exam-conducting body, National Test Agency, has said the exams will be held in early September, as per schedule.
In his popular 'legal awareness' web series, Mustafa was also critical of the arguments made by the lawyers who represented the students seeking the postponement in Supreme Court. "I believe the proper question of a zero academic year remained unanswered in the court. The lawyers should have convinced the court by suggesting different alternative models to save the academic year," Mustafa said.
On August 17, the Supreme Court dismissed a Public Interest Litigation (PIL) filed by 11 students from 11 states demanding postponement of JEE Main and NEET 2020.
The Court observed that postponement of the NEET 2020 and JEE Main will put the career of students in jeopardy. "Life cannot be stopped. We have to move ahead with all safeguards and all... Are you (students) ready to waste one whole year?" Justice Arun Mishra observed.
Alternative academic year models
Mustafa, in his video, explained that even if the exams are postponed till October, the academic year in engineering and medical colleges can be modified under the prevailing circumstances.
"We have a semester system in every college mandated by the Bar Council of India, Medical Council of India and the All India Council for Technical Education. Each semester runs for a duration of 14-16 weeks. In this extraordinary situation, if two or three weeks are reduced, the heavens will not fall," Mustafa explained. "Apart from 14-16 weeks, each semester includes two weeks for examinations," he further added.
If exams are postponed till October, he recommended, the academic year can begin from December 1 to March 30 plus two weeks for exams. The semester, as per this model, will conclude by April 15 and the second semester can begin from April 16.
In another model, Mustafa suggested conducting centralised counselling and a "fast admission" process to start the first semester on November 1 till February 28 and continue the second semester in March after two weeks of exams.
Mustafa also referred to the academic calendar of Indian Institute of Technology (IIT) Delhi to suggested the modifications which can help in avoiding a 'zero academic year'
"The semester in IIT Delhi began on August 17 and the classes started on August 20. The exams will begin from December 9 onwards. This semester size is what I am suggesting," he said.
Reduction of syllabus, credit system
To make up for the academic loss of students, Mustafa also suggested trimming the syllabus by 30 percent. "In this emergency, instead of 16 weeks, we can conduct a semester of 12 weeks by reducing one-third of the syllabus, he explained. According to this model, the semester can start from December 1, running till February.
Furthermore, Mustafa suggested utilising weekends and other semester holidays to make up for the academic loss. " Most of our colleges run on a three-credit system. If we continue the classes on Saturdays, Sundays and other semester breaks, we can run an academic year without compromising the credit system," Mustafa said in his video.
MCI judgements
Supporting his arguments in favour of the postponement of NEET 2020 and JEE Main 2020, Mustafa cited several judgements related to Medical Council of India. "The MCI time schedule requires the admission process to end by September 30. However, the Supreme Court judgments have also observed exceptions to this," he said.
In 2014, the Supreme Court stated that "in rare cases of pressing emergency" the deadline of admission can be further extended. This judgment was passed by Justice Arun Mishra when he was the chief justice of Calcutta High Court.
"By taking an exam centric approach we are overlooking the children's health and their right to life is being compromised. We should take a learning-centric approach to help lakhs of students who are stressed about their academics," he said while concluding the video.
Also read:
Write to us at news@careers360.com