New IIMs surging ahead of old ones in Gender Diversity; IIM Rohtak, Shillong, Nagpur way ahead
New IIMs surging ahead of old ones in Gender Diversity; IIM Rohtak, Shillong, Nagpur way ahead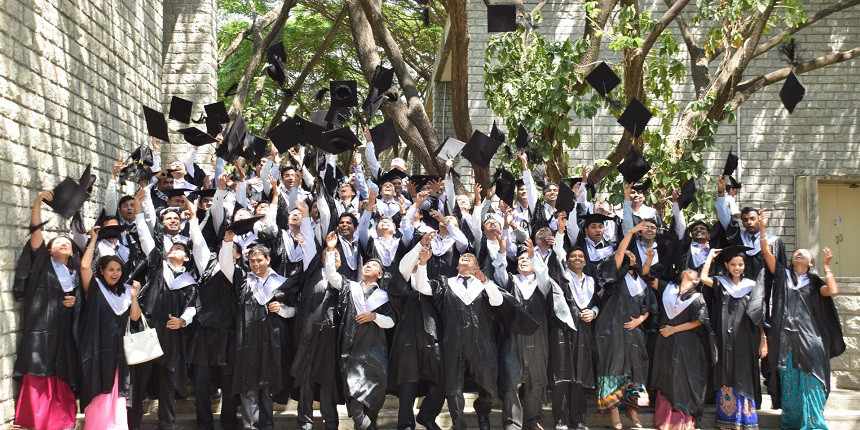 NEW DELHI, AUGUST 08: The move to improve gender diversity in Indian Institute of Management (IIM) campuses seems to be bearing fruits, more in case of newer IIMs, which have seen a surge of over five times between 2017 to 2019. The percentage of female students rose to 30.61% in 2019, which was 25.69% in 2017, reveals a Ministry of Human Resource Development (MHRD) data.
The percentage of female students to the total students admitted to IIMs for the year 2017, 2018 and 2019 are 25.69%, 26.85% and 30.61%, respectively.
New IIMs- Surging ahead
Some of the newly established IIMs, have been giving the older ones a run for their money when it comes to improving gender diversity. The highest number of female enrolment has happened in IIM Rohtak, as many as 124 female students were admitted in the batch of 2019-21, the total batch size is 246. This number was 22 in 2017 and 120 last year. Similarly, IIM Shillong has seen 83 female students taking admission, compared to 25 in 2017 and 77 in 2018. The other new IIMs, IIM Nagpur, Sirmaur, Sambalpur, Visakhapatnam and Tiruchirappalli ave also been able to attract a good number of female candidates.
Older IIMs – Stable situation
While newer IIMs have been able to attract a good number of female students despite being new and mostly located in non-metro cities, the number of female students have not much moved in the older ones. In fact, as per the data, there has been a slight decline in the number of female candidates in these premier B-Schools.
The IIM Ahmedabad saw 114 female students taking admission in 2019-21 batch, which was 132 in 2017 and 121 in 2018. IIM Indore saw 220 female students taking admission, while 256 took admission in 2017.
There is not much change in the case of IIM Calcutta and IIM Kozhikode, in the past three years. It is IIM Bangalore and IIM Lucknow which have seen good improvement in terms of gender diversity in their campuses.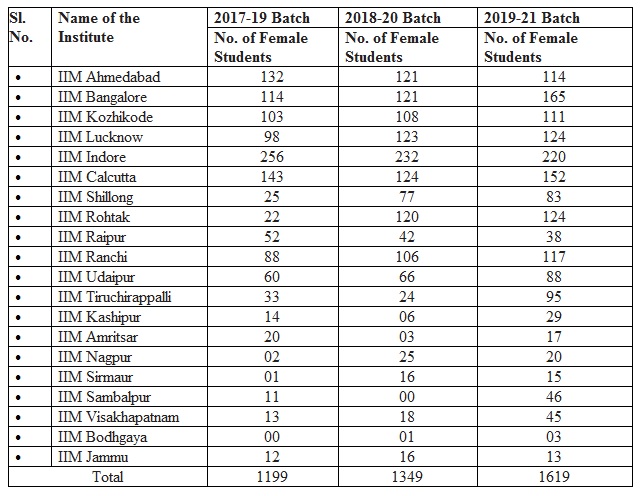 The Government has not fixed any target for admission of female students in IIMs. IIMs are free to frame their admission policy and Government does not interfere in it. However, all IIMs have given some additional weightage for increasing the number of female students.
Stay updated with latest Education News