A new way to cool buildings, a kidney sleeve and more at IIT Delhi exhibition
A new way to cool buildings, a kidney sleeve and more at IIT Delhi exhibition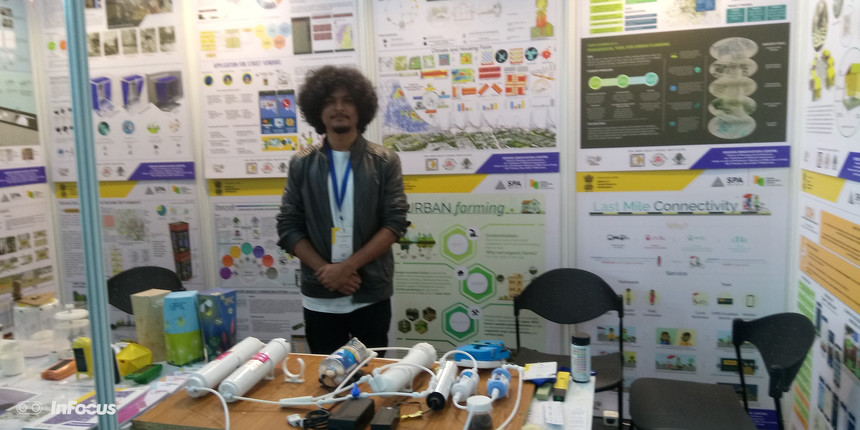 NEW DELHI: The School of Planning and Architecture, Delhi,has figured out a new way to keep out the heat. Its Design Innovations Centre has developed a "universal shading device" that reduces the heat penetrating buildings. Called "Mask", the device consists of shades that go over windows and can be adapted for different window sizes, climates and types of buildings.
Shivendra, a SPA research scholar who worked on the prototype, said the system will "provide better thermal comfort and is cost efficient" as well.
His project was displayed at an exhibition of designs developed at design innovation centres of 20 higher educational institutions across the country. Research scholars and faculty-members of over 80 institutes are associated with the centres. The exhibition was at the Indian Institute of Technology, Delhi, on Tuesday, November 26.
The designs were at different stages of development. Shivendra has already applied for a patent for Mask. By next year, he intends to tie up with designers and builders of green buildings. He is not targeting individual homes but large offices and commercial buildings.
"Teaching takes care of knowledge dissemination, research takes care of knowledge creation, we need something for knowledge application," said PVM Rao, coordinator for the Design Innovation Centre at IIT Delhi.
Kidney Sleeve | College of Engineering, Pune
Vicky Sardar, a research scholar, has designed a "sleeve" for storing a kidney outside a patient's body while a surgery is in progress. Sardar is in the process of building the prototype. Presently, during surgery, the kidney is kept at a very low temperature in a mixture of crushed ice and electrolytes to prevent the tissues from deteriorating. "What we are doing instead is to incorporate a sleeve which will hold the kidney and the arteries, so that those are not damaged and only the portion for which the temperature needs to be kept low will be in this sleeve," says Vicky. The sleeve can be reinserted into the patient's body during the surgery and once the kidney is stitched back into place, the sleeve can be removed.
Prosthetic Limb | IIT-Banaras Hindu University
Alok Prakash from the School of Bio-Medical Engineering, has designed a prosthetic limb for trans-radial amputees who have lost their hands. It uses the concept of Electromyography or EMG in which electrical signals in muscles are read using electrodes. "I am using EMG as a principal signal to control the movement of the prosthetic limbs", he says. "EMG sensors have the potential to extract the signal from the residual limb. The sensors are controlled by the brain. The prototype has been successfully tried on three or four amputees. Prakash's version will also be significantly cheaper than the models currently available in the market Prakash's costs only about Rs. 3,000. He has already entered into an agreement with a firm called "Evaluation Foot". Clinical trials will start soon.
Helical Spring Cleaning Machine | Gujarat Technological University
Till now, the helical springs in trains were manually cleaned. Now Meet Joshi, a research scholar, has designed a machine to clean them. It will find application in the railways, the automobile and mining sectors and in elevators. "Right now, these types of machines are not available in the market. So we have patented our machine and we have four versions of it," said Joshi. "In the final version, after cleaning, it will perform compression test to determine if the spring is further usable or not."
Write to us at news@careers360.com.
Stay updated with latest Education News
More From Pritha Roy Choudhury