NMC Bill: Lok Sabha passes Bill, Govt calls it end of 'Inspector Raj'
NMC Bill: Lok Sabha passes Bill, Govt calls it end of 'Inspector Raj'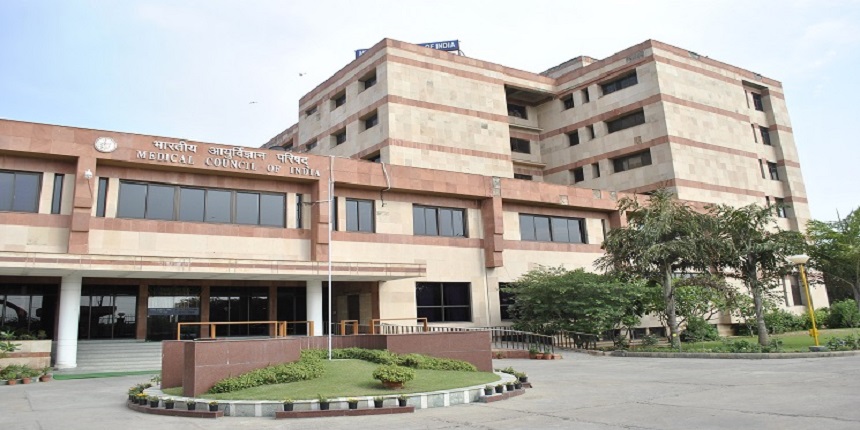 NEW DELHI, JULY 30: The Lok Sabha has passed the National Medical Commission Bill 2019, which proposes to repeal the Indian Medical Council Act, 1956, and set up NMC, by replacing the Medical Council of India (MCI). The Government is claiming that the new legislation will end 'Inspector Raj' and will bring the biggest reforms in the medical education sector.
The Bill once approved by the Rajya Sabha and assented by the President of India, will allow the establishment of the National Medical Commission (NMC). The new medical regulatory body will regulate medical education and practice in the country. It will determine fees for up to 50% of seats in private medical institutions and deemed universities.
Union Minister of Health and Family Welfare, Dr Harsh Vardhan while moving the Bill in the Lower House said that all the genuine concerns over the NMC bill have been addressed and the new Act will be one of the biggest reforms in the country.
Speaking on the concern over fee regulation for 50% seats, he said, the legislation is 'pro-poor' and it would bring government seats and 50% of all private seats within the reach of meritorious students belonging to economically weaker sections of society.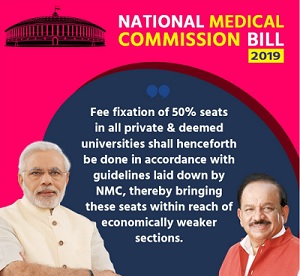 Later Dr Harsh Vardhan tweeted and said, "It is proposed that Fee fixation of 50% seats in all private & deemed universities shall henceforth be done in accordance with guidelines laid down by NMC, thereby bringing these seats within reach of economically weaker sections."
The NMC Bill will also pave way for a uniform National Eligibility-cum-Entrance Test for admission to under-graduate and post-graduate medical education in all medical institutions, including All India Institute of Medical Sciences (AIIMS) and JIPMER.
The Bill proposes a common final year undergraduate exit examination, to be called National Exit Test (NEXT), to obtain the license for the practice. NEXT will also serve as the basis for admission into post-graduate courses in medical institutions.
"NEET & common counselling are to be made a part of the proposed Act. A common final year MBBS exam called NEXT will be in place to ensure the quality of doctors. This will serve as the entrance exam for PG courses & also dispense with licentiate exam," Minister wrote on Twitter.
The NMC Bill has a provision for creating a separate national register for adequately qualified allopathic allied health workers. This will make available a larger number of community health providers for national disease control programs.
Indian Medical Association (IMA) has called for 24 hours withdrawal of services on Wednesday 31 2019.
According to IMA, Section 32 of the NMC Bill provides for licensing of 3. 5 lakhs unqualified non-medical persons to practise modern medicine. The term Community Health Provider has been vaguely defined to allow anyone connected with modern medicine to get registered in NMC and be licensed to practise modern medicine. This would mean that all paramedics including pharmacists, nurses, physiotherapists, optometrists and others are becoming eligible to practise modern medicine and prescribe independently. This law legalises quackery.
"This provision and the earlier objected provisions can never be accepted by the medical fraternity of the country," IMA said.
Stay updated with latest Education News