Open Letter to Education Minister, Telangana
Open Letter to Education Minister, Telangana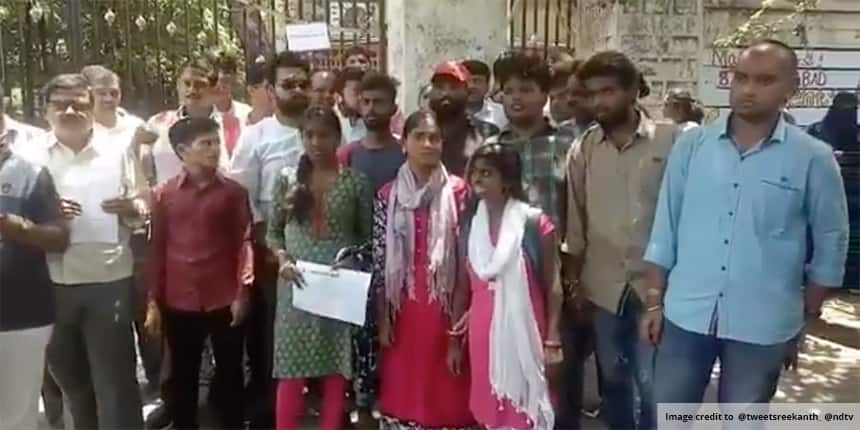 Dear Jagadish Reddy garu,
Recommended: Know about various Careers after 12th based on your stream. Click here.
Trust you are free after election campaign duty for your party, the Telangana Rashtra Samiti. As a leading light of the TRS from Nalgonda, your responsibilities must have been enormous given that the party leadership had set a target to win 16/16 Lok Sabha seats and your home district had seen two senior Congress leaders trying their luck at the hustings.
But while you were away on political turf, thousands of students were sincerely preparing for and writing their Intermediate exams. You would be saddened to know that after their results were announced last Thursday, 16 of them killed themselves.
Officials tell me rather insensitively that this is not the first time it is happening. "Happens every year," one of them said. Yes, Underline those words in Bold letters.
HAPPENS EVERY YEAR.
All the more reason for us as civil society and you as the executive to be horrified. How can we have a chalta hai attitude to death?
Parents blamed themselves first. Felt guilty for being aspirational, for wanting the best for their children. One of them, Lasya from West Marredpally in Secunderabad lives in my neighbourhood, four streets away. Anamika from Gandhi Nagar area of Hyderabad hanged herself after failing in a subject. Telugu Desam Rajya Sabha MP CM Ramesh's nephew Dharam Ram jumped off the fifth floor. In Warangal, Bhanu Kiran jumped in front of a train and killed himself.
For most of you in the system, they are perhaps not even names but hall ticket numbers. But for their parents, friends and teachers, they were till yesterday, real people with dreams in their eyes. Till marks lesser than their expectations felled them. It raised questions about whether we as parents are simply pushing our children into a pressure cooker atmosphere thinking they will be ready to take on the world. Instead, they are getting burnt out.
But no, as it transpires now, it is the system that committed treachery. Over 2000 students have been declared `Failed' despite getting between 750 and 900 marks. In some cases, even when a student has appeared for an exam, he/she has been declared as `Absent and Fail'. Media reports point to internal politics between the Intermediate Board and the teachers who were evaluating, for this mess.
I mean, Really? How low can we go?
Nothing highlights the complete botch-up more than the case of G Navya from Mancherial district who got zero marks in her second year Telugu paper. Scrutiny revealed that she had actually scored 99 marks. Instead of bubbling `9-9′ in the marks column on the OMR sheet, the examiner had bubbled `0-0′.
Hear Tejaswi who says she expected over 50 marks in Physics but got just 8 marks.
Nousheen scored 90 in all subjects but a zero in Urdu. Why? Because her subject is not Urdu, but Arabic. Question is where are her Arabic marks.
Hear this mother's lament who says her son usually scores high marks but this time got below average. "He is not eating last two days, we need to get re-evaluation of his paper done," she says.

I implore you to look outside the office of the Board for Intermediate Education. Do you hear the wails of the students being dragged into police vans? Do you hear the cry of anguish of their parents?
At the risk of sounding insensitive, these are people who are being pushed into taking the extreme step by your system. Can you even imagine the trauma a 18-year-old student will go through when pushed and shoved by those in uniform? Is this the Bangaru Telangana we all aspired for?
Look at the visual of the student being detained and give one good reason why she is being treated in such an inhuman manner. You can hear her pleading with the cops she will go home.
On one of the Telugu news channels, I heard a parent refer to our government's enthusiasm over Haritha Haaram, the annual exercise in Telangana during which all ministers including you, go into an overdrive planting saplings.
"Children are also like saplings, Sir," the parent lamented with anguish. "You have to nurture them too."
Your department is not even making it easy for students to apply for re-evaluation. There are technical glitches galore, that too in a Telangana that prides itself on being tech-savvy. The last date for applying for re-evaluation is 25 April. Has your office informed you that when students unable to apply online came to the Board's office to submit applications physically on Monday, they were not let inside. There are many poor parents out there who cannot afford to spend Rs 600 for re-evaluation in each subject but your officials insist they must or live with poor marks or a Fail in their marksheet.
I heard one of your interviews in which you spoke in bureaucratic legalese about a committee that has been set up to probe into the issue. I read in the New Indian Express that its interim report has already given your department a clean chit.
In that media interaction, you, Mr Reddy also chose to dwell at length on how the opposition parties have chosen to politicise the issue. Frankly, we parents care two hoots for who is trying to gain political mileage. That is for politicians to sort out. All we care is the future of our children. The least you and your ministry can do is to support them by ensuring a error-proof, scam-proof system. It is very obvious the technical support for the checking of the papers has been found wanting.
Your department's decision to award the contract to Globarena Technologies, a private player in 2018 instead of the regular partner, Centre for Good Governance, has already come in for criticism from people who understand the subject. It is a Rs 4 crore contract so it is natural that questions will be asked about what better service Globarena provided that CGG could not.
Reddy garu, it is not the students who have failed. It is your ministry that has failed them. What will you say to the parents of those devastated children who could not bear being labelled as `failures'. If their papers are now re-evaluated and even if one student is found not to have flunked, who will take responsibility for snuffing out a life.
Sir, Telangana has blood of these children on her hands and I am sure, you would agree, Telangana Talli will be a very aggrieved soul today.
Your leadership is on test. There is a lot of muck in your backyard that you need to clean up. The time is Now.
In deep anguish,
A concerned parent.
---
Follow us for the latest education news on colleges and universities, admission, courses, exams, schools, research, NEP and education policies and more..
To get in touch, write to us at news@careers360.com.