How a '10th pass' government employee gave his language a script, won the Padma Shri
How a '10th pass' government employee gave his language a script, won the Padma Shri
Padma Shri: Dhaniram Toto's community originated in Mongolia, settled in West Bengal, and speaks the Toto language with 1,700 speakers.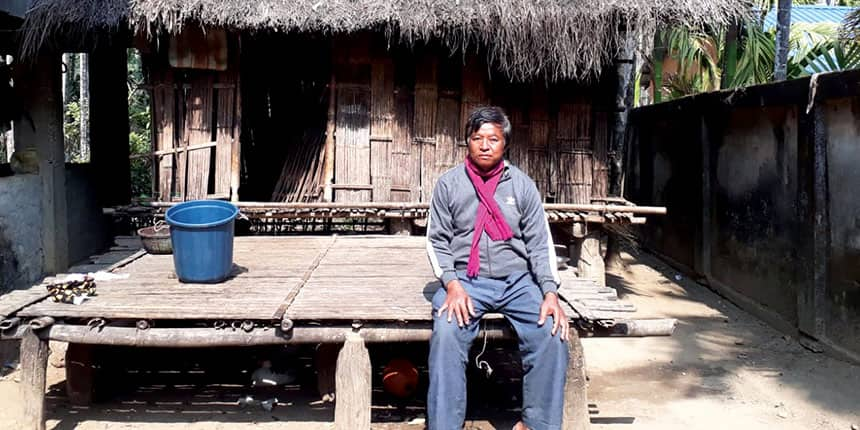 NEW DELHI: As far as Dhaniram Toto knows, around two centuries ago, his people started moving out of the region of Mongolia and made their way to West Bengal where they founded Totopara and settled down. The Toto language, spoken by under 1,700 individuals at last count, had no script until Dhaniram Toto, 59, gave it one. For his achievement, he is being awarded the Padma Shri in 2023. He studied formally till Class 10 – or the West Bengal board's Madhyamik exam – and worked in a government job. He spoke to Careers360 about the language, its speakers and the birth of the Toto alphabet. Edited excerpts.
Q. Can you tell us about the history of the Totos and their language?
A. We are Mongolian. To escape the cold and harsh terrain, our ancestors travelled to China, Bhutan and reached Alipurduar in the Jalpaiguri district of West Bengal. Then, they went back from Alipurduar and reached Genchu in Bhutan, staying there for a while. But soon, they had to start moving again as clashes broke out with the native tribe of Genchu. Our ancestors were involved in shifting cultivation and the tribes of Genchu were doing the same. Instead of going north, they moved south until they reached Salsalabari near Alipurduar, their final settlement. At that time the Koch dynasty ruled the region. In the process of travelling from the Mongol region we came across the Chinese, Bhutanese, Koch, the Ranjbanshi (Bengali-Assamese language spoken in Nepal) people, and the people of Nepal and so, the language kept developing and changing.
Q. Why is the language dying?
A. Only the Toto or Topa people – also known as Himasa because they were dwellers of houses made of snow in the Himalayas – speak the language. It is a very rich language because its grammar is very strong, and the pronunciation changes with gender and even with respect to specific animals. It also changes with ascending or descending numbers. And this is not limited to singular or plural as in English. It is a very interesting language and at the same time, it is very difficult for non-Toto people to pick up. Our neighbours in Bhutan speak the Bhutanese language and then we also have the Adivasis and the Bodos as neighbours. In Totopara village, we have people from Bihar, and Bengal, we have the Rajbanshis and the Nepalese. Everyone can speak the Nepali language; you can say it is the third language. The Totos can speak a number of languages as they pick up languages very fast. I can converse in seven languages. Toto is also a very romantic language.
Let me tell you why it is dying. First of all, everyone has only one wife and we don't believe in remarrying even if a woman becomes a widow. Also, the number of children in a family is limited to three, [with most families having] one or two. So, the population is thin. The schools are Bengali-medium so they study in Bangla and speak good Bangla. Of course, a good number of English schools also came up.
Also read | Education Budget 2023: Funds for merit-cum-means scholarship for minorities slashed by 87%
Q. How did you develop the script? Did you take the help of any other script?
A. I love poems, I write poems, and I love music. A particular song sung by the famous singer Runa Laila moved me. It goes like this: "On the banks of Meghna river, when the birds go back to their nest, it is only the 'bornomala' (garland of alphabets) that will connect us." This made me sad as we don't have alphabets. That was when I decided that I will work on a script which will remain forever. It was not easy. I feel there will be amendments in the years to come. The Toto alphabet was developed by me. Toby Anderson, an Australian linguist who became my friend, helped me with the graphics and pictures and also the computer-related work.
I did not take the help of any other script, it is my own. I developed the script by referring to the phonetic sound of the different human body organs mainly, parts of fruit, parts of the flower, and the way we pronounce them. Like 'La' comes from 'likho' with a twist and 'La' with a 'dot' meaning the navel. The script consists of 37 letters, 22 consonants, 9 vowels and 6 diphthongs (two conjoined vowels). I started working on the alphabet in 2015 and completed it in 2020.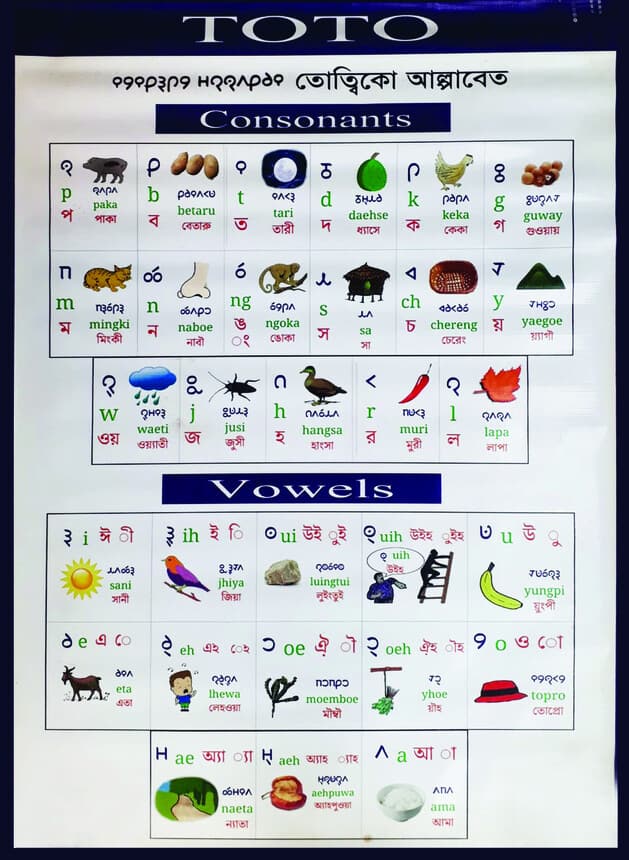 The Toto alphabet Chart
I don't know much about how other scripts were formed. I am just a Madhyamik (Class 10 of West Bengal Board Secondary Education) pass. I was not good in maths and, losing my father in 1976, I could not afford tuition. But I was always good in Bengali.
I work with West Bengal's Backward Classes Welfare (BCW) department but will retire soon. Although I did not study much, I tutor children in languages and six of my students are doing very well. One is with the World Bank. One needs to keep reading just like you need to keep sowing seeds to keep the land fertile. So, I keep reading and I have read around 550 to 600 novels. It was then I decided to write a novel named Dayamara Nadir Tire, Sonam-Malatir Prem (On the Banks of River Dayamara, Sonam and Malati's Love). I wrote in Bengali and am working on a translation in Toto language now.
Also Read | CBSE, state board Class 12 syllabus cuts push students to coaching centres, dummy schools
Q. How do you ensure that the language survives?
A. I tell those close to me and those who love the language to take this forward. But many are sceptical, saying that learning or teaching the language will not fetch money or a job. I believe that maybe one day that this language will get the recognition of an official language. I give the example of the British – just a few crores in number and yet ruled nearly 170 countries at once. I ask my people to challenge 100 people to learn the language. I always tell my people never to think our community has a very low profile
I tell my people about the importance of a language. It is only our inability to express our feelings in a different or unknown language that raises barriers between us. Otherwise, emotions are the same in all human beings. When we know their language, we realise the other person also feels the same pain.
Q. How many speakers were there when you started working on the script and how many are there now?
A. There were 172 Toto people according to the 1901 census. In 2000, the number became 1,000. When I started working on the script, there were probably much more than 1,640 since that was the count according to the 2011 census. Now, it should be much more; the 2020 census was stalled by Covid. We all reside in Totopara. Even if some people join the police or military or government services, their home is Totopara.
Also Read |CUET 2023 Handbook: New changes, more exam centres and counselling
Q. Is there any oral literature in Toto language?
A. Yes. There are many instances of oral literature in the Toto language. My nephew has written some Toto stories in Bengali script. The books are available at College Street in Kolkata. But nothing has been written in the Toto language so far. Now, I will start writing in the Toto language. This is the spoken language of more than 1,650 people now. If we don't work on its revival, there is a chance of this language meeting a gradual death. But just as we have overcome Covid, Toto too shall survive.
---
Follow us for the latest education news on colleges and universities, admission, courses, exams, schools, research, NEP and education policies and more..
To get in touch, write to us at news@careers360.com.
More From Pritha Roy Choudhury