Madrasa Education: Why UP madrasa teachers are struggling to teach mainstream curriculum
Madrasa Education: Why UP madrasa teachers are struggling to teach mainstream curriculum
Uttar Pradesh madrasas are being pushed into accepting mainstream textbooks, learning. But without UP government support, they are not working.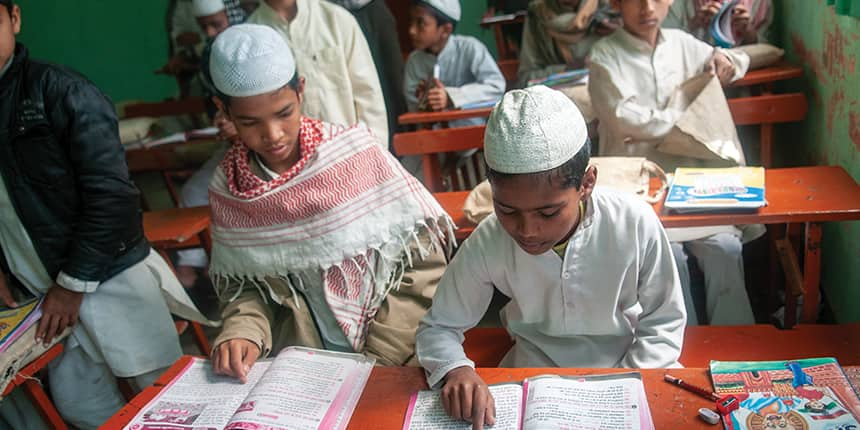 NEW DELHI: It's been more than four years since teachers appointed to bring modern learning into Uttar Pradesh's madrasas have been paid. Madrasas are Islamic seminaries that mainly offer religious instruction. However, through a government scheme, recognised madrasas had introduced English, science and mathematics teaching as well. Teachers appointed with funding from this Scheme for Providing Quality Education in Madrasas (SPQEM) have gone unpaid for years.
The SPQEM is under the umbrella Madrasa Modernisation Scheme which also includes another funding source for Infrastructure Development in Minority Institutes (IDMI). Originally launched and managed by the ministry of education, these schemes were transferred to the ministry of minority affairs in 2021.
"It's ironic that while the government shows a willingness to modernise education in madrasas, teachers are not paid for months and years," said Sagir Alam, head teacher at a Madrasa in Kanpur Nagar.
However, that is not the only issue standing in the way of 'modernisation'. The attempt to introduce textbooks by the central National Council of Education Research and Training (NCERT) in schools is facing a resource hurdle in the vast majority of madrasas; plus, teachers are not trained to teach from these books. Finally, a scholarship awarded to school children from minority communities to encourage them to stay in school has been scrapped.
In total, UP has 560 aided madrasas out of 16,461 registered ones with more than 20 lakh children studying in them. For aided madrasas, the government still provides funds for books, uniforms and mid-day meals. But all madrasas, aided or unaided, have two groups of teachers – those responsible for the standard religious instruction and languages like Persian, Arabic and Urdu and those who teach modern subjects, English, science and maths. The first group are paid salaries from the madrasa funds; the second are supposed to get honoraria from SPQEM funds which haven't arrived in years.
Also read | UP Govt's agenda is not to change form of madrasa education but to make it better: Minister
Poorly-paid teachers
Many of these teachers are paid as little as Rs. 2,000 from the state government under 'miscellaneous' funds but nothing else.
Another change is at the heart of the problem. In 2018, the union government changed the funding pattern for the madrasa modernisation scheme. From being fully centrally-funded, the scheme would now be funded jointly by the centre and states in a 60:40 sharing pattern, 90:40 or northeastern or hilly areas. The union government didn't just shift the funding but also the arrears, accumulating since 2013-14, to cash-strapped states.
While most teachers in aided and unaided madrasas are either graduate or postgraduate, and eligible for pay scales similar to government primary and secondary schools, they are paid a meagre Rs. 2,000-3,000 per month.
In May 2022, the Yogi Adityanath government budgeted Rs. 479.7 crore for the modernisation of Arabic and Persian madrassas. Further, the UP Madrasa Board wrote to prime minister Narendra Modi in January for the renewal of Madrasa Modernisation Scheme.
Also read | Education Budget 2023: Funds for merit-cum-means scholarship for minorities slashed by 87%
State of penury
"Under SPQEM, three teachers were hired to teach contemporary subjects in all madrasas of the state. Since 2018 when the central government divided the scheme on a sharing basis, no full honorarium has been paid to these teachers," Alam explained
Many teachers across these madrasas have resorted to other jobs to make ends meet. "Most of the teachers are taking tuition classes within the premises after school hours to earn something," said Nawaz Ali Siddiqui, head teacher from a madrasa in the Shravasti district of UP.
Those who couldn't get any tuition have either become rickshaw pullers or are working as daily-wagers in factories, he added. "While many of these teachers are qualified, they are still teaching in madrasas with a hope that someday the salaries will be given," he said. Many are afraid that they soon have to shut down if no support is provided to these madrasas.
In 2021-22, the ministry paid honoraria of Rs 2,000 for nine months at once.
Also read | 306 madrassas in Saharanpur not recognised by UP Madrassa Board
No scholarship
Ajmal Khan from Bahraich district, UP informed that pre-matric minority scholarships have also been stopped by the central government.
"The scheme was introduced in 2006 where children from Classes 1 to 5 received Rs. 1,000 per annum and Rs. 4,700 per annum for students of classes 6 to 9," said Khan. But since last year, the scholarship has also been stopped by the ministry, he added.
The ministry of minority affairs reportedly said in its notice that "students studying in Classes I to VIII are already covered under the Right to Education Act (RTE), 2009, which provides for free and compulsory education of all children in the age group of six to fourteen years, hence, the scholarship will be provided to students studying in classes 9 and 10."
Many teachers, when asked about this, refused to speak.
Also Read | Scholarship Budget: Modi government cuts Rs 2,000 cr from student financial aid funds
NCERT syllabus, training
While aided madrasas are using NCERT books, no curriculum or books are provided to unaided or unregistered madrasas of the state, said a madrasa teacher who didn't want to be named.
While NCERT books are being taught for two years in aided madrasas, others are just teaching from any books that children can afford to buy. "Many children in these unaided and non-registered madrasas cannot afford NCERT books and there is no curriculum mapping. The state government discriminates between aided and unaided madrassas," he added.
While the government has made the NCERT compulsory in all madrasas of UP, the question of access remains. "Unaided madrasas have no resources to provide these books to students then how will children study," questioned another teacher.
Also Read | CBSE, state board Class 12 syllabus cuts push students to coaching centres, dummy schools
Further, teachers are also not trained well, causing issues in both teaching and understanding of the syllabus. "Teachers are not trained in NCERT books and are facing issues in teaching children. While teachers are less aware of the NCERT syllabus, how will children understand the curriculum without proper training to teachers?" asked a teacher from a madrasa in Kanpur Nagar who didn't want to be named.
The state government should have given some time and trained teachers before implementing it full-fledgedly, he added. The UP Madrasa Board made the announcement last month for the academic year starting in 2023.
Further, teacher training of madrasa teachers is not adequate. "Though teacher training is provided for three days, it has happened just once in the last many years. It's just a formality where not even the basics are covered," said a teacher requesting anonymity.
---
Follow us for the latest education news on colleges and universities, admission, courses, exams, schools, research, NEP and education policies and more..
To get in touch, write to us at news@careers360.com.
More From Sheena Sachdeva