'Political commitment, technology, schooling can reform education'
Ramamurthy Natarajan, former AICTE chairman, writes about NEP 2020's place in this year's budget.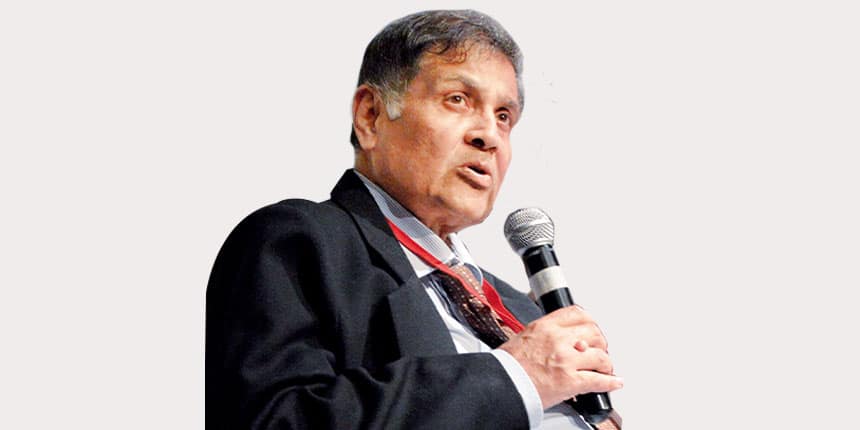 by Ramamurthy Natarajan
There is a close nexus between the implementation of the recently-formulated National Education Policy (NEP) 2020 and the Union Budget, in as much as there are many recommendations of NEP 2020 which require major resource investments. In addition, it must be pointed out that several reformulations and repeal of existing Acts and introduction of new Acts will be required. The NEP proposes to eliminate distinctions between academic and vocational streams, encourage multilingualism, and provides flexibility to students to opt for courses as per their choice.
The following brief discussion highlights the major provisions in the Union Budget towards implementation of the NEP recommendations which have received a positive response from the concerned stakeholders, as well as the shortcomings and unfulfilled expectations.
National Research Foundation
The announcement of National Research Foundation (NRF), to receive an outlay of Rs. 50,000 crore over five years, to boost the quality and quantity of research in India, is applauded as a way to achieve the desired synergies of multidisciplinary higher education as envisaged in NEP. NRF will be an umbrella body that is expected to fund research across a range of disciplines. It is expected to strengthen the overall research ecosystem in the country. The NRF will seed and build research capacity at universities and colleges through a formal mechanism of mentoring. It will also catalyse research at universities and colleges which have not been big players till now.
The secretary, department of science and technology, explained that NRF would support research and development that is cross-disciplinary and "ensure that research — already being funded by science ministries, for instance — wouldn't be duplicated". The NRF will also help build research capacity through an institutionalised mentoring mechanism, involving expert researchers from premier institutions of the country.
Currently, in terms of research capacity and research output, a major proportion is contributed by the laboratories and organizations supported by the science and technology ministries and the strategic sectors such as space, atomic energy, defence, ocean, and earth sciences. The contribution from the university sector requires to be considerably enhanced, which requires both the scope and intensity to be boosted.
Other initiatives
Setting up over 15,000 schools to be qualitatively strengthened under NEP, 100 new Sainik Schools to be set up in partnership with NGOs, and 750 Ekalavya Model Residential Schools in tribal areas are welcome measures.
The proposal to set up a National Digital Education Architecture (NDEAR) will help bridge the digital divide which we presently see across multiple sectors. It is a crucial step towards digital India, blended learning, data-driven governance, and better collaboration between the centre and the states.
The allocation of Rs 8,000 crore for a National Mission on Quantum Computing and Technology will help in establishing our strength in this upcoming technology of the future.
The budget has taken cognizance of the compulsion for the new normal in educational delivery through blended learning or phygital approaches, as also envisaged in the NEP 2020.
In the budget speech, the finance minister said that many cities have various research institutions, universities, and colleges supported by the central government. To enable better synergy, she added that there will be formal umbrella structures created in nine such cities.
Trans-Asian partnership
The trans-Asian partnership between India, Japan, and the UAE, wherein workforce upskilling initiatives and diploma and skill Certification programs will be jointly supported by the three nations, holds huge promise. Educational planning with Japan for the sharing of technology and knowledge, and collaboration with UAE for skill development are very positive initiatives. The government's collaboration with UAE to benchmark skill qualifications, assessment and certification, and the implementation of collaborative training programs with Japan will upskill our youth and provide vocational and industrial skills along with appropriate knowledge.
Shortcomings
Manish Sisodia, who handles both the education and finance portfolios for the Delhi government, is disappointed that the first budget after the roll-out of NEP does not give the commitment that the NEP's vision demands. The allocation for education, instead of being increased to six per cent of GDP, has actually been slashed. The top three priorities should have been political commitment, technology, and schooling. All these combined together will bring about the requisite change in the education sector. "Since the NEP was announced earlier, this budget has not seized the opportunity to use this momentum to drive transformation," he said.
As stated by Sisodia: "Among the biggest disappointments for the teaching community has been the small allocation for improvement in salary scales. If we want to attract high-quality educators, shouldn't there be significantly higher funds allocated for them."
Unfortunately, there has been a decline in the budget outlays for IITs, IIMs, IISERs, UGC and AICTE. "Since all the educational institutions are providing (or forced to provide) virtual learning since the outbreak of COVID – 19, there were expectations of more investments in the online education models as blended learning will be the way forward," the Delhi education minister pointed out.
It is to be recognized that by the next decade India will have the world's largest working-age population, which needs to be skilled for employment in emerging sectors. Internships or apprenticeships and appropriate skill development are the best strategies to confer job-readiness. The government must fully support the National Apprenticeship Training Scheme.
The allocation for education, instead of being increased to six per cent of GDP, has actually been slashed. The top three priorities should have been political commitment, technology, and schooling. All these combined together will bring about the requisite change in the education sector.
Ramamurthy Natarajan is former director of Indian Institute of Technology (IIT) Madras and former chairman, All India Council for Technical Education (AICTE).
Write to us at news@careers360.com.
More From Team Careers360