President of India inaugurates the first-ever World Youth Conference for Kindness by UNESCO MGIEP
President of India inaugurates the first-ever World Youth Conference for Kindness by UNESCO MGIEP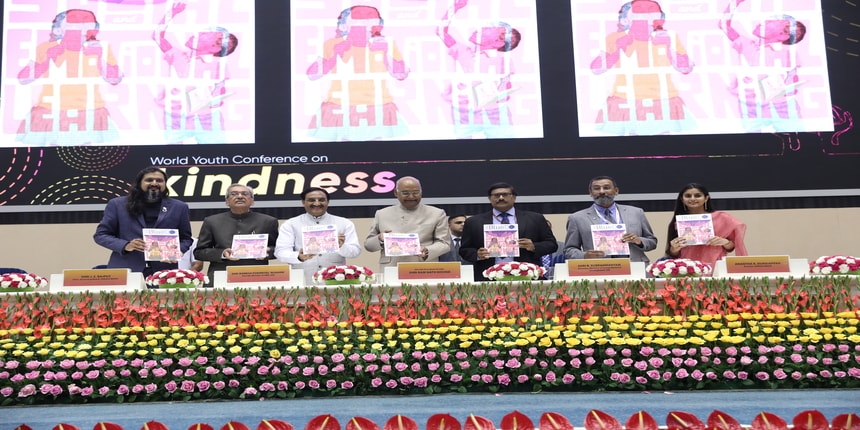 NEW DELHI, AUGUST 23: President Ram Nath Kovind inaugurated the first-ever World Youth Conference on Kindness organised by the UNESCO Mahatma Gandhi Institute of Education for Peace and Sustainable Development (MGIEP) and the Ministry of Human Resource Development in New Delhi today. The conference focused on the theme 'Vasudhaiva Kutumbakam: Gandhi for the Contemporary World: Celebrating the 150th birth anniversary of Mahatma Gandhi'.
Addressing over 1,000 youth representing over 27 countries from Asia, Africa, Latin America, and Europe, the President said, "We could place Gandhiji in a time machine and transport him to any period of human existence and we would find him to be relevant. This is also true of the times we live in. Gandhiji remains extremely relevant to our present-day concerns such as the need for peace and tolerance, terrorism and climate change."
The president said education can play a big role in ending strife and violence that the world witnesses today. "Here, education too can play an important role. We need to evaluate and evolve the premise, goals and structure of our education system. Education needs to go beyond mere literacy. Education must facilitate and challenge the young to search deep within themselves and build their inner strength to sympathize or relate to the suffering of others," he said.
Commenting on celebrating150th birth anniversary of Mahatma Gandhi, UNESCO MGIEP's Director Dr. Anantha Duraiappah said, "If real societal change is to be achieved, Gandhi's learnings, which he meticulously imbibed through his experiments, need to be built into our education systems and exemplified in our daily lives."
The conference was also addressed by the Union HRD Minister, Ramesh Pokhriyal 'Nishank'. J S Rajput, Chair, Governing Board, UNESCO MGIEP; R. Subrahmanyam, Secretary, HRD ministry, amongst others. Nobel Peace Laureate Kailash Satyarthi also graced the function.
'Shine Your Light', a special anthem on kindness created and produced by Grammy Award winner & UNESCO MGIEP's global ambassador for Kindness, Ricky Kej, was also launched at the conference. The anthem is about showcasing simple acts of kindness in our everyday lives, and how these acts can help solve our problems. The anthem features musicians from 4 continents, including Grammy Award-winning flute virtuoso, Wouter Kellerman, Grammy Award-winning singer, Laura Dickinson, the Mzanzi Youth Choir and Grammy nominee and co-author of the song, Lonnie.
The tenth edition of UNESCO MGIEP's flagship publication, 'The Blue Dot' was also released during the function. The latest edition focuses on the Institute's main area of work, primarily in social and emotional learning.
World Youth Conference on Kindness aims to provide global youth and policymakers with an innovative, engaging and inspiring platform to come together and strive to discover ground-breaking pathways to achieve the United Nations' Sustainable Development Goals (SDGs).
Stay updated with latest Education News
More From Pritha Roy Choudhury