Research infrastructure to get Rs 1 Lakh Crore boost in four years, says Prime Minister
Research infrastructure to get Rs 1 Lakh Crore boost in four years, says Prime Minister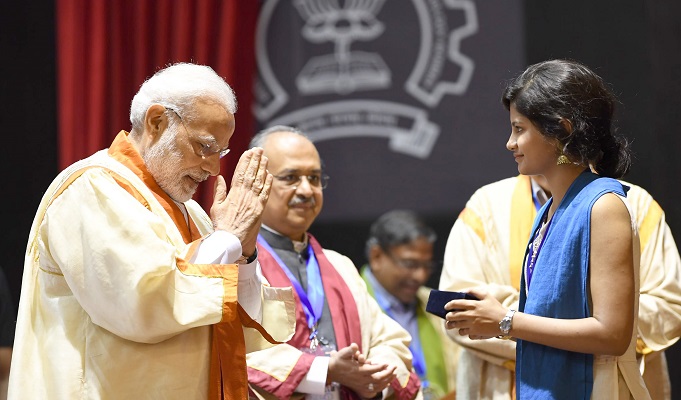 NEW DELHI, AUGUST 11: The Government has planned to raise one lakh crore for improving research and related infrastructure in higher education institutions. Prime Minister Narendra Modi has said that in order to improve the infrastructure, Revitalization of Infrastructure and Systems (RISE) has been started through which the money will be raised in next four years.
Talking about the skill gap among graduates, the Prime Minister speaking at the 56th Annual Convocation of the Indian Institute of Technology (IIT) Bombay said that the country prepares about 7 lakh engineers every year in the campus, but some people leave only with a degree. They do not develop skill capacity.

He said, "I urge the intellectuals here to help the teachers present here to think about how to improve quality, bring suggestions on this. Not only Quantity but the quality is also high level, ensuring that all of us, we all have a collective responsibility. The government is also making efforts for this."

In order to arrest brain drain and encourage young graduates to take up research as a career, the Government last year started the Prime Minister's Research Fellows scheme for thousand meritorious engineering students across the country every year. "The students selected in this scheme have the arrangements for admission in prestigious institutes like PhD, IIT and IISc. This Fellowship is providing you with the opportunity to provide excellent facilities for research while living in the country. Students of IIT Bombay should also take advantage of this," PM said.

The PM also lauded the role of IITs in nation building and said that the nation is proud of the IITs, and what IIT graduates have achieved. He said, "The success of the IITs led to the creation of several engineering colleges around the country. They were inspired by the IITs, and this led to India becoming one of the world's largest pools of technical manpower. The IITs have built Brand India globally. And they did it over the years."

During this year's convocation, 308 candidates were awarded PhDs, 54 received Dual Degrees (MTech/Mphil+PhD) and 32 Dual Degrees (Msc+PhD). Out of these, 36 research scholars were selected for the 'Award of Excellence in PhD Thesis' for the year 2018. In addition, 29 joint PhD degrees, in association with Monash University were also conferred by the Vice-Chancellor and President of Monash University, Prof. Margaret Gardner, who was present on the occasion.

Besides these, 7 MSc (by Research), 6 Dual Degree (MSc+MTech), 2 Dual Degree (Msc+MPhil), 615 MTech, 63 MDes, 27 MPhil, 106 MMgt, 246 two-year MSc, 25 five year integrated MSc, 400 Dual Degree (BTech+MTech), 651 BTech Degrees, 14 BS and 14 PGDIIT degrees, were awarded at the Convocation.

On the occasion, Degree of Doctor of Science (Honoris Causa) was bestowed on Dr Romesh T. Wadhwani, Founder, Chairman and CEO of Symphony Technology Group.
Stay updated with latest Education News