Restored Vikram Sarabhai Library inaugurated at IIMA
Restored Vikram Sarabhai Library inaugurated at IIMA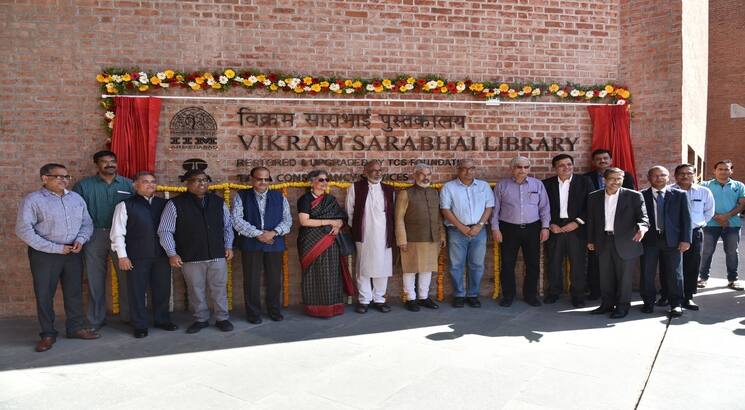 NEW DELHI, MARCH 11: The restored Vikram Sarabhai Library (VSL) at Indian Institute of Management Ahmedabad was inaugurated today. The library envisions of becoming an interesting interactive and technology-rich space for learning, collaboration and information discovery.
Speaking on the occasion, Prof. Errol D'Souza, Director, IIMA said, "The Vikram Sarabhai Library is at the epicenter of the IIM Ahmedabad campus and is not just a location for preserving books but is intended to provide a workshop for readers and for conversations that expand our horizons. The architecture of the library expands on the theme of the interplay between light and darkness and is a representation of how academics is the emergence from darkness into the light. The users of the library at IIM Ahmedabad are indebted to the TCS Foundation for its contribution to the restoration of this enriching experience."
Vikram Sarabhai Library at IIMA's Louis Kahn Plaza is a landmark structure that leaves visitors awestruck. Its design and grandeur are almost impossible to miss. The iconic Louis Kahn buildings have witnessed years of academic lives on campus and even withstood the Gujarat earthquake, but had aged so as to need restoration and upgrade on priority. So, IIMA has initiated a program for the important and painstaking process of restoration and upgrade of these structures in 2016.
Tata Consultancy Services, leading global IT services, consulting and business solutions organization funded the restoration of the Vikram Sarabhai Library located at IIMA's iconic Louis Kahn Plaza for a future-ready knowledge hub for Digital learning and collaboration.
Tata Consultancy Services, through its CSR arm TCS Foundation, is engaged in promoting and funding projects and programs under corporate social responsibility and supported this landmark project with funding of INR 20 crore.
"The Vikram Sarabhai library at IIM Ahmedabad has witnessed the confluence of students and faculty ever since its inception. The TCS Foundation is proud to have associated with the transformation of this iconic library to be future ready integrating leading-edge digital learning technologies and flexible collaboration spaces creating a vibrant experiential learning environment. We hope this State- of- the Art library will set a benchmark for knowledge management among academic institutions globally," said, Milind Lakkad, Executive Vice President & Global Head -Manufacturing Business Group and Deputy Head HR, TCS.
Somaya & Kalappa Consultants, Mumbai were appointed as the restoration and conservation architect for this project who lead the entire reconstruction of VSL building.
The reimagined library provides a technology-rich learning environment that includes intelligent identification technologies, seamless integration, and discovery of digital content. There is an emphasis on digital collections, while print collections retain their importance to the library. Open and flexible spaces provide an environment of collaboration among students, academics, and visitors.
In addition to funding, TCS has been actively engaged with the library team in developing the VR app in addition to making a valuable contribution to the discussions while finalizing the layout of VSL. The app was also launched during the inauguration.
Stay updated with latest Education News
More From Pritha Roy Choudhury