'Belief and a plan': Shiv Nadar School heads on IB curriculum, expansion plans
'Belief and a plan': Shiv Nadar School heads on IB curriculum, expansion plans
Shiv Nadar Schools have added an international school in Chennai, Tamil Nadu. Their CEO, director spoke about IB syllabus, expansion, inclusion.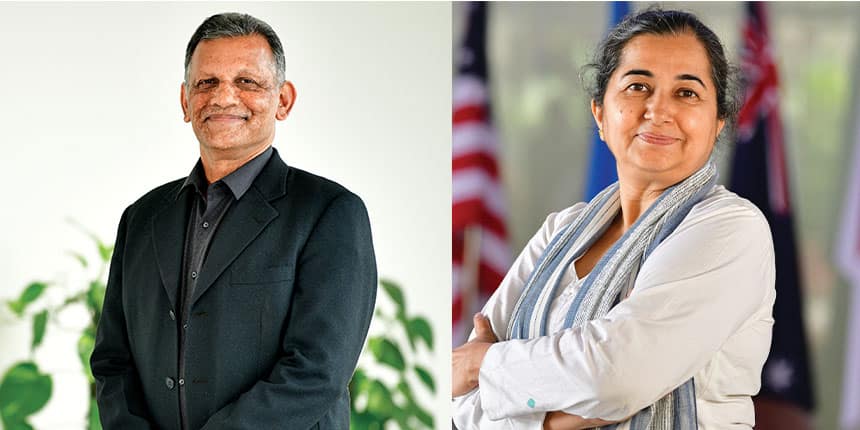 NEW DELHI: The Shiv Nadar Schools now include a fully international school that follows the International Baccalaureate (IB) curriculum in Chennai, Tamil Nadu. Colonel Gopal Karunakaran (Retired), CEO, and Shashi Banerjee, director of education, spoke to Careers360 about expansion plans, international education, inclusion and more. Edited excerpts.
Q. What are your expansion plans?
Gopal Karunakaran: The newest initiative of Shiv Nadar Foundation, a philanthropic venture of the founder of HCL, a US$ 12.3 billion leading global conglomerate, is Shiv Nadar School in Chennai. This is a new international school (International Baccalaureate affiliation is in progress) and will offer world-class education for the holistic development of students. The school will benefit from the best practices and teaching methodologies that have evolved at our schools in Delhi-NCR over the last ten years.
The campus, set in one of the most gorgeous, green patches of the city, is designed by one of India's most famous architects, the late BV Doshi, who won the Pritzker Prize in 2018. The academic session for Nursery to Grade 4 will begin from June 2023 onwards. The institution will embody a harmonious blend of progressive international education and rich Indian cultural values.
Also Read|CBSE, state board Class 12 syllabus cuts push students to coaching centres, dummy schools
Q. How do you compare international boards such as IB with the Central Board of Secondary Education (CBSE) or state boards?
Shashi Banerjee: We look at curriculums as different pathways for learning. What differentiates some of them very clearly is the way you assess. It's about assessing what you value as part of the course curriculum, and the internal assessments are designed according to that. Conventionally, schools are used to studying content, framing questions based on it and assessing children's memory and retention skills. The moment you turn it into a problem-solving assessment, your pathway to knowledge immersion is different, and then you can't prescribe just one book, one teacher, and one class and expect the child to be ready. So, that's the difference.
Also, it's not just about the curriculum. The quality of education depends on many factors, including the curriculum, teaching methods, resources, and the attitude of the school and its teachers toward education. The choice of a school or curriculum should be based on the individual needs and goals of the student and not just on the board's reputation or the school. It's important to consider how well the school aligns with your educational philosophy and its track record in terms of student outcomes before making a decision.
Q. Students from international boards typically don't attempt entrance tests like the JEE for engineering or NEET for medicine. Why is that? Are most students emerging from international programmes still going abroad?
Shashi Banerjee: That was how it was earlier. But now, the absorption, accommodation and acceptance of our Indian universities have also changed. People who relied on one university a few years ago now have the option of many private universities.
Shiv Nadar University conducts its own entrance tests as they're looking for children who can synthesise knowledge rather than relying on retention and memory. Many Indian universities – more than 76 now – have started accepting IB diploma programme students. People have realised that there's no compartmentalisation in boards and curricula patterns anymore.
Also Read|School Education: How Indian children fell behind after Covid-19
Q. The pandemic changed the school education system with the greatest impact on primary and middle school children. What was your experience?
Shashi Banerjee: The COVID-19 pandemic has profoundly impacted the education system in India and around the world. But even before the pandemic, schools in India explored technology to enhance the learning experience. However, many institutions needed to be equipped or prepared for a fully digital learning environment. The pandemic brought about a sudden and unprecedented shift, forcing schools to rapidly adopt digital solutions to continue educating their students.
The pandemic legitimised the use of digital gadgets for learning and fast-tracked the digitization of the education process in India. Schools were required to adapt and implement new teaching methods and technologies, such as online classrooms and virtual learning platforms. This sudden transition was not without its challenges, as many schools struggled to provide equal access to technology for all students, particularly those in rural or low-income areas.
In addition, teachers were forced to quickly adapt to new teaching methods and navigate the use of technology in their classrooms. Despite these challenges, the pandemic has shown that technology can play a vital role in providing students with access to quality education, even when in-person learning is impossible.
The pandemic has highlighted the importance of necessary resources and infrastructure to support digital learning. This includes access to technology, internet connectivity, and teacher training and support. As the world continues to grapple with the effects of the pandemic, schools in India must continue to evolve and improve their use of technology to ensure that students receive the best possible education.
In addition, the pandemic has brought to light the importance of social, emotional and ethical learning within the framework of the school structure. For us, the emphasis on connectedness and wellbeing was an important part of our offering earlier, too, and has now taken on even greater significance in the wake of the pandemic and the massive changes that the known world has undergone.
Also Read|Board Exam Results: In some state boards, less than half of Classes 10, 12 ST students pass
Q. There's now a quota for economically weaker sections (EWS) in private schools. How do you ensure this section of students is well integrated?
Gopal Karunakaran: We have many students whom we call neighbourhood children. We don't call them EWS or marginalised sections. Many of them are from the village right across, and we have more than 120 such students. In addition, we also offer scholarships to nurture brilliant young sportspersons who may not be able to afford us otherwise.
This integration has to be well thought-through, and you must have a plan and resources for this. This is done through engagement, conversations, and programmes, apart from regular studies, and through the provision of education resources other than fees, which is free, whether it's food, sports, or outdoor trips. After three to four years at the school, they start adjusting well and do as well as the other students. During the pandemic, our fee-paying parent community stepped in a big way to raise funds and support the learning of our neighbourhood children. We have also run support and remediation programmes for all children - not only those from the neighbourhood - whose learning suffered during the pandemic.
We run a regular communication programme for the children and their parents. If they're treated with respect and equality, and when there's a bit of education and training for teachers, parents and students, all challenges can be overcome. We have always had a belief and a plan in place, which has helped us to continually be prepared for any issues that may arise and respond adequately to the same. Ultimately, it is about building trust and a deep belief in social justice, which governs us.
---
Follow us for the latest education news on colleges and universities, admission, courses, exams, schools, research, NEP and education policies and more..
To get in touch, write to us at news@careers360.com.
More From Aeshwarya Tiwari