Telangana private medical colleges stealing PG students' stipends, doctors' group alleges
Telangana private medical colleges stealing PG students' stipends, doctors' group alleges
HRDA has alleged that private medical colleges are charging extra fees and setting up dummy bank accounts to siphon off stipends owed to PG students.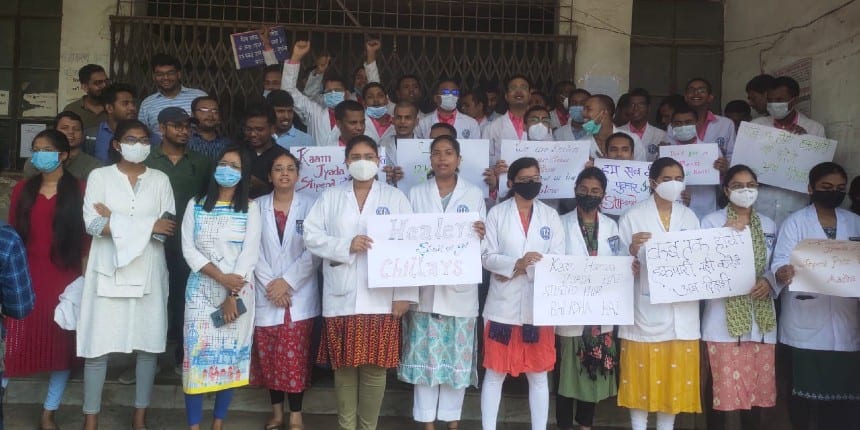 Sanjay
|
Apr 6, 2023 - 5:06 p.m. IST
NEW DELHI: Private medical colleges in Telangana offering postgraduate medical courses are allegedly collecting extra fees from students through fraudulent means and stealing from their stipends as well, an association of doctors has alleged.
On April 3, the Healthcare Reforms Doctor's Association (HRDA) submitted a representation to A Gopal Reddy, chairman, of Telangana Admission and Fee Regulatory Committee (TAFRC) alleging that private medical colleges in the state are collecting excess fees of up to Rs 50,000 in the name of lab fees, library fees, sports fees. In its representation to the fee regulator for private unaided professional colleges, the doctors' group has also alleged that private colleges are opening dummy bank accounts to siphon off students' stipend money.
The HRDA has alleged that 13 out of the 27 private medical colleges running postgraduate medical courses – MD, MS and others – are violating National Medical Commission (NMC) and TARFC guidelines. The group has urged the TAFRC to take strict action.
The TARFC has announced a proposal for reviewing the fee structures of the state's private medical colleges for the block period 2023-2024 to 2025-2026.
Dummy bank accounts
Dr Srinivas Gundagani, general secretary of HRDA, told Careers360 that every PG medical course student in a private medical college is supposed to get a fixed amount of stipend every month on par with the government medical colleges students.
"A total of 13 private medical colleges in Telangana which are offering postgraduate medical courses are opening dummy bank accounts of students and they take the stipend amount after it gets credited in those bank accounts. However, they are showing to NMC that they are giving the stipend amount to PG medical students," Gundagani said.
Gundagini along with HRDA president Dr K Mahesh Kumar on Monday met TAFRC chairman Reddy in Hyderabad and submitted the letter requesting the panel to take "suo moto complaint, conduct enquiry and take necessary action on private medical colleges which are collecting excess fees and are involved in money laundering frauds in payment of stipends".
"TAFRC chairman Reddy has promised us to look into the issue and do justice for students," Gundagini added.

Also Read | NMC guidelines on fees for 50% seats in private medical colleges
Fee hike and stipend
In its submission, HRDA has highlighted the case of a Hyderabad-based private medical college to show how it claimed an excess stipend payout as expenditure. The private colleges are also using these transactions in their annual financial audits for hiking the medical courses fees for the next block period which "is illegal", said Kumar.
In its letter to TAFRC chairman Reddy, HRDA president Kumar said that the students and their parents are afraid to report the issue as they fear that "students will be targeted and will be failed in academics".
On the condition of anonymity, a third-year PG medical student of a private medical college in Telangana explained how these colleges are debiting stipends paid by the government to PG students.
"Even though we have a personal account, the college officials ask us to open another bank account in a branch located within the medical college. These colleges submit details of those accounts to the state government which credits the stipend amount. During the admission process, private colleges take signatures of students on 36 blank cheques of the medical colleges' bank branches. They use 12 cheques per year during our course duration of three years of our course and take our stipend amount through signed cheques. During inspections and annual audits, they show that stipends are paid to PG students," he said.
He further said if this continues, a middle-class student won't be able to do a PG medical course in private colleges of Telangana.
"The Telangana state government grants us a stipend of Rs 12-13 lakh per year but our colleges do not provide me with any stipend amount. A student can complete his PG without paying a single rupee if he takes his stipend properly. We have to pay tuition fees of around 3.75 lakh per year," he added.
TAFRC and Telanaga medical education
There are 46 medical colleges in Telangana including 19 government and 27 private. These colleges have 7,415 MBBS seats including 3,015 seats in government colleges and 4,400 seats in private medical colleges. There are 2,723 seats in postgraduate medical courses including 1,361 in government colleges and 1,362 in private colleges.
Telangana government constituted TAFRC in 2015 to regulate the admissions and fix the fee structure for private un-aided professional colleges in the state. TARFC has announced plans to review the fee structures for the block period of 2023-2024 to 2025-2026.
Also Read | NMC cancels MBBS, PG admissions in 3 medical colleges in Telangana
In a notification dated March 31, 2023, TAFRC asked private college managements to submit data related to the 2022-2023 financial year, together with their audited financial statements for the years 2022-23, 2021-22 and 2020-21 online by April 30, 2023. An institution which is "unresponsive or does not submit statements of income and expenditure and other data shall not be permitted to collect any fee", the committee said.
---
Follow us for the latest education news on colleges and universities, admission, courses, exams, schools, research, NEP and education policies and more..
To get in touch, write to us at news@careers360.com.