Trump Visit: 'Happiness Class will continue in the midst of shootings'
Trump Visit: 'Happiness Class will continue in the midst of shootings'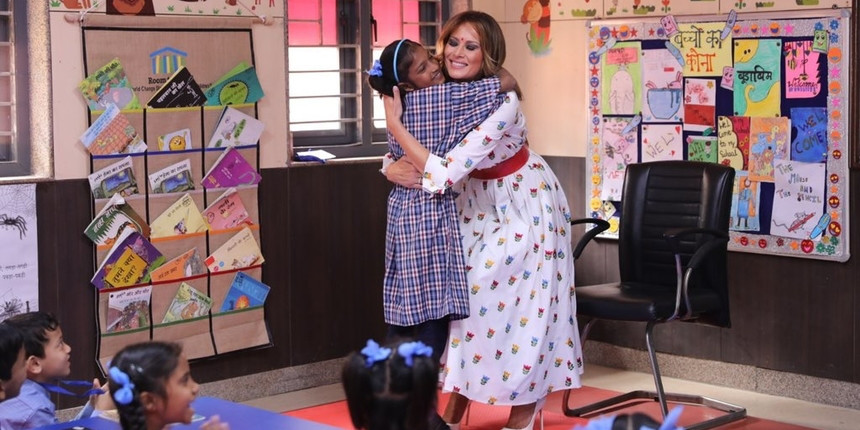 NEW DELHI: As the First Lady stepped out of her armoured car onto the pavement in front of the Sarvodaya Co-Ed Senior Secondary School, Nanakpura, she was greeted with cheering students on either side waving flags of both the countries.
Videos posted on social media showed bagpipes blaring in the background as Melania Trump waved and greeted students on her way to attend the model Happiness Class of the Delhi Government school.
Social media users, reacting to the tweets on her visit, reminded of the riots in north east Delhi in which seven, including one policeman, have died and many shops and homes burnt. A nationalist mob had clashed with people protesting against the Citizenship Amendment Act 2019.
Here are some of the tweets posted in response to Trump's school visit:
The Happiness Class will continue in the midst of shootings, lynchings, looting, burnings & murders, because the Ethical/Moral Science class has been scrapped in Delhi. https://t.co/1ol9nGCN3Z

— Geet V (@geetv79) February 25, 2020
Very upset with this tweet of Delhi CM. People who voted you & brought landslide victory for you r in pain, anguish &trouble..Communal Goons freely are burning shops,houses and firing..4 people died and you r advertising your happiness class with First Lady of US #TrumpInIndia https://t.co/ylb5Ygfl3w

— ambarish rai (@amb1857) February 25, 2020
I'm sorry I still can't get over the fact that while the people who overwhelmingly voted to put him and his party back into power are being mercilessly massacred in his city he is showing "happiness class" to Melania and saying it's a great day for Delhiites. https://t.co/qEV1OysFOc

— Sayak Dasgupta (@sayakd) February 25, 2020
Those who could not find single Decent school in Delhi. Will now showcase #HappinessClass to #USPRESIDENT @USPresident @realDonaldTrump#TrumpInIndia #TrumpIndiaVisit #TrumpVisitIndia #DonaldJTrump #DonaldTrumpIndiaVisit #ThanksTrump #ThankyouMughals

— Aamir Qais Anzar (@aamir_you) February 24, 2020
Is @FLOTUS visiting @AamAadmiParty ruled Delhi Govt schools or @BJP4Delhi ruled MCD schools? 🙄#Delhi #TrumpVisitIndia #MelaniaTrump

— प्रदीप रमोला (@pradeepRamola2) February 25, 2020
Stay updated with latest Education News
More From Team Careers360