UGC Guidelines: Changes in college exams, evaluation, teaching the commission recommends
UGC Guidelines: Changes in college exams, evaluation, teaching the commission recommends
The UGC said that there is a need to devise and adopt appropriate pedagogy to avoid gaps in the teaching and learning process through different modes.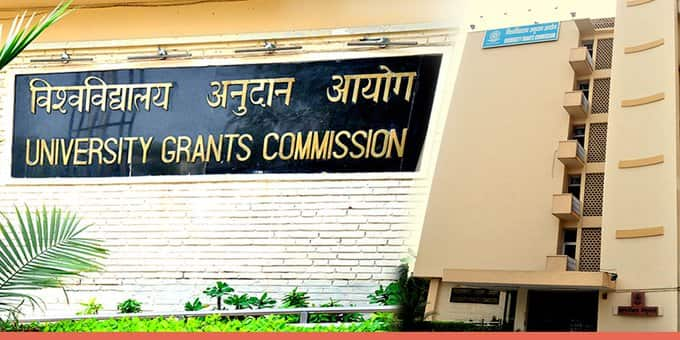 NEW DELHI: With emphasis on the holistic development of the students, the University Grants Commission has issued guidelines on innovative pedagogical approaches such as experiential learning, cutting edge pedagogy, art integrated learning, flipped classroom.
Schools and colleges adopted different teaching modes – offline, online, blended - especially after the COVID-19 pandemic-forced lockdown. The UGC said that there is a need to devise and adopt appropriate pedagogy to avoid gaps in the teaching and learning process through these modes.
The guidelines on different pedagogical approaches have been formulated in line with the National Education Policy. The NEP 2020 emphasises on the capacity building of teachers as the most important factor ensuring the quality and engagement of faculty at higher educational institutions (HEIs).
Innovative pedagogical approaches
With a focus on making classrooms more interactive, student-centric, the UGC said, "Proper training, continuous professional development, and effort from the teachers themselves are required to bring about successful change in pedagogy at a substantial level."
"The changing environmental paradigms require new types of graduates and bring renewed pressure for higher education to respond by developing and cultivating the students capable of meeting those challenges at their workplaces," it added.
Different students have different optimum learning methods, therefore, the UGC has instructed teachers to assess students' learning needs to adopt the matching pedagogical approach.
Also read | Tulsi-worship, rote-learning, Hanuman's food habits: What Karnataka's NEP 2020 position papers say
The NEP 2020 promotes multi-disciplinarity. "Accordingly, there is a need to change the pedagogical approach to instill in the students the multidisciplinary approach for understanding the core concepts, identifying and formulating problems, and exploring possible solutions," the UGC said.
The guidelines also lay focus on multi-disciplinary and interdisciplinary courses for the holistic development of students.
Under the innovative pedagogies, the UGC has laid down multiple approaches to allow the teaching-learning process to keep pace with current and future developments. Use of experiential learning, inquiry-based learning, case-based instruction, problem-based learning, individual/group project-based learning, discovery learning, practical work, enhanced technology use and integration are some of the different approaches.
Flipped classroom
Flipped classroom pedagogy is an innovative pedagogical approach based on the blended form of learning with an emphasis on the 21st century skills such as creating, evaluating and analyzing in the form of activity-based learning in the classroom wherein the interaction between student and teacher takes place in a flexible learning environment and culture, the guidelines said.
Live online classes, online whiteboard, online quizzes, pre-recorded video lectures, game-based teaching, collaborative ICT tools, class blog, virtual labs are some of the online modes of teaching, as per the UGC guidelines.
Also read | How twinning, transfer programmes let students study abroad at half the cost
Evaluation and assessment
NEP 2020 proposes that HEIs should adopt continuous and comprehensive evaluation rather than high stake examinations.
According to the new education policy, the objective of evaluation can be summarized as, continuous and comprehensive evaluation; criterion-based grading system; learning outcome-based education and evaluation.
Continuous and comprehensive evaluation embraces horizontal assessment modes instead of one single vertical mode. It can be used to assess the overall development of students, for example, critical thinking, problem-solving ability, right application of knowledge, and adherence to ethics.
Criterion-based grading system is an assessment of student achievement based on the learning goals for each programme. A criterion defines the characteristics or traits to be judged. These are derived from the learning outcomes. Grading can be designed to measure the degree of achievement on each criterion thus making assessments more meaningful, it said
Outcome-Based Education (OBE) advocates the importance of establishing a ―clear picture of what is important for students to be able to do, and then organizing the curriculum, instruction, and assessment to make sure that this learning ultimately happens, the UGC said.
Also read | Explainer: How will the proposed HECI change higher education?
Online Education and Evaluation - The online education programme has twin noble objectives. First, it is meant to provide affordable option for education right from an early stage to beyond University education. Second, it is aimed towards working professionals and students to balance their academic advancement along with their professional careers.
Stating that a test administered online is monitored, mentored in supervised mode, the UGC said, "The use of state-of-the-art ICT technologies such as audio and videoconferencing, digital surveillance, plagiarism detecting software and online course monitoring system will prove to be instrumental in meeting this scenario. Alternately, all tests may be conducted in offline mode at designated canters."
The UGC also encourages formative and competency-based assessment "for developing higher-order thinking skills such as creativity, critical thinking and analysis".
---
Follow us for the latest education news on colleges and universities, admission, courses, exams, schools, research, NEP and education policies and more..
To get in touch, write to us at news@careers360.com.