UGC to Universities: MHA, MEA clearance must for collaboration with Chinese institutions
UGC to Universities: MHA, MEA clearance must for collaboration with Chinese institutions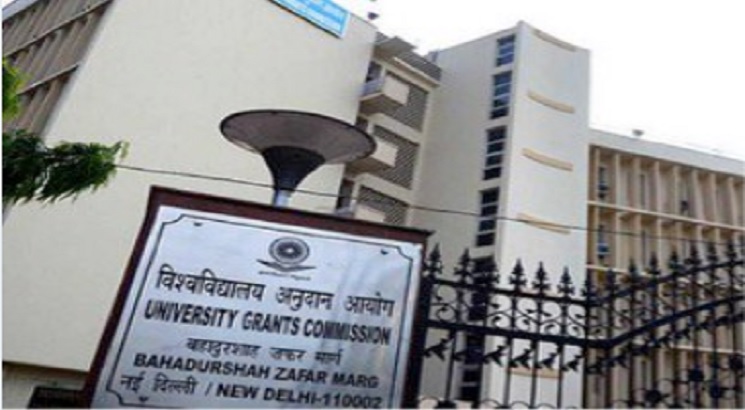 NEW DELHI, OCTOBER 03: The University Grants Commission (UGC) has asked all institutions of higher education entering into agreements with Chinese universities to get their proposals approved by the Ministries of Home Affairs (MHA) and External Affairs (MEA) first. The higher education regulator has also directed institutions that have already entered into collaborations to not act on their agreements till the MHA approves them.
Many Indian universities have collaborated with their Chinese counterparts for student and faculty exchange programmes and for opening Chinese language centres on their campuses. "This is for the first time we have received such a communication," said UGC secretary, Rajnish Jain. "Universities are autonomous bodies and are free to collaborate with any good foreign university. We don't know why these clearances are required specifically for China," he said.
"We have been asked by the Government to ask all the universities to get prior approval from the MEA and MHA for getting into collaboration with Chinese universities. We are just following the instruction of the Government, as it involves bilateral relational of two countries," said D P Singh, chairman, UGC.
Education Exchange
India and China agreed to cooperate on education in 2006 when they signed the "Education Exchange Programme". Among other measures, both countries introduced government scholarships and facilitated collaboration between institutions offering vocational education. According to the website of the Indian Embassy in Beijing, by 2016-'17, over 18,000 Indian students were studying in various universities in China.
According to All India Survey on Higher Education 2018-'19, 105 Chinese students (including the 16 from Hong Kong and Taiwan) were enrolled in various Indian institutions.
'No activities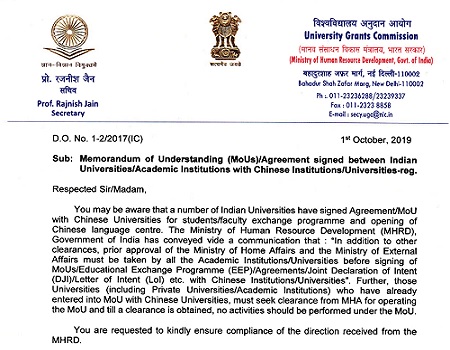 The UGC letter to university says: "The Ministry of Human Resource Development (MHRD)…has conveyed vide a communication that: "In addition to other clearances, prior approval of the Ministry of Home Affairs and the Ministry of External Affairs must be taken by all the academic institutions/universities before signing of MoUs/educational exchange programme (EEP)/agreements/joint declaration of intent (DJI)/letter of intent (Lol) etc. with Chinese institutions/universities."
The letter further adds that "no activities should be performed under the MoU[s]" in cases where the universities have already entered into agreements with Chinese ones till they have been cleared. This is applicable to private universities and academic institutions as well.
Stay updated with latest Education News